The 2015 NHL trade deadline has now come and gone and as the past couple years foreshadowed the Colorado Avalanche were mostly quite on the trade front.  Three trades were completed by the team highlighted mostly by a player that left not a player they gained.
Max Talbot for Jordan Caron
A deal with the Boston Bruins sent cup winning veteran and penalty kill specialist Max Talbot to the Bruins for 24 year old big body RFA Jordan Caron.  The Avalanche penalty kill has been a bright spot all season and Talbot was a regular on the unit game in and game out.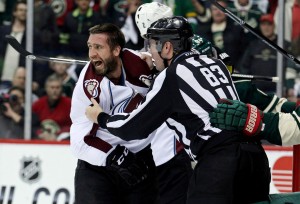 Selected 25th overall in the 2009 NHl draft by Boston, Caron has spent seasons going back and forth from the NHL to the AHL.  In 134 NHL games Caron has only 12 goals and 16 assists. As Caron is a RFA the Avalanche have a chance to watch his play over the last 20 games of the season and decide if he is worth resigning.  If Caron does not play to a level that the Avalanche are happy with they have not lost a bunch to get him.
The deal also included a 6th round pick going to Colorado and Forward and Boston native Paul Carey heading home to play for the Bruins.  Carey was placed on waivers the day before the deadline and Carey went unclaimed.  Talbot has one year remaining on his contract and the Avalanche did retain a part of his salary.  The Avalanche has had veteran Daniel Briere as a healthy scratch most of the season and the departure of Talbot may result in him returning to the lineup on a regular basis.
Minor League Deals
The Avalanche also made two smaller deals today.  They traded Michael Sgarbossa and a conditional 7th round pick to Anaheim for defenseman Mat Clark.  The Avalanche made room for Clark by trading Karl Stollery to San Jose for Freddie Hamilton, younger brother of Boston Bruin Dougie Hamilton.
Recap
For the third straight season the Avalanche had a relatively quite trade deadline day.  Players who were expected to have interest from other teams like Ryan O'Reilly and veteran defenseman Jan Hejda remain with the club.  The Avalanche continue to lack depth at the defensive position right now but have many promising prospects in the pipeline.
With only 20 games remaining in the season the Avalanche did not do much to change their roster today.  This does mean they did not make any rash deals that may come back to haunt them.  They stayed with their plan and their system and showed faith in the young core they have established via the draft and trades over the past several seasons.
I am a University of New Mexico journalism student who has been watching NHL hockey since 1996 and I started playing hockey myself in 2003. I have covered both college soccer and volleyball in the past and I also contribute to a NASCAR news website.