I hope you guys are Happy. You've forced me into making a pun in the banner headline.
That's OK though: It was out of necessity.
Last week, I wrote about how the Leafs ought to make  Peter Horachek their permanent head-coach.  I said that if you looked beyond the results and focused on the process, you would see that he has already done enough to deserve the title.
Many of you wrote me on Twitter and or left comments saying that I was crazy (or worse; mostly worse) for a variety of reasons. Now, far be it for me to say that one of the cornerstones of Critical Thinking is to look at the process and not the results, but I digress.  Clearly, during a record-setting  losing streak is not best time to defend the new coach.
Now, most of the reasons people gave for not hiring Horachek were terrible. And, when this guy is the most influential voice in the market, it's no wonder. Thanks to guys like Simmons – whose article is, at best, a hyperbolic hack-job that is completely unfair to the coach and the man – I might as well be shouting in the wind. One can only hope that after years of Leafs' management doing things to placate the Simmonsesque voices of this city, that they take a good, hard look at what Horachek is actually accomplishing and ignore the noise from AM radio and its like.
One of the only actual salient points people made in response to the above linked article was some version of this: "Jim, you're a statistically inclined writer, how can you say that the Leafs should hire him based off 11 games worth of a sample size?"
That they said it in the tone of a "GOTCHA" is something I'll pretend to ignore, since it is an actual, certifiable, good question. My response: I wanted Horachek hired before he was even given the interim job and most coaches do not need to audition – they're just hired.  I also think that what he's accomplished (we'll look into it below) even in a short time is worthy of giving him a shot with a team that has no chance of competing anyways for the next three years.  More so given the handicaps he's had to deal with so far.
I mean, if you get to the point where the team is ready to compete and you still don't like him, by all means go out and get yourself a name-brand guy. But if you think Babcock is going to leave what he's built just to come to this mess and this market, I think you are going to be severely disappointed.
Starting Behind the Eight Ball
Two wins in 14 games is not very good, I admit that. But instead of looking at the records of the two coaches and making a baseless comparisons, perhaps we could at least start the conversation off with a few things everyone should be able to agree upon.
1. In the last ten games of Carlyle's Leafs reign the team was 2-7-1.
2. No games – not even the back-to-backs – under Horachek's reign have been as bad as the Panthers, Lightning or Jets games that immediately preceded Randy's firing.
3. There is a ton of evidence that suggests Carlyle's early season success was just really good luck. For instance: up to December 8th, the Leafs were near the bottom of the league in possession and had a .500 record when being outshot. They had also had no significant injuries beyond Lupul and were close to the top of the NHL in both special teams. Bernier was being talked about as a dark-horse Vezina/Hart candidate and Bozak was scoring at a point-per-game pace.  They hadn't blown a lead all year after two periods. All this was happening and the Leafs were still barely in 8th place.
Basically, it must be acknowledged that under Carlyle, the Leafs were a bad team getting a ton of luck. There is so much proof for this that is must hereafter be acknowledged as a fact. This makes it seem like Horachek has been terrible, but really we are seeing a team that was lucky being compared to a team that has been unlucky on a historical level.  It's not a fair comparison to make if what you draw from it is that the new coach is somehow a problem or that firing the old coach wasn't as necessary as shooting Old Yeller.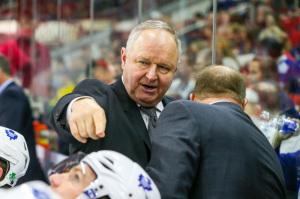 4. When Carlyle was fired, the Leafs were in 8th place only because they had played two to four more games than the Panthers and Bruins.  It was erroneous and insincere when people acted like the Leafs fired their coach "while in a playoff spot."  What actually happened was that they fired him while free-falling out of one in a fashion anyone could have predicted. (I predicted it December 8th, when they had won four in a row and would go on to win ten).
5. You can say whatever you want about scoring chances under Horachek; about the team not "scoring off the rush" or whatever, and maybe there is a bit of validity to those statements. But if you're going to do that, you must remember that what was, on December 8th,  something very close to the top Power-Play in hockey now has just eight goals in 14 games – a pace that, over an entire season, would see them in the bottom third of the league.  You could blame Horachek for this, I guess, but it seems to me more like bad luck.
6. During the first eleven games of his career with the Leafs, Horachek's team shot around 3%. Since it is an established fact that in the last decade not a single team has shot lower than 7% over a full season, you can't sit there and with a straight face tell me that the Leafs' lack of offense under Horachek is because of rush chances or low quality shots. That is, frankly, bullshit.   You could  refuse to ever send your players over the red-line and play the tightest defense in NHL history and it is still highly unlikely that you could score as little as the Leafs did over the last month.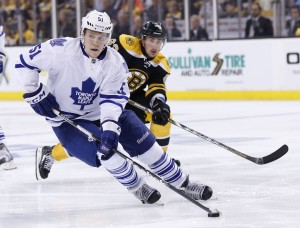 7. Injuries and a bad roster.  Before you look at his record and jump to any conclusions, you might want to consider that the Leafs – even under the best of circumstances – are not a good team. They have Kadri on their roster and that is it, as far as players who could play centre on competitive teams. Unless Morgan Rielly ascends, they don't have a #1 defensemen. Even if they have one, collectively they still have the worst D corpse in the NHL.  I mean, Horachek has been criticized for not winning and on nights he has dressed Hozler, Robidas and Polak. How many NHL teams would win with three #7 defensemen in their lineup? Lets say I'm being hard on Polak – that's still two sevens and a five, and no one could win with that lineup – or at least be expected to – any place else but Toronto.
In addition to this, they have gotten mostly bad goaltending under PH and a full third of their top-nine forwards and their most used defensemen have been absent for most of these games.  Also,if Kessel and Kadri haven't been nursing injuries then I'll eat my hat.
Then there have been three back-to-back situations in the last month and the the Leafs have played the Blues, Ducks, Kings, Sharks, Capitals and Predators during this time – games they basically should automatically lose no matter what based on their roster.
I believe that if you take factors 1-7 into consideration, then you have to admit it's pretty stupid to compare the two coaches using wins and losses.  And admit that if there was some way to compare them without using their records, that it might be more fair to Horachek than the complete intellectual dishonesty we are seeing whenever his name is discussed in the media.
A Fair Comparison
I believe that the team's record and losing streak have blinded many to some of the excellent strides the Leafs have taken under Horachek. Among them: taking one of the worst possession teams in the NHL and making them decent; revitalizing Jake Gardiner; playing Kadri and Rielly as his top guys; the play of all the young players, including Panik; the commitment to a team game and the decrease in shots.
Trust me, with some good goaltending and lucky bounces (or even just average luck and average goaltending) Horachek would have the Leafs at .500 under his reign, and, given their roster, that is impressive.
Check this out:
Team Stats:
PDO:  Carlyle 101.6  Horachek 95.2 
CF%:   Carlyle 44.6%   Horachek 50.2 %
Shots Againts / 60 minutes:  Carlyle 33.7 Horachek 28.9
Shots For / 60 minutes: Carlyle 27.6 Horachek  28.2
Player Stats:
CF% :  Gardiner/Carlyle 44.8%  Gardiner/Horachek 57.8%
Rielly/ Carlyle 47.4%   Rielly/Horachek 50.6
FACT: Under Horachek, the only negative possession players are Holzer, Polak, Clarkson, Smith and Santorelli. Note that except for Santorelli, these are the worst players on the roster.
FACT: Under Horachek, the PDO of Kessel, Kadri, Gardiner,JVR and Rielly has fallen by an average six points. Considering the range of PDO, this is massive.
Another good thing about Horachek is his player usage.  He clearly recognized that Gardiner was ineffective with Polak and Holzer and has mostly deployed him with Rielly and Franson.  The improvement in his game has been palpable.
Also, under Horachek he has utilized Morgan Rielly more than anyone else. Since taking over, PH has used Rielly more than anyone else at even-strength, giving him, on average 18.7 minutes/game. It is possible that this hurts the team in the short-term, but if it does, Horachek should get more credit for having the team's long-term future in mind, even though he could be excused for thinking short-term and trying to get a new contract.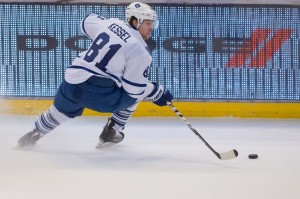 At 5v5 Horachek's number one centre is Nazem Kadri. Interestingly, it was under Carlyle as well (Hey, credit where it's due) but Horachek does give him 1.5 mins more per game. I think when you realize that both coaches have played Kadri more than Bozak at even-strength, it gives credence to the idea that Kadri is being supplanted by Bozak on the "top" line and on the PP to balance out the scoring.
Under Horachek, Kadri, Rielly and Gardiner all play more. So does Panik. You can look at this in two ways, but both reflect positively on the new coach.  1) That PH has the team's long-term goals in mind by playing the future stars now and 2) that this may have hurt his record in the short-term.
All in all, I think it's pretty clear that when you account for the things that he can actually contral (ice time, systems, defense) Peter Horachek has been a massive improvement over Randy Carlyle. I think too, that if you adjust your analysis to reflect reality and account for things fairly – as opposed to jumping to conclusions based on nothing more than wins, losses and goals scored – that nearly everything that can be tracked comes out in Horachek's favor.
Now, I don't pretend to be the last word on the subject, so if there are things I am simply not accounting for, feel free to drop me a line. There is nothing in this world I believe in so much that I won't change my mind when confronted with new information, so, if you can prove to me that Horachek doesn't deserve to see this rebuild through, I am all ears.
I just don't think you can do it.
Thanks for reading.