While it's been a lengthy conversation with former NHL enforcer Dave Hutchison, it's been one of many anecdotes and reflections on the career of an NHL 'tough guy.' And so, as it continues, Hutch closes out discussing what it took mentally to play his role, why Chicago was his favourite city to play in, and Punch Imlach's role in the dog days of the Toronto Maple Leafs.
THW: How about opponents – was there a guy on the ice that you ever didn't want to go up against or that could be considered the toughest guy you had to play against?
DH: Back then, if you wanted to play the kind of role that I was playing and you were scared of anybody, you were in the wrong role. You were in the wrong game. You know, I wasn't scared of anybody. You went after guys, and that's what I was doing. That what I was good at and I practiced it. When we went at 'er, we went at 'er. Let the best man come out and a lot of times I didn't come out the best man. I had like 100 NHL fights and I did my fair share of winning, but if I lost it was no big deal. Chances are I was going to try and get the guy the next game. I had two or three fights with guys before.
THW: Is there a guy that you went up against more often than anyone else?
DH: Well. Al Secord I went up against a few times. Tiger Williams. Harold Snepsts out in Vancouver. Paul Holmgren. Back then, you know, each team had their guys. So those were the guys you were fighting.
It was no big deal if you got beat by their big guy. You were both good fighters – sometimes you just get a lucky punch in and sometimes you don't.
There was no real fear, but there was anxiety. You knew what you were doing. You know, I knew the night before the game who I'd be fighting the next night. All you had to do was look at the stats and see who had all the penalty minutes and who was causing all the shit out there. As soon as they took a run at one of your better players, that's when our role kicked in.
THW: In 1976-77, with the Kings, one of your teammates was Dave Schultz. Did you ever feel that opponents were keeping their heads up a little more with both of you out there?
DH: Well we started and I was with Dan Maloney and we got a lot of respect because we had two guys. Then they traded Maloney for Marcel Dionne. That's how much value there was in Dan Maloney. Marcel's a Hall of Famer and Dan was a tough guy. The Red Wings went after him and the Leafs went after him, you know. Everybody wanted him. In that era, he was really sought after.
But it certainly helped. Most teams did have at least two guys. The Islanders had Nystrom and Clark Gillies. When you're on your own though, it was a little different. For a while, I was on my own with L.A. when they got rid of Maloney. You go into Philadelphia and you got the Broad Street Bullies and they were terrible. Rest assured you were going to get into a brawl. Some guys didn't like it. Some guys were shy. We called it the 'Philadelphia Flu'. You know, they'd get it in the afternoon and they wouldn't want to play.
I remember my first game going into Philadelphia, I was getting coffee poured on me before even getting onto the ice for warmup. That was back in '72-'73 when they didn't even have balconies over top. Now the players walk under it so [fans] can't throw hot coffee on them.
THW: Over your career, what moments have stuck with you?
DH: They're more team oriented, I think. You know, when we were winning in Chicago or Toronto – like going to the semi-finals with Chicago. My individual accomplishments weren't all that great. Mine were all team accomplishments. You know I was just a role player. I wasn't out there scoring 50 goals and I never won a Cup. Just playing in that league and being a part of it was great.
THW: You mentioned earlier that Chicago was your favourite city to play for. what made it so special?
It was a young team. That town – Chicago – I never realized what a great sports town it was until I actually lived there. They've got two baseball teams, the Bears, the Bulls, the Hawks. You know, it's a midwestern town of blue-collared workers and hard working people that really enjoy their sports. They're true grit sports fans – trust sports fans.
With the young team that we had back then, I was one of the older guys. We were successful. We were winning. So it was all good back then – those days with Chicago. And they've kept it going. They're a good franchise.
THW: Playing in Toronto, many talk about the role the media plays in that city. How was the media presence different from the other cities you played in?
DH: Oh yeah. It's all over you in Toronto. They're crazy in Toronto. They're just looking to get the juice. You know as players, you're playing an emotional game. You come off and you're allowed 10 minutes when the game is over until the reporters are allowed to come in. So that gives you time to get down to the room, get your skates off. If you've had a bad game and you want to avoid the reporters, you can pull off your clothes real quick and get to the shower, have a shave, cool off and then come back and meet with them.
They want to get you when you're hot right off the ice. That's when the juice is still on, that's when you're still hot. That's when you get all the gritty stories. And there is a league bylaw. Reporters are not allowed in for a certain time.
This one time, I remember we were in the playoffs against the Minnesota North Stars and Dino Ciccarelli was their big scorer that year. We'd beat them the first two games in Minnesota. We came back to Chicago and they beat us the first game in Chicago. I was the very first guy off the ice and I went down the stairs in Chicago Stadium. I got into the room and there's a reporter in there. T.W. Swift was his name – he wrote for SI.
I said, "What are you doing in here."
He says, "I'm trying to get a good story."
And I said, "Get the hell out of here. You're not allowed in here until 10 minutes after a coach comes in and he has a word with us."
The reporters aren't in there before the players are. I don't know how he got in. Anyway, he didn't like the roughneck attitude I gave him – you know the 'get the hell out of the room, I don't care who you are.' So he wrote a story in SI about how bad a player I was. Well, he was writing a story on Dino Ciccarelli – that's who he was covering – and because he didn't like me he slid a nice little jab in towards me in Sports Illustrated about what a good I was and how bad of a player I was. But the real reason was because I threw him out of the locker room before he could get all the juicy stories. That's the reason he took a stab at me.
THW: You mentioned how Imlach traded away a lot of players in Toronto. What was the sense when Punch was trading away all those players with the Leafs? Did it have to do with who your agent was?
DH: Yeah. We didn't know it off the bat, but that's what it turned out to be. It was Al Eagleson. He didn't come out and tell us "you got Al Eagleson, you're gone." I mean, he was the premier agent before he got into wearing all these other hats. He wanted to be president of the league and Punch Imlach – after all this – as much as we hate [Imlach] he was right. Eagleson was a prick. He did steal all our pension money. He did screw us all over. He was bad. Eagleson was bad.
[ALSO SEE: Alan Eagleson – The Hockey Fail King]
I had him as an agent for 10 years. Every other agent charged four percent. He was charging 10 percent. He had a lot of power, but he screwed us over collectively and individually. Even me, I had him for 10 years and he doesn't tell me… I don't want to get into it. But he was bad.
THW: Did you ever talk to Punch after the fact?
DH: I never talked to Punch. He was always upstairs. He was a different breed when he came back in Toronto. We were a good, young team – Lanny, Darryl Sittler, Borje, Turnbull, Palmateer – and we had some older guys – Maloney, Ron Ellis, McKechnie, Dave Burrows, myself, Joel Quenneville. You know, we were pretty good. But we couldn't get by Montreal. Well, they had the stacked team back then – Ken Dryden, LaFleur, they had a hell of a team.
Now, Harold Ballard was getting up there. He was in his 84th year or something like that and he was still trying to run the team which he shouldn't've been. Aside form Jerry Jones in Dallas, most other owners back off and let the president – like the Leafs and Shanahan now – run the team. But Ballard wanted to get in there and he brought Punch back thinking that he could turn this thing around.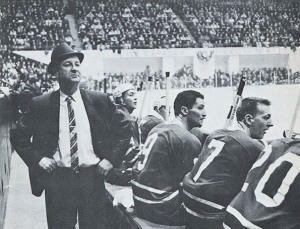 The first thing Punch did was trade everybody away. There was eight of us that had Eagleson and we all went. They didn't get much back and if you look now, who'd they get for Darryl Sittler – I bet you can't even tell me. He was our best player – one of the best Leafs of all time. He didn't get anybody. He just got rid of him to get rid of him. Same with Lanny. Joel Quenneville was our young first-round draft pick that year, got rid of him. I got traded for Pat Ribble. And Pat got traded out two weeks later to Atlanta.
Punch destroyed that team. They went in the tank until about '93 when Gilmour and Wendel got it going. But from 1980-81 to about 1993 they really tore the heart out of that team and the fans. It was almost like Punch had a vengeance against the Leafs for what they did to him the last time when they fired him. But he took that team and tore it apart. They were a laughing stock for years.
THW: You had the opportunity to play in New Jersey's inaugural game – what was that like?
DH: It was kind of a cool experience. You know, it was a new market for New York. They had the Islanders and they had their Rangers for all their years and they put this other team in New Jersey, right across the river. So the Devils were the new kids on the block.
Coming into a tough division was difficult. We didn't have much. The team was coming from the Colorado Rockies who were dead last. Now you're coming into the East at a point in time they had Philly, Rangers, Washington and they were tough. So the inaugural game was great.
THW: You didn't play long in New Jersey, but look at that city, is it a place where a hockey team can exist at an NHL level?
DH: Well, it's certainly tough to come into that market where the Rangers and the Islanders were – who had won the Cup four years in a row. They're even struggling now. They're moving their building. But that's what they've done. They moved out of the Brendan Byrne building in Hackensack, New Jersey and moved it up to New Jersey shore, if you will.
So you're moving your base, but there's a lot of hockey in a little area there. there are three teams in that little bit of land there They've got a nice new rink. It's like anything else, if you put a winning team out there, people like to come and support them.
THW: Now in real estate, is there anything that you could take away from the game – from hockey – that has taught you something in life?
DH: You learn so much from being a hockey player. You want to talk to kids about how important it is being part of a team and what it takes to win. You learn that putting hard work in, you can succeed. These are all things that you do in life. You work hard, you get a good education, you get a good job. You screw the dog, run the street with your boys, and that's where you end up.
When I was a child – around 15 or 14 – and I'm thinking I want to go to the dance with my buddies and the girls that are going or did I want to go home for nine o'clock? Try that one out because I and a game the next night. Did I want to play good in the game or did I want to have a  good time at the party? I know what I wanted to do. I wanted to go to the party. But I went home. I had to make sacrifices and I had to make a lot of them.
More with Dave 'Hutch' Hutchison: Part 1 | Part 2 | Part 3
For more, follow Andrew on Twitter at @AndrewGForbes or his THW column at @Tape2TapeTHW.