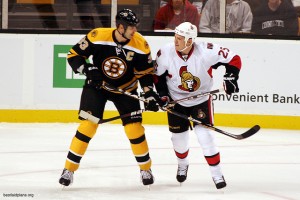 The Toronto Maple Leafs are not the only Canadian team the Nashville Predators are in trade talks with prior to the March 2 trade deadline. According to Fox Sports Midwest rinkside reporter Andy Strickland, Nashville is actively pursuing Ottawa Senators forward Chris Neil to toughen up the lineup for the playoffs.
No thanks.
Neil, 35, is a notorious tough guy in the NHL, having 63 penalty minutes in just 35 games this season. Not only is the 6-foot-1, 215lbs right-winger a regular visitor to the penalty box, he lacks offensive skill, having just 4 goals, 3 assists. On top of that, the native of Flesherton, Ontario has another year remaining on his current contract, which has a $1.9 million cap hit.
The Predators already have a player similar to Neil, and he is playing with the organization's American Hockey League affiliate Milwaukee Admirals — Rich Clune. Since playing the Senators on October 9, Clune has not even sniffed NHL ice. In that game (the only game Clune has played this season with the Predators), he amassed 5:30 of ice time. In 34 games with the Admirals, he has 4 goals, 6 assists.
While Neil is better at the "tough guy" role than Clune, it is hard to believe Nashville head coach Peter Laviolette would elect to scratch essential depth forwards like Taylor Beck, Gabriel Bourque, Matt Cullen or Olli Jokinen for Neil.
Although Neil's acquisition would be a head-scratcher, it would make some sense. Predators' alternate captain Mike Fisher and Neil are good friends after playing nearly nine seasons together in Ottawa. Neil attended the wedding of Fisher and Carrie Underwood back in July 2010.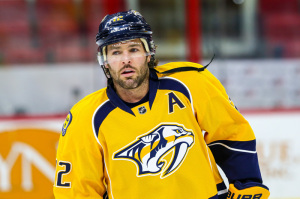 Prior to a January 11, 2014 match between Nashville and Ottawa, the two friends jokingly jousted at each other in the Ottawa Sun:
When it's mentioned that one of his best pals, Chris Neil, might not be ready to return from injury for Saturday's game, he's quick with the zingers.

"The Fish flu," he says. "It's tough. It happens. He knows I've been gunning for him for awhile."

Or maybe, he says, Neil is suffering from "a torn motivator cuff" or "hurt feelings. Tell him that one!"

A couple of hours later, Neil responded to the jabs.

"Fish flu, huh?," he said, laughing. "He has put on a little weight. He doesn't get around the ice as good as he used to."
Subscribe to our Predators stories to get email updates every time a new story is published.
Colin Fitts is a Nashville Predators staff writer for The Hockey Writers. You can follow him on Twitter, @FittsTHW.