Evgeni Nabokov's Future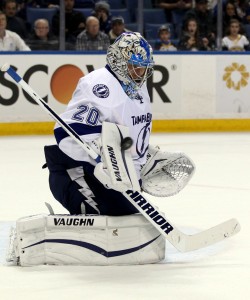 This past week the Tampa Bay Lightning made the choice to call up Andrei Vasilevskiy from the Syracuse Crunch.
The decision was not made lightly as it saw beloved veteran goaltender Evgeni Nabokov waived. Coach Jon Cooper likened it to cut-down day during training camp. Nabokov cleared the waivers, but his future remains uncertain.
After 14 seasons in the NHL, Nabokov had become a backup goalie for the first time in his career. In the 11 games he did play with Tampa he had a sad 3-6-2 record. In his last game on December 11 he stopped 29-of-30 shots against the Carolina Hurricanes.
It has become a general consensus that being a backup is what led to his poor play. In 686 NHL games he went 353-227-31 between San Jose, the Islanders, and Tampa. Throughout most of his career he had not played fewer than 40 games, so going weeks between starts was extremely difficult for the veteran.
Going into his contract with Tampa he knew that he was going to play backup to Ben Bishop. The idea may have seemed right in concept. It was no secret that Nabokov was not happy when he went to the Islanders. He almost did not even report to training camp because he wanted to play with a team who was an actual Stanley Cup contender; at that time the Isles were the second worst in the league. Coming to the Lightning, even as a backup did allow for him to be on a contending yet. Yet, when push came to shove, actually having to be sitting on the bench was a different story.
Regardless, he was a well-liked member of the team, and their resident jokester. He was wise beyond his years and always there not only to help a fellow player, but the coaches as well.
"He's been such a good guy for me, such a good teammate, always has a smile on his face, always fun to be around," Lightning goalie Ben Bishop said. "Whenever you lose a good locker room guy or goalie partner, every year you kind of build friendships with the guys you're with and it was no different this year. I got along really well with him. He'd give me insight here and there which really helped out."
Even Coach Cooper had learned a thing or two for having Nabokov on his team.
"He'd seen and done everything," Cooper said. "He's seen things I haven't seen yet. He was helping not only our players but he helped me in areas. He opens your eyes to things. You look at things differently because of his perspective."
 What's Next for Nabokov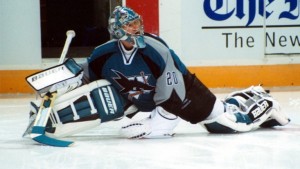 At the age of thirty-nine his future in the NHL is definetly up in the air. He could play in Syracuse or he could retire. If he chooses to call it quits, he can look back over his professional career with pleasure. He has been a well-known and well-loved player, and got to spend much of his career with the team that drafted him and the city where he met his wife of over ten years.
Another option would be to return to Russia and play in the KHL. In 2010 he had signed a contract to play with SKA St. Petersburg that was terminated due to 'family reasons.' Leaving the NHL could possibly mean playing with a professional team overseas who would be more than pleased to have a goalie of his caliber on their roster.
On Monday, February 9th, the Lightning traded Nabokov to the Sharks for future considerations. Nabokov will make an announcement on Wednesday regarding his future in the league. This is not the first time a player has been traded back to the team that drafted him so he could retire with them.
Vasilevskiy Gets the Call-Up
Vasilevskiy arrived in Tampa just in time to hop on the plane to St. Louis with the team on Monday. He knew when he was called up that he would be getting the starts, and the first of those came on Thursday's game in Dallas. 'Vassy,' made an impressive 33 saves in the 5-3 win over the Stars. Even in the games he played with the the Lightning earlier this season, the 20 year-old heI'm ld a 4-1 record, now 5-1. In that one loss he stopped a rookie record of 45 shots.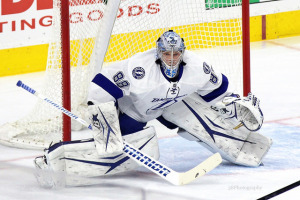 TheRudsian made 19 starts while playing with the Crunch and held a 14-5-0 record. Out of 25 games, however, he has two shutouts, a .919 save percentage, and a 2.38 goals-allowed average. There really was no question that when the Lightning had to make the choice to make goalie changes that the Tyumen, Russia native was going to get the nod.
The twenty year old has already played in three U-18 WJHC's, two WJHC's, and one IIHF World Championship where he won the gold with Team Russia. He went 2-0 in the two IIHF games he played in.
With Vasilevskiy as Bishop's backup the Lightning should have no worries in the goalie department. As a third choice the Lightning have Kristers Gudlevskis, the Latvian who was the breakout star of the 2014 Olympics. While he did lose the two games he started in, he was given an experience goalies his age dream of on the Olympic stage. In 24 games with the Crunch he has gone 15-6-1.
It will be exciting to see what the future has for not only Evgeni Nabokov, but how Andrei Vasilevskiy's career pans out now that he is playing on the big stage.