The Toronto Maple Leafs may not be playing in the postseason this year, but a few of their players might. According to reports, the Nashville Predators are looking to Toronto as potential trade partners before the trade deadline on Monday, March 2.
While the Leafs are plummeting in the standings, lowering their playoff chances game-by-game, the Predators enter play on Saturday sitting atop the Central Division and show no signs of slowing down. Having a legitimate shot at winning the Stanley Cup for the first time in the franchise's 16-season existence, Nashville general manager David Poile has been asking around the League for players that would set his roster over the top.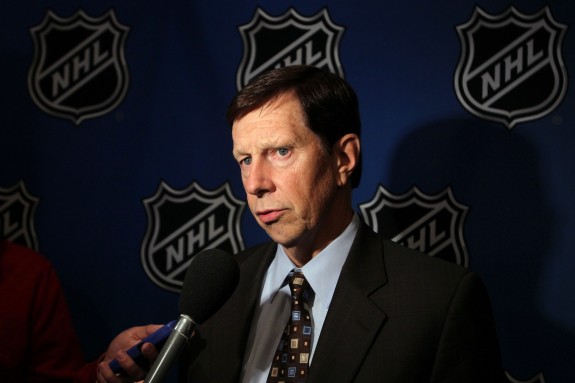 Defenseman Cody Frason's likely departure from the "hockey mecca" ignited the rumors involving a Toronto-Nashville deal. The 27-year-old was drafted by the Predators 79th overall in 2005.
However, with the Predators having a solid defense core already, adding Franson did not make much sense.
In 51 games, Franson has 6 goals, 24 assists.
Poile and Leafs GM Dave Nonis were able to get an in-person look at each other's teams in a 5-4 Nashville win on Tuesday night in the Music City. Nonis reportedly stayed in town until Thursday to talk with Poile.
TSN's Darren Dreger wrote Friday:
"There has been much speculation on Nashville's interest in Franson.

However, Poile is as much or more interested in one of Toronto's forwards to strengthen his lineup. Poile isn't looking to add a major piece and risk disrupting what he has up front, but there could be a fit with centre Mike Santorelli or winger Daniel Winnik."
Later Friday night, Toronto traded traded forwards Carter Ashton and David Broll to the Tampa Bay Lightning for a conditional seventh-round pick in 2016. By ridding themselves of Ashton and Broll, the Leafs can now acquiring two more contracts before reaching the NHL's 50-contract limit. Many believe this is the first domino that has fallen in dealing upcoming unrestricted free agents Santorelli and Winnik.
Some playoff team is going to be really happy with Santorelli.

— James Mirtle (@mirtle) February 7, 2015
Santorelli, 29, has 10 goals, 18 assists in 53 games, including a goal and an assist against the Predators on Tuesday. The native of Vancouver, British Columbia was a 6th round selection by Nashville in 2004. He spent three seasons from 2008-10 in the Predators' organization, tallying 3 points (2 g, 1 a) in 32 NHL games, before signing with the Florida Panthers as a restricted free agent in the 2010 summer.
Winnik, 29, has 4 goals and 20 points in 51 games. Like Santorelli, Winnik also scored on Tuesday.
Although both centers, Santorelli and Winnik have played most of this season on the wing. Last season with the Vancouver Canucks, Sanorelli won 51.3 percent of face-offs on 419 draws. This year, he won just 45.9 percent on 159 draws. Winnik is 48.2 percent successful on the dot on 168 draws.
Why aren't the Preds interested in a top-six forward?
"If it ain't broke, don't fix it."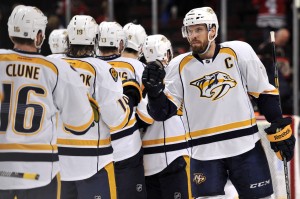 Nashville's top-six is essentially set in stone entering the playoffs with Mike Fisher, Filip Forsberg, James Neal, Mike Ribeiro, Craig Smith and Colin Wilson. Adding a player like Tyler Bozak, Nazem Kadri or Phil Kessel this late into the season would disrupt the already great chemistry in the lineup.
Poile has failed twice in acquiring big names to make a run at the Stanley Cup (Peter Forsberg in '07 and Andrei Kostitsyn and Alexander Radulov in '12). It appears the veteran GM is taking a new route after learning from his mistakes by going for depth players. After all, rosters with great depth tend to go farther in the playoffs.
The Predators are having the most successful year in its history, so there is no reason as to why Poile should mess with it.