The Edmonton Oilers haven't made the playoffs since 2006. They've been rebuilding essentially since the moment that Chris Pronger demanded a trade. They've mismanaged the roster, had a below average drafting record, and change their head coach almost on a yearly basis.
The Oilers are in the midst of yet another playoff-less season, and are still facing a lot of personal decisions. They're in a hockey-mad city with a passionate fan-base and a lot is expected of this storied franchise. Thus it's no surprise that whenever a talented young player, or a seasoned veteran for that matter, is believed to be available, it's inevitable to consider if they'd be a fit in Edmonton. (No matter how unlikely. Hey, it's what we do).
Evander Kane is a Potential Star
It's always easier to play armchair GM than make the actual trade, isn't it. But, the Oilers are still in the stages of shaping their team, so why not look into all the possibilities? This week in the NHL world, Evander Kane has been making the news. At just 23 years, the forth overall pick in 2009 is no stranger to making headlines for all the wrong reasons. I am very cautious when talking about a players character, or reputation, because we tend to only know about 20% of what is actually going on, and too much speculation usually causes us to hang onto false perceptions.
Here's what we do know about Kane. He's a power forward. He's got a lot of offensive skill. He's physical, he's strong and his defensive game has taken a huge step forward under Paul Maurice. He's becoming the kind of player that you can count on in all facets of the game. He's not one of those snipers who is only good to you when he's scoring goals. He can contribute with a power game. He doesn't shy away from contact. He can create his own space. In other words, he's the kind of player a lot of teams would love to have on their roster.
He's battled injuries, and hasn't been able to play a full 82-game season yet in his career. But he scored 30 goals in 74 games in the 2011-12 season, and when healthy he has the potential to top that. But, he's had some growing pains over the years. And the latest saga in Winnipeg has been one of the most confusing situations yet.
Has there been a Falling Out with the Jets?
Kane will be having surgery on his shoulder, and his season is over. Seems simple enough, if that was the whole story. But there have been so many complicated reports, it's hard to know exactly what's going on. Kane's reputation isn't as sparkling as the Jets would probably like. He's been rumored to not pay his bills at restaurant, show up late to team meetings and not follow the dress code. Here's what we know what this past week's events. Kane didn't wear the appropriate clothes to a meeting. (Apparently not the first time it's happened). His teammates didn't like it and they allegedly threw the track suit he had worn into the shower. Kane was scratched against the Canucks and was asked not to go to the arena. Now, he's on injured reserve.
Does it all make sense? Not totally. Is there information we don't know? Absolutely. I simply can't make a judgement when I don't have all the facts. Is Kane well-liked by his teammates? Some would say no. Is he a problem in the dressing room? Some would say yes. But do we know the entire truth? No we don't. Kane is 23. He's a millionaire. He's a celebrity in Winnipeg. A lot of guys in his position, in any sport, have faced controversy. It's no excuse, but he will learn, and he will mature. Whether or not he will have a chance in Winnipeg to prove himself remains to be seen.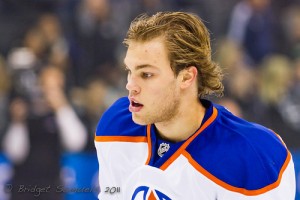 It feels like Kane's name has been surfacing in trade rumors far too often, but the Jets have yet to pull the trigger. Is the whole track suit debacle finally the end of the road? Kane's trade value has thought to have dropped, not only because of the off-ice issues, but also because of the injury. But there's nothing stopping a team from trading for him if the Jets are willing to make a deal.
Would Kane make a good Oiler?
Whenever a team is losing, problems are always magnified, and overreactions become headlines. Taylor Hall's name has come up in trade rumors. The Oilers won't be better off trading Hall unless they get someone of equal value back. (Look at the Bruins and Tyler Seguin, for example). But apparently Hall's character has come into question, that he isn't "all-in", that he's causing a divide in the dressing room, that he's not a good leader. Are we in the Oilers room? No. Is there a chance one small quote has been misinterpreted? Probably.
I've heard the silly notion that Kane is a more high-maintenance, and immature version of Hall, and the Oilers don't need that. But really, can you judge a guy based on a few stories in which important details are withheld? So how about this: let's take this whole "questionable character" notion out of the equation and look at the player on the ice. Kane is more physical than Hall, and his defensive game is stronger. They both play the same position. They are both top-line players. So if you bring in Kane, do you put him on the first line?
In my opinion, Kane would look great in an Oilers uniform. I'm not saying character isn't important, because it certainly is. But I believe there is plenty of time for him to mature. He's got the size and skill that the Oilers need. He has a cap-friendly salary. But who do you move in order to get an Evander Kane? Does acquiring him make Hall expendable? Which player would you rather have? There are many questions and very few answers. The Oilers probably won't get Evander Kane. In fact, it's likely they haven't even inquired about him. But it's always fun to talk about this stuff, right? Well I think so.