The hockey world exploded with much anticipated news – NHL hockey is back! Within a mere two weeks, lamps will light up frozen battlefields in 30 arenas around Canada and the United States. The long awaited drop of the puck in the NHL will echo across the entire world. The fans won't forget, but will definitely forgive all the nonsense that has happened in the last 113 days of the lockout period. While there will be a few that will hold a grudge against the league, the players association, or their representatives – their hopes for starting a boycott would be fruitless. The game means too much to too many people. All the bitterness will be gone as the arenas become packed with fans, jerseys get sold like bottles of ice cold water in Dubai, and the players start receiving their enormous pay cheques – some undeservedly so. Luckily for the owners and managers of some teams, some of those not worthy of their contracts will be allowed to be bought out. According to TSN Hockey Analyst Aaron Ward and TSN Hockey Insiders Darren Dreger and Pierre LeBrun – "Each team will be allowed two amnesty buyouts that can be used to terminate contracts after this season and next season. The buyouts will count against the players' overall share in revenues, but not the team's salary cap." So who would the amnesty buyouts be for the San Jose Sharks? Let's look at some candidates who could potentially end up on Doug Wilson's chopping block.
There are various scenarios that might take place. The potential to amnesty 2 players gives lots of room for creativity (read correcting mistakes). According to capgeek.com, at the end of this season, the Sharks will have 8 forwards, 5 defensemen, and 1 goalie signed up for seasons 2013-14 onwards. Certain players who would have made a good case for buyouts would no longer be under the contract – therefore making Doug Wilson's job a little easier. For example Michal Handzus could have been a strong candidate for being one of the amnesty buyouts with his $2,500,000 salary cap, but since his current contract expires at the end of this season – he is not part of this discussion. The San Jose Sharks do not have a slam dunk candidate in the likes of Scott Gomez and Wade Redden. There can also be a case made for a trade scenario rather than an amnesty buyout. However, if one had to choose – here are 3 possible candidates in no particular order.
Dan Boyle ($6,666,667, last season under current contract 2013-14)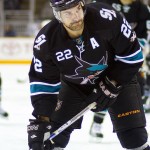 Dan Boyle has been one of the best defenders for the Sharks for the past few seasons. However, his offensive production has been slowly but steadily declining, and there is no reason to think that his numbers would be better than last year's. Dan Boyle has never been a pillar in his own zone. While he would normally compensate his lack of size with smart positioning and quick movement, the 36 year old's skating is not getting any better. Don't forget Boyle mammoth $6,666,667 salary cap. Perhaps it would be the right time to use that space more wisely for someone younger, but maybe Doug Wilson has other ideas.
Adam Burish ($1,850,000, last season under current contract 2015-16)
Adam Burish has not played a single game for the Sharks team yet, but many fans already fear that his 4 year long presence would not do much good for the team. If Burish will be able to provide a solid performance on the 3rd line, then his $1,850,000 would be justifiable. The fact that his salary cap is under $2 million would make him a tough selection for an amnesty buyout to justify. It is too early to say, but if he plays bad – barely getting time on the 4th line, with no penalty kill responsibilities – the longevity of this contract would ease the decision to buy him out. However, the impact of his contract on the total salary cap of the team, plus the fact that he would be given a second chance to showcase himself in the full season (2013-14) means he is not likely to be bought out, at least this summer.
Martin Havlat ($5,000,000, last season under current contract 2014-15)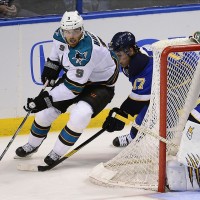 Martin Havlat can be on the chopping block primarily due to his well documented history of injuries. The talented Czech winger definitely has a good offensive upside to his game which he can add to the team, especially during the playoffs. This season should be a good indication of how much Martin Havlat really means for the Sharks. An injury free season with a solid point production should keep Havlat on the team. However, should he get injured again, or his productivity slips – Doug Wilson would gladly take Havlat's $5,000,000 salary cap of the books.
While all the above players are potential candidates, there is a chance that the Sharks will use neither of the amnesty buyouts. There is always the option of making a trade. No matter how terrible Havlat would be – he will likely be used as trade bait if he was to be moved, rather than bought out. Hence, this is why neither Patrick Marleau nor Joe Thornton are included in the list. Even if the team will decide to get a makeover, and find a new direction – these two players will leave via trade – not through an amnesty buyout. However, with many teams trying to shed salary, there can be situations when salary dumps would be necessary, but not likely for the Sharks.