Reports have surfaced that the Columbus Blue Jackets have asked defenseman James Wisniewski to submit a list of 10 teams that he would not approve a trade to.  Talk about news that came out of nowhere.
It started this past Sunday night.  The Blue Jackets played that night against the New York Rangers.  About 2 hours before the game, Head Coach Todd Richards told the media that Wisniewski would be a healthy scratch.  Immediately, all kinds of red flags were raised.
Why healthy scratch your best defenseman?  Was he going to be traded?  Speculation ran wild once this news was broken.  Richards was asked after the game if this was purely performance based.  His response, "Yep."
Blue Jackets GM Jarmo Kekalainen was then asked if there was a trade forthcoming.  "There is no pending trade involving James Wisniewski", he stated.  I think ultimately, the key word here is "pending."  In other words, there was no trade involving him at that moment, but it opened the possibility that the team was looking to move him.
Then came the report from Columbus Dispatch Beat Writer Aaron Portzline that the team was in fact not only looking to move him, but looking to move him by the deadline.  It's one thing to trade a player, but another altogether to trade a player within a specified timeframe.  That means trading the player comes with a sense of urgency.
Heard from two different sources tonight that #CBJ are shopping D James Wisniewski around the #NHL, trying to move before Monday's deadline.

— Aaron Portzline (@Aportzline) February 24, 2015
So why would this happen?  Did Wisniewski ask to be traded?  It doesn't sound like he asked.  In fact, he wants to remain in Columbus.  He said as much himself when asked about the situation.
To me, I believe there is an untold story that is not getting as much attention as I think it should.  A review of Wisniewski's time with the Blue Jackets does shed some interesting information.  Is what I'm about to present 100% the situation at hand?  No, it is not.  What this is however, is a presentation of facts and questions that should be asked.  Then, decide for yourself what to make of everything.  Without further ado, let's dig into this situation.
Is There An Untold Story About Wisniewski?
Let's start at the beginning.  James Wisniewski ultimately came to Columbus via trade.  His rights were traded by Chicago on June 29, 2011 for a conditional 7th round pick, which became a 5th round pick if he signed.  On July 1, 2011, the 1st day of free agency, Wisniewski signed a 6 year/$33 million deal.
Notice the date of the trade and contract signing.  It was the summer of 2011.  You know who was not yet around in Columbus in the summer of 2011?  That would be the current regime of John Davidson and Jarmo Kekalainen.  Davidson joined the Blue Jackets in October 2012, while Kekalainen was hired by Davidson to replace Scott Howson in February 2013.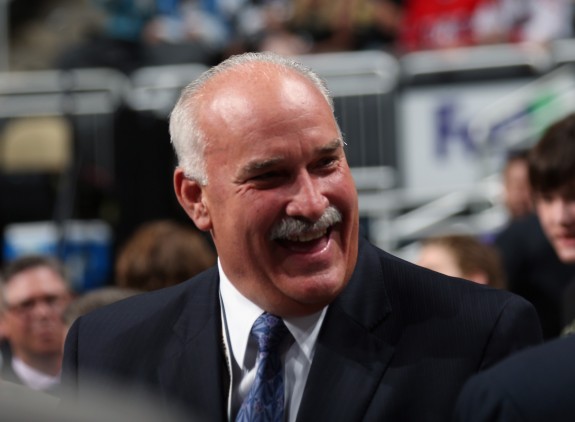 Why is this important?  It's important because Wisniewski came to Columbus under the previous regime.  In other words, he was already here when Davidson and company came on board.  Wisniewski was not one of their players.
Normally, this would not be an issue if you as a player are performing.  This beings us to our next point.  This is not the first time Wisniewski was asked to provide a list of teams to management.  He was asked in July 2013 to provide a no trade list.  The new regime was in place when he was first asked to provide this list.
Now that's interesting.  Less than one year after the old regime is replaced, the new regime is asking Wisniewski for his no trade list.  Now they're doing it again.  The question now has to be asked, has this been in the works all along?  Has it always been a priority of this new regime to trade Wisniewski?
What makes this story interesting is the 2013-2014 season.  This was Wisniewski's best season, amassing 51 points in 75 games, while having a CF% of 56.9%.  He produced at the level of a number 1 defenseman.  You'll notice that management didn't ask for a no trade list last season, because of his production.  Why would they?  He was one of their best players.
#CBJ asked for Wisniewski's 10-team no-trade list in July 2013 and again last Monday. Didn't ask for it last summer after huge season.

— Aaron Portzline (@Aportzline) February 24, 2015
Let's now look at the seasons prior to management asking him for his no trade list.  In 2012-2013, Wisniewski scored 14 points in 30 games, and was a -1.  His CF% in all situations was 55.1%.  Thus far in 2014-2015, Wisniewski has 27 points, including 7 goals, in 52 games, and has a CF% of 51.8%.  It's still good numbers, but they are down from his career season.
All told for his Blue Jackets career, Wisniewski has played in 205 games, has 25 goals and 119 points, while averaging 22:50 ice time/night.  His +/- in that span is -20.
Where Do We Go From Here?
The next 6 days will be very interesting now in Blue Jackets land.  Are they really going to trade their best current defenseman?  Why are we even at this point?  Do they not like his contract?  He is a cap hit of $5.5 million this season and the next 2 seasons after that.  The actual money he gets paid goes down the final 2 seasons.  Does management feel like he is underperforming given what he makes?  Are they trying to get this contract off the books? He is 31.  Does management feel he has had his best season, and won't replicate those numbers?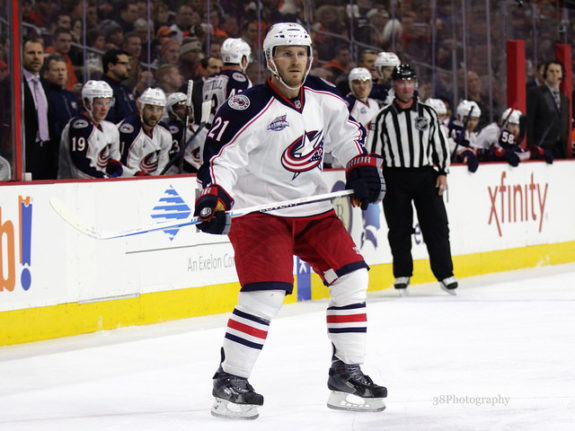 We'll eventually get answers to all of our questions in regards to this situation.  I can't get past the fact that this is not the 1st time Wisniewski has been approached about a possible trade.  Had he not had a career year last season, would he even be here now?
Potential moves like this can define the legacy of management.  If this move is made, it will be closely scrutinized for years to come.  Stay tuned.  The next 6 days could potentially define the next several years of the Columbus Blue Jackets.