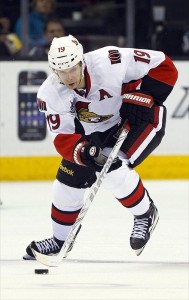 While you can catch most of the Ottawa Senators prospects and younger players in the AHL nowadays some of them have gone over to play in Europe. As the lockout keeps dragging on one thing that has been noticeable is that the Senators players overseas are making headlines and dominating their respective leagues. Here is an update on your favorite Ottawa Senators players overseas.
Jason Spezza
Jason Spezza headed to Switzerland in September joining the Rapperswill-Jona Lakers. Spezza has suited up for 25 games already scoring 8 goals and adding 16 assists for 24 points. Other notable teammates include New York Rangers Defenceman Michael-Del Zotto and former Toronto Maple Leafs prospect Robbie Earl.  It did not take long for Spezza to make an impact with his new club scoring his first 2 goals October 6th.
As first reported by the Ottawa Sun, Jason Spezza is basically playing for free. His NHL contract requires $ 50, 000 monthly for insurance which all but cancels out the salary he makes in Switzerland.
Sergei Gonchar
Gonchar headed back home to play with best friend and countrymen Evgeni Malkin for Mettallurg Magnitogorsk. Gonchar did not put up the expected offensive numbers we are used to seeing in his two seasons in Ottawa but has appeared to regain his offensive touch in the KHL. In 29 games this season he has 3 goals and 20 assists for 23 points. Gonchar is currently 3rd in scoring for a defenceman. His excellence on the powerplay continues over in Russia as he scores his first KHL goal on the man advantage.
Gonchar has been a one of the more vocal Russian NHL players about the labour dispute about players staying in Russia. Senators fans dont need to worry as Gonchar stated:
So if it's going to be this year, I'm definitely coming back. And next year I would like to come back and play if I'm healthy and if there's interest in the NHL for me.
Erik Karlsson
Karlsson had a dream season in 2011-12, a breakout performance offensively and becoming the first Ottawa Senator to win the Norris Trophy as the NHL's best defenceman. With the labour dispute Karlsson knew he had to stay in game shape and signed with Jokerit Helsinki of the Finnish SM Liga. Like teammate Jason Spezza, it did not take Karlsson long to make an impact with his new club.
Anyone else get distracted by how fast that announcer was talking? His offensive acumen has translated on the larger ice surface. Karlsson has picked up where he left off last season playing in 27 games scoring 7 goals and 17 assists for 24 points.
Kaspars Daugavins
In 2011-12 Daugavins had finally made the transition to full time NHL forward after getting called up from the B-Sens and never looking back. He played 65 games for Ottawa and cemented his spot in the bottom 6.
This year shortly after the lockout was announced Daugavins headed back home to Latvia and signed with Dynamo Riga of the KHL. In 28 games in the KHL Daugavins has put up 4 goals and 6 assists for 10 points.
Though it is nice to see these Sens players excelling in Europe it would be even nicer to see them playing back in Ottawa. With the current up and down nature of negotiations and aggravating PR battles both sides seem more interested in winning, it may be a long time until the boys back in town.
You can follow me on Twitter: @remrith