'Ducks Drill Down' is a regular, ~weekly column that recaps the latest goings-on with the Anaheim Ducks.
---
Things were looking good for the Anaheim Ducks in their drive towards the playoffs, as they had won four in a row going into back-to-back weekend games against the bottom-feeding Arizona Coyotes and Edmonton Oilers.
Now, despite a(nother) miraculous comeback against the Oilers to salvage a point in the standings, the Ducks are left to rue how the other three got away until they hit the ice this Friday against the Columbus Blue Jackets. Perhaps goaltender John Gibson will be back from his injury by then, but the Ducks will need to improve their play in front of him if they want to get back into the win column.
Gibson on Injured Reserve
Gibson's awkward tumble in Vegas after the Golden Knights' Reilly Smith tripped him up has landed the goaltender on injured reserve with a lower-body injury. It's not the first time this season Gibson has been sidelined because of an injury, but fortunately to this point, he has not missed any extended time. Even though he is on IR, he is eligible to return on Friday against the Blue Jackets at Honda Center. That's good news in that Anaheim does not have any games this week prior to that one, but it remains to be seen if Gibson will be ready.
Gibson has easily been one of the Ducks' MVPs this season, consistently keeping them in games where they were badly out-possessed. His outstanding .925 save percentage is good for seventh in the NHL among goalies who have appeared in at least 20 games. He excels in stopping high-danger opportunities, as evidenced by his strong goals saved above average per 60 (GSAA/60) mark with a high sample size of shots against.
Luckily for the Ducks, their backup, Ryan Miller, has played at such a high level this season that there has been virtually no drop-off from Gibson.
Defense, Miller Clamp Down
Returning home after winning three straight on the road, Miller and the Ducks kept the momentum going with an important (aren't they all?) 2-0 win over the Dallas Stars on Wednesday night. It was the team's second straight shutout after Miller and Gibson combined for one in Las Vegas two nights earlier.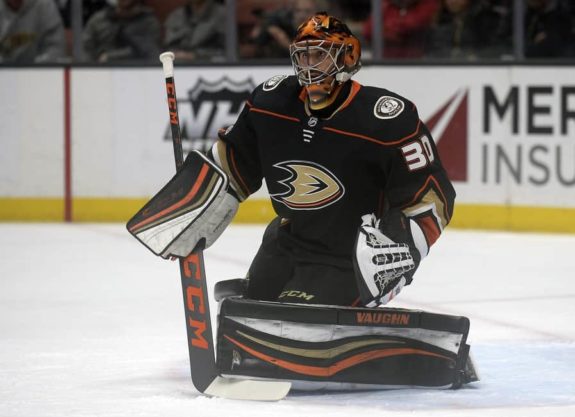 This time, Miller got full credit for the shutout in his stat line, making an astounding 41 saves, including 24 in the third period when the Stars dominated possession—thanks in large part to a slew of power-play opportunities—in a desperate attempt to come from behind. While Dallas threw a lot of pucks at Miller, the Ducks' penalty kill did as good a job as conceivably possible given the amount of time they had to play down two men.
"It was a gutsy job by our guys blocking shots. Our goaltender played phenomenal," said captain Ryan Getzlaf. "Those are turning points in hockey games for sure. When you have a full two minutes to kill a 5-on-3, it's not an easy task to ask."
Shortly after exiting the penalty box to end the two-man disadvantage, Getzlaf swung the momentum completely to the Ducks' side with an incredible individual effort.
With Anaheim still clinging to a 1-0 lead thanks to Hampus Lindholm's power-play tally in the first period, Getzlaf doubled that advantage on his own. He lobbed the puck out of the defensive zone and then retrieved it himself as the Stars were caught out of sorts in looking for a line change. Dallas goaltender Ben Bishop then came out of the net to try to keep the puck from Getzlaf, but he was unable to do so and was then out of position, allowing Getzlaf to shoot into the open net for a shorthanded goal. It was perhaps the goal of the year for the Ducks, fittingly from their leader.
"Difficulty. Luck. Whatever you want to call it," Getzlaf said. "It was a great feeling, except I was celebrating by myself. I didn't know what to do."
With a little insurance thanks to Getzlaf, Miller and the Ducks withstood some late pressure from the Stars en route to the 2-0 victory.
Ducks Lose Momentum Against Coyotes, Oilers
A No-Show Effort in Glendale
Anaheim had a great opportunity to keep its winning ways going over the weekend with a pair of contests against two non-playoff foes. Saturday night in Arizona, however, produced a rather lifeless effort as the Ducks fell to the 'Yotes, 2-0.
Getzlaf summed up the game in a pretty straightforward manner.
We didn't play hockey.
"This time of year, we've got to find a way to be excited and play hockey," Getzlaf continued. "Simple as that."
Head coach Randy Carlyle added a bit more context.
"I didn't think that we paid enough of a price to be inside and on top of the goaltender," Carlyle said. "We played the turnover game. We were too cute. You can't be cute in the NHL. You've got to get inside and get people and pucks to the net."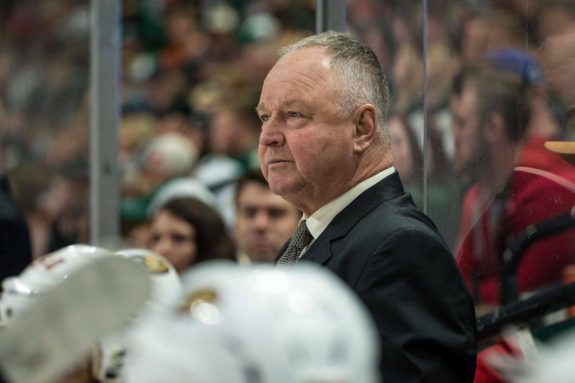 Miller played well again for the Ducks, giving up only an odd-looking goal to Arizona's Jason Demers where it appeared as though he never got set after some commotion in front of the net. Max Domi added an empty-netter for the 2-0 final. The Ducks were only able to muster 26 shots against Antti Raanta, while the Coyotes fired 38 shots on the Anaheim net, including Domi's final empty-net tally.
Ducks Unable to Complete Comeback on Katella, Part 2
A home contest against the Oilers a mere 24 hours later gave the Ducks a golden opportunity to wash the bitter taste out of their mouths, but noted Duck killer Leon Draisaitl immediately put the home team on its heels by opening the scoring just 13 seconds in following an ugly Getzlaf turnover.
Getzlaf would atone by ultimately figuring into four Ducks goals via one of his own and three assists. In what was a wild game that saw a combined 88 shots on goal (46-42 in favor of the Ducks), Anaheim would find itself down 5-3 in the final 30 seconds thanks to some shoddy defensive play all evening long in which they yielded countless odd-man rushes against and too often left the slot area inadequately covered.
In what was an eerie but thrilling bit of déjà vu with respect to last year's Game 5 of the Western Conference Semifinals, the Ducks scored twice in the game's final 21 seconds. Both times, it was Rickard Rakell—the same player who scored the tying goal with just 15 seconds remaining in that Game 5—who lit the lamp. This time, his tying marker came with just 5.6 seconds on the clock and gave him a hat trick.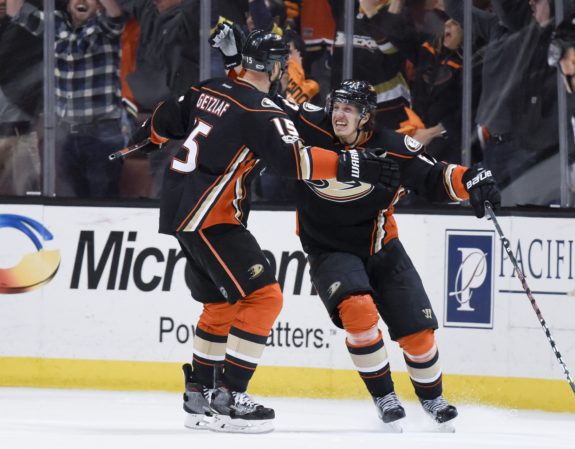 Where the script changed from last year was with the final result. After a scoreless but action-packed 3-on-3 overtime period, it was the Oilers who prevailed in the shootout on goals from Draisaitl and Connor McDavid. Rakell, naturally, scored in his shootout attempt, but Getzlaf and Ondrej Kase were stymied in theirs.
On one hand, the Ducks grabbed a valuable point after it looked like they'd get nothing out of this game. On the other, it was another lackluster effort overall against a poor team, and it left them with just one out of a possible four points over the weekend. At this time of year and in a tight playoff race, these are the games Anaheim has to have.
"In the big picture, if you score five goals you should win a hockey game," Carlyle said after the game. "It's on the defensive side we need to definitely address. Disappointing we didn't come out with a stouter effort defensively. We can play better with the puck and puck management."
Ducks' Upcoming Schedule
The Ducks remain in third place in the Pacific Division, though tenuously so. They have 74 points in 64 games while the Calgary Flames are breathing down their necks with 73 points in 63 games. The Ducks also only trail the San Jose Sharks by one point for second place, though the Sharks have a game in hand. The two wild-card teams through the weekend are the Stars (74 points) and the Flames.
As mentioned, the Ducks do not play again until Friday night when they host the Blue Jackets. Then on Sunday, the floundering Chicago Blackhawks will come to town for a 1:00 p.m. PST matinee affair.
Chris Kelly Signs
Monday's trade deadline will have come and gone by the next time the Ducks suit up for a game, so there is always a chance the lineup could have a new face or two. Perhaps Chris Kelly, who signed a pro-rated one-year deal with the Ducks on Sunday, will get his first taste of action with his new team.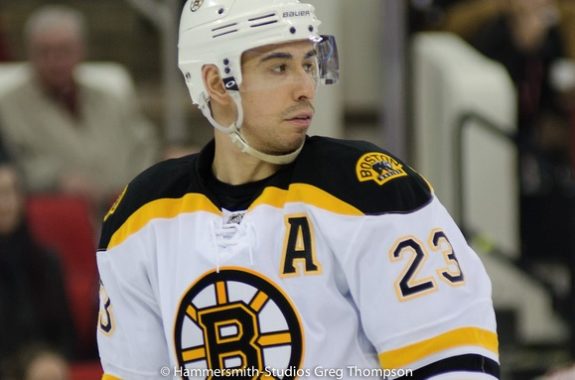 The 37-year-old veteran played for Team Canada in the just-completed Winter Olympics, and apparently, GM Bob Murray and the Ducks think he can bring value to the table. It will be interesting to see where he fits into the Ducks' crowded corps of depth forwards.
Tom has been with The Hockey Writers for almost four years. After previously covering the LA Kings and the New York Rangers, Tom now covers the Anaheim Ducks.
While in college at Clemson University, the 2016 college football national champions, Tom wrote game summaries and feature articles for the official team website of the Greenville Drive, a Class-A minor-league baseball team and affiliate of the Boston Red Sox. Tom is happy to be able to continue to fulfill his passions for sports and writing with THW.