After their four-game winning streak from Feb. 12 to Feb. 17, the Arizona Coyotes, perhaps hindered by a break from game action in the middle of their schedule, dropped two of three at home last week and once again were unable to move out of the NHL's basement.
Coyotes Struggle on Home Ice
The 'Yotes enjoyed a four-day scheduled break following their 1-0 victory over the Edmonton Oilers on Feb. 17, and returned to action against the Oilers' Alberta rivals, the Calgary Flames, on Thursday night in Glendale. Things were looking good early, as Derek Stepan gave the 'Yotes the lead just 57 seconds in. However, a big hit by Zac Rinaldo on Matt Stajan appeared to re-energize the Flames – they scored the next five goals in the game en route to a 5-2 victory.
After Thursday's disappointing performance, the Coyotes got back to work against the Anaheim Ducks on Saturday night at Gila River Arena. Early on, it became clear that Arizona had shaken off of the rust that was present in their game on Thursday – they once again took an early lead on Jason Demers' fifth goal of the season just 5:58 in, and, as he did on Feb. 17 against Edmonton, Antti Raanta shut the door the rest of the way, stopping all 26 shots he faced for his 10th career shutout and second in his last three games.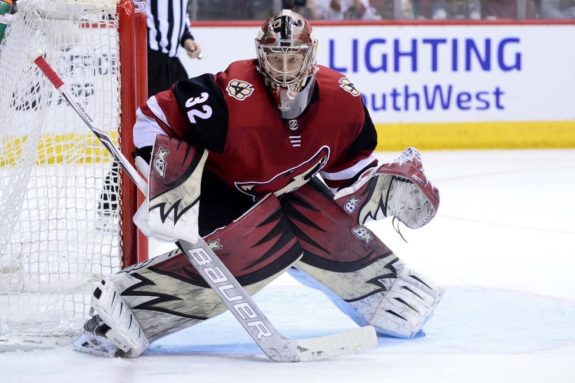 Back in action again on Sunday night, the Coyotes welcomed the Vancouver Canucks to Gila River Arena for their second home tilt in as many days. The 'Yotes looked to take another early first-period lead, but Nick Cousins' goal just 43 seconds in was disallowed as Brad Richardson was whistled for goaltender interference on Jacob Markstrom. The Canucks scored on their ensuing power play chance and controlled the game from then on. Arizona finally broke through and tied the game with a power-play goal in the third period, but Vancouver quickly regained the lead and Markstrom shut things down from there, stopping 42 shots as his club earned a 3-1 triumph.
A Light Schedule
Following Sunday night's tilt against Vancouver, Arizona will enjoy yet another lengthy break before getting back on the ice on Thursday against the Minnesota Wild. These two teams faced off against each other earlier this month and it was a memorable one, as the Coyotes erased a 3-0 deficit and picked up a 4-3 comeback victory in overtime at the Xcel Energy Center back on Feb. 8. Needless to say, the Wild should be motivated for this one after letting a valuable win slip through their grasp. Puck drop is scheduled for 7:00 P.M. at Gila River Arena.
On Saturday, the Coyotes will wrap up their seven-game homestand with a matchup against Erik Karlsson (maybe) and the Ottawa Senators. By the time these two teams face off, it's likely that both rosters will look vastly different than they are today. Ottawa is aggressively shopping Karlsson, and the Coyotes have close to 10 players who could potentially be moved before the deadline at 3:00 P.M. ET on Monday. This one will get started at 6:00 P.M. in Glendale on Saturday night.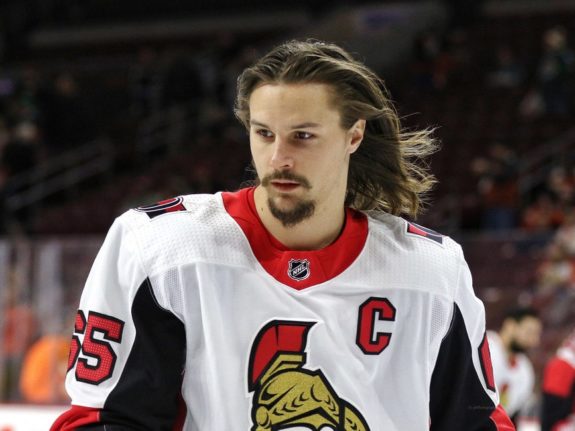 Pacific Division Roundup
We usually like to change things up in this space every week, but we've run out of things to say about the Vegas Golden Knights. They just keep winning – will anyone in the Pacific be able to keep pace?
Anaheim Ducks (31-21-12, 74 points)
Last week: 2-1-1 (2-0 W at VGK, 2-0 W vs DAL, 2-0 L at AZ, 6-5 SOL vs EDM)
Analysis: After three consecutive 2-0 games to start the week, the Ducks found themselves in quite the barnburner against the Edmonton Oilers on Sunday at the Pond. Anaheim trailed 5-3 in the final minute but scored twice in 14 seconds to send the game to overtime, where they'd eventually fall in the skills contest, 6-5. The adage of momentum not meaning anything in a shootout once again proves to be true.
Player of the week: Ryan Getzlaf – 2 goals, 5 assists, +4
This week: Fri vs CBJ, Sun vs CHI
Calgary Flames (32-22-9, 73 points)
Last week: 2-1-1 (2-1 OTL vs BOS, 7-3 L at VGK, 5-2 W at AZ, 5-1 W vs COL)
Analysis: After losing in overtime to the Bruins and getting blown out by the Vegas Golden Knights to start the week, the Flames bounced back nicely – they came back from an early 1-0 deficit to defeat the Coyotes 5-2 on Thursday and dismantled a desperate Avalanche squad on Saturday at the Saddledome, 5-1.
Player of the week: Jon Gillies – 2-0-0 record, 63 saves on 66 shots (.955 SV%, 1.50 GAA)
This week: Tue at DAL, Wed at COL, Fri vs NYR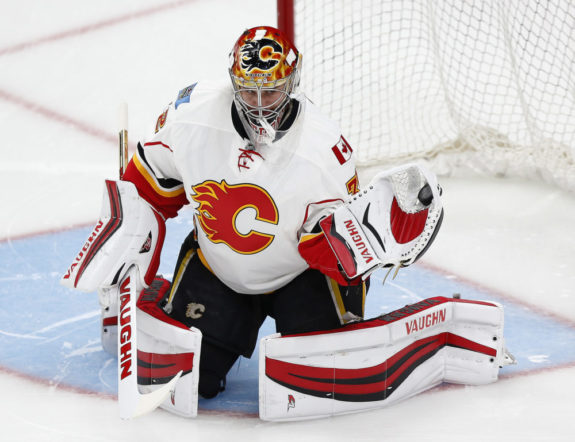 Edmonton Oilers (27-31-4, 58 points)
Last week: 3-1-0 (3-2 L vs BOS, 3-2 OTW vs COL, 4-3 W at LA, 6-5 SOW at ANA)
Analysis: A day late and a dollar short – that's how Oilers fans have likely reacted to their team's recent hot streak of four wins in eight nights in four different cities. Why? Because 17 wins will be required over the final 20 for Edmonton to have any realistic shot at qualifying for the postseason. We've seen stranger things, but come on – this thing's over.
Player of the week: Cam Talbot – 2-1-0 record, 100 saves on 108 shots (.926 SV%, 2.64 GAA)
This week: Tue at SJ, Thu vs NSH, Sat vs NYR
Los Angeles Kings (33-24-5, 71 points)
Last week: 2-2-0 (3-1 W at CHI, 4-3 W at WPG, 2-0 L vs DAL, 4-3 L vs EDM)
Analysis: Los Angeles' move to part ways with Darcy Kuemper raised some eyebrows, but the acquisition of Tobias Rieder and the return of Jeff Carter should go a long way toward improving the Kings' offense. Will Jonathan Quick be able to carry the load for the rest of the season and get his team back into the playoffs?
Player of the week: Jonathan Quick – 1-2-0 record, 74 saves on 79 shots (.937 SV%, 1.68 GAA)
This week: Mon vs VGK, Tue at VGK, Thu vs CBJ, Sat vs CHI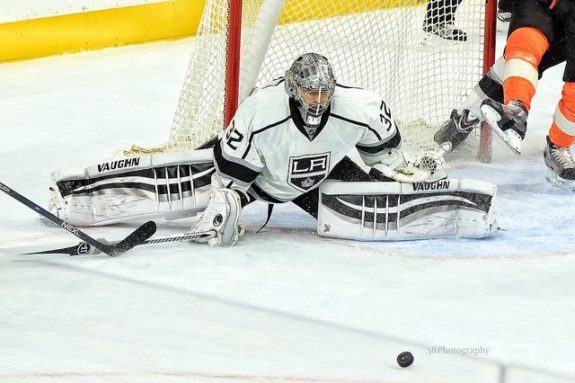 San Jose Sharks (33-21-9, 75 points)
Last week: 1-2-1 (3-2 W at STL, 7-1 L at NSH, 3-1 L at CHI, 3-2 OTL at MIN)
Analysis: The Sharks won their first game of the week to extend their winning streak to three, but they then lost their final three games to drop back to within a point of the Ducks in the Pacific Division. They've also left the door open for the Kings with their recent struggles. It should be an interesting finish out West with the three California clubs vying for playoff positioning.
Player of the week: Martin Jones – 1-1-1 record, 102 saves on 109 shots (.936 SV%, 2.28 GAA)
This week: Tue vs EDM, Thu vs CHI, Sun vs CBJ
Vancouver Canucks (24-31-7, 55 points)
Last week: 1-1-1 (5-4 OTL vs COL, 6-3 L at VGK, 3-1 W at AZ)
Analysis: The Canucks have managed just four wins in February, but they dominated in each of them, as they outscored their opponents 19-4 during the four victories. The Coyotes became Vancouver's latest victim on Sunday, as they were able to solve Jacob Markstrom just once despite firing 43 shots his way.
Player of the week: Daniel Sedin – 3 goals, assist, +2
This week: Mon at COL, Wed vs NYR, Fri vs NSH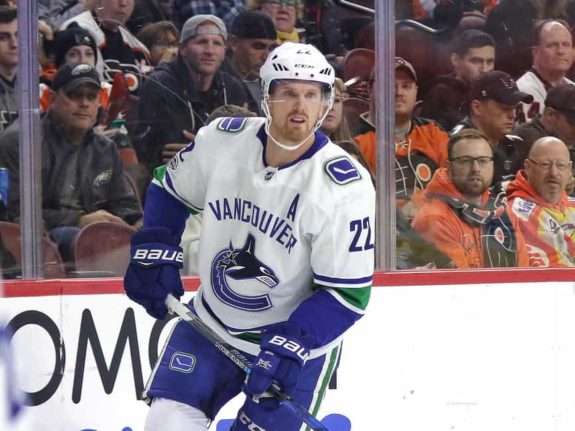 Vegas Golden Knights (41-16-4, 86 points)
Last week: 2-1-0 (2-0 L vs ANA, 7-3 W vs CGY, 6-3 W vs VAN)
Analysis: The Golden Knights continued their dominating play at T-Mobile Arena last week, as they bounced back from a 2-0 shutout loss to the Ducks on Presidents' Day with blowout victories over the Flames and Canucks to close out a seven-game homestand. They'll open this week with a home-and-home against the Kings and a tilt against the Ottawa Senators in Vegas before embarking on a five-game Eastern Conference road trip.
Player of the week: Reilly Smith – Goal, 4 assists, +2
This week: Mon at LA, Tue vs LA, Fri vs OTT, Sun at NJ
The Coyotes will wrap up their seven-game homestand this week with two more games – can they get back on track and finish on a high note?
A lifelong Phoenix resident, Louis has been following hockey since 2010, has covered the Arizona Coyotes since 2015, and has been playing hockey since 2020. So far, Louis has visited eight NHL cities, and one of his personal goals is to eventually make it to all 31 NHL arenas. For any questions or concerns, contact the writer via Twitter @LouisPannone.