The Toronto Maple Leafs have a number of difficult decisions to make ahead of the 2018 NHL Trade Deadline.
On one hand, the Leafs view themselves as a legitimate contender in the Eastern Conference, and one which could challenge for the Stanley Cup if the correct assets are acquired ahead of the cut-off. Dead-set on adding a defenceman of substantial skill and experience, bolstering their blue line could be the key to Toronto's success this postseason.
On the other hand, the Leafs boast five pending unrestricted free agents (UFAs) and should perhaps be a seller leading up to the deadline. With a handful of players of immense value in need of new contracts come the end of the current season, Toronto could, quite easily, trade these players in exchange for a massive return.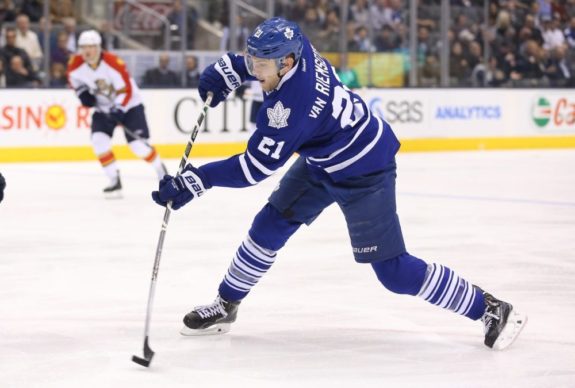 Unfortunately, the particular approach which the Leafs will follow remains unclear, as it appears as though short-term success has dramatically altered the team's long-term outlook. Yes, Toronto will be a powerhouse for the foreseeable future, however, the franchise would do well to stay true to its original ideology and trade its UFAs in order to generate a strong and sustainable roster.
With this being said, let's take a look at the potential suitors for each of the Leafs' pending UFAs, as well as which team could be the front-runner for every individual's services.
Tyler Bozak
Potential Suitors: Los Angeles Kings, Pittsburgh Penguins, San Jose Sharks, Winnipeg Jets
Likely Destination: Winnipeg Jets
It's hard to believe that Tyler Bozak is the longest-tenured player on the Leafs' roster.
Since earning his NHL-debut with Toronto during the 2009-10 season, Bozak has skated in 576 regular season games for the franchise and has totalled an impressive 354 points in the process. Known for his stellar two-way game and ability to win face-offs in critical situations, Bozak has quickly become a fan favourite owing to his driven play and competitive nature.
Unfortunately, Bozak's expiring contract could bring his magical run with the Leafs to an abrupt end, as the native of Regina, Saskatchewan stands poised to become a UFA at the conclusion of the current campaign. As a natural leader and sporadic goal-scorer, Bozak's impending departure from Toronto's lineup will undoubtedly be felt both on and off of the ice.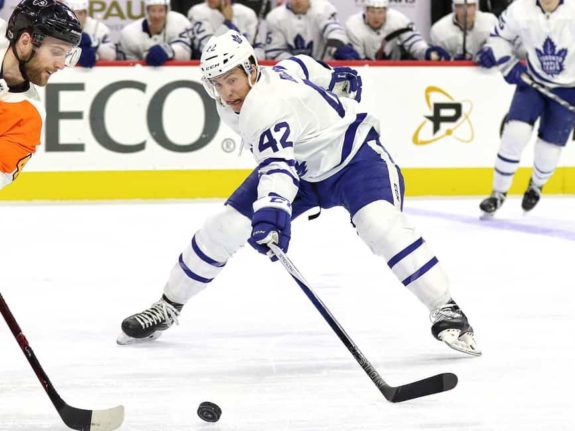 As a centre of immense value and one capable of contributing consistently at both ends of the ice, it is Bozak's bleak contract situation and the impending arrival of Tomas Plekanec which could pave his way to a trade out of Toronto. If, in fact, such a decision was to be contemplated by the Leafs, a vast number of suitors would surely arise, with all of which desperate to add Bozak to their respective rosters ahead of the postseason.
And, with regards to a potential landing spot for Bozak, there is one particular organization which stands above the rest in regards to potential interest.
Is Tyler Bozak still the No. 3 centre or did he just get bumped by Plekanec? Interesting problem for the Leafs, who might have the best 1-4 centres in the league after Pittsburgh.

— Michael Traikos (@Michael_Traikos) February 25, 2018
In Winnipeg, the Jets find themselves in a desperate search for an additional centre. Said to have been in talks with the Montreal Canadiens, the Jets lost out on the Plekanec sweepstakes and, as a result, surely remain in the market for a productive depth centre. By targeting and acquiring Bozak, the Jets would add a proven centre and one capable of skating on the team's third line — effectively bumping Andrew Copp to the fourth-line in favour of greater offensive skill and defensive consistency.
If achieved, the Jets would boast an impressive trio of centres, while Matt Hendricks would also be at the ready in case of a potential injury. Further, with well over $5 million in cap space heading towards the deadline, acquiring Bozak's $4.2 million salary would be of little consequence to Winnipeg, who would simply take his cap hit in stride en route to what will surely be a deep playoff run.
Leo Komarov
Potential Suitors: Calgary Flames, Winnipeg Jets
Likely Destination: Calgary Flames
It appears as though Leo Komarov's time with the Leafs is coming to an end.
Despite owning the admiration of fans throughout Toronto, Komarov's on-ice play has continued to regress. Once a secondary scoring threat, Komarov's offensive production has stalled while his play within his own zone has begun to expose the Leafs on a nightly basis. Poised to become a UFA at the end of the season, trading Komarov ahead of the trade deadline could prove to benefit both he and his current organization.
In possession of a $2.95 million cap hit, moving Komarov's substantial salary will surely be the biggest obstacle faced by the Leafs. Fortunately, there will be teams interested in Komarov's services, and perhaps none more so than the Calgary Flames.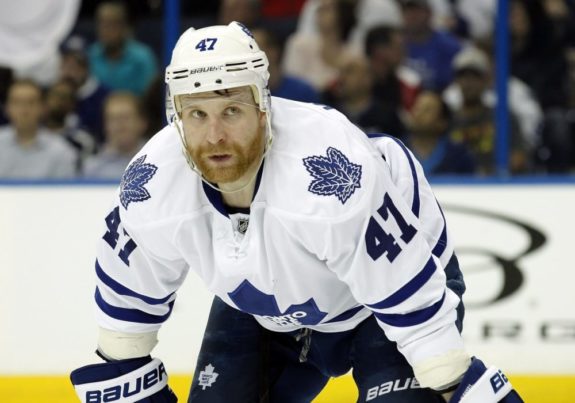 Desperate for scoring depth on the wings, adding Komarov could ignite greater scoring from within for the Flames, who currently rank in the bottom half of the NHL with regards to goals for per game. At the moment, the play of Garnet Hathaway and Curtis Lazar has simply not generated enough offence for Calgary, which has come to rely far too heavily on its best players on a nightly basis.
In terms of a return, the Leafs would not land an overwhelming haul. In fact, the most valuable asset Toronto would acquire in the potential departure of Komarov would be the available ice time created by his sudden absence. With a number of young players such as Kasperi Kapanen, Josh Leivo, and Andreas Johnsson hungry for opportunity, dealing Komarov could very well allow for the emergence of a new Leafs star.
Dominic Moore
Potential Suitors: Los Angeles Kings, Pittsburgh Penguins, Philadelphia Flyers
Likely Destination: Pittsburgh Penguins
Last year, Matt Cullen proved to be a critical piece in the Penguins' run to the Stanley Cup. This year, that player could very well be Dominic Moore — if Toronto intends to trade him, that is.
As a pending UFA, Moore owns a slim $1 million contract and is an excellent depth centre. Capable of winning faceoffs with ease and a fixture on the penalty kill, Moore's energetic style of play and determination on the ice combine to make him a surprisingly potent player in all three zones. Clearly valued by the Leafs, Moore takes the majority of his draws in his defensive end and is relied upon heavily in high-stress situations.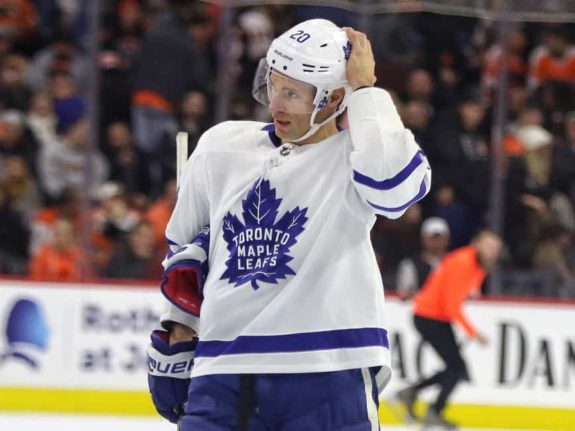 So, why would Toronto ever think to trade Moore? Well, given the Leafs' recent addition of Plekanec, Moore could prove to be expendable, and especially so given the growing presence of Miro Aaltonen. Although trading Moore would not ideal, doing so could help to strengthen Toronto's prospect base through the potential acquisition of a promising young prospect.
On the other hand, would the Penguins be interested in Moore given their acquisition of Derick Brassard?
Absolutely.
If any team can attest to the importance of depth in the playoffs, it is Pittsburgh, who captured the Cup in 2016-17 despite a blue line marred by injury. Sure, the Penguins now boast an excellent trio of centres, however, a true contender can never own enough depth, and especially so down the middle of the ice. Although he would not play regularly, Moore would serve as an incredibly valuable option for Pittsburgh who could provide energy and a scoring touch.
Heck, he could even force Riley Sheahan to the press box.
Roman Polak
Potential Suitors: Boston Bruins, Dallas Stars, New Jersey Devils
Likely Destination: Boston Bruins
Roman Polak has a fan in Head Coach Mike Babcock.
Gritty, physical, and relentless in his pursuit of the puck, Polak has continued to earn substantial ice time within a youth-laden roster and one which has done its very best to push him to the sidelines. Despite the emergence of Travis Dermott and the signings of Calle Rosén and Andreas Borgman, Polak has continued to hold his ground, forcing Babcock to consistently insert him into the lineup in favour of a number of sexier choices.
Polak's clear value as a depth defenceman and his ability to earn playing time despite his slender skill set are qualities which will undoubtedly make the veteran a highly sought after rental player ahead of the trade deadline. Owning an expiring contract worth $1.1 million and familiar with being traded by the Leafs, Polak's potential departure to a contending team desperate for blue line depth is by no means out of the question.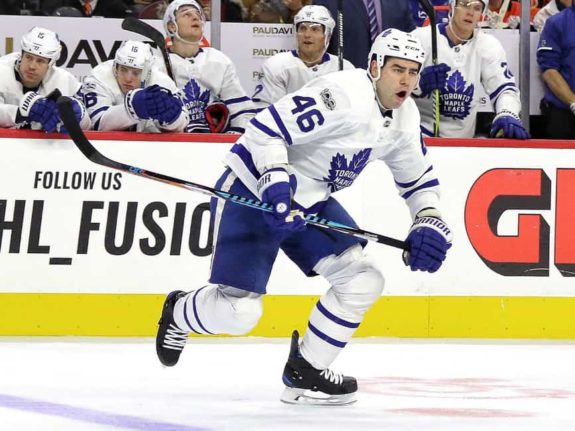 In terms of teams looking to increase their depth, the Bruins and Stars immediately come to mind. However, although the Stars' blue line boasts its fair share of weaknesses, it is the Bruins who could be the perfect suitor for Polak's services. Owning an incredibly young defence-core, Boston would do well to add an experienced defender prior to the postseason, and one who plays a style similar to the team itself.
Now, it goes without saying that the Bruins have already nabbed Nick Holden from the New York Rangers, yet you can never have too much blue line depth in the playoffs, and especially so considering the recent injury history of a number of Boston's defencemen.
James van Riemsdyk
Potential Suitors: Anaheim Ducks, Los Angeles Kings, Nashville Predators, St. Louis Blues, Vegas Golden Knights
Likely Destination: Anaheim Ducks
James van Riemsdyk is a dynamic offensive force.
Capable of meandering through opposing defences before generating a legitimate scoring chance, van Riemsdyk's silky mitts and remarkable ability to finish plays have placed him in line for a considerable raise.
Unfortunately, it appears as though the Leafs will not be able to pay van Riemsdyk the salary he deserves, as the franchise stands poised to hand out massive contracts in coming years to Auston Matthews, Mitch Marner, and William Nylander. Undoubtedly on his way out of town as a UFA, the time has clearly come for Toronto to deal van Riemsdyk in exchange for a massive return.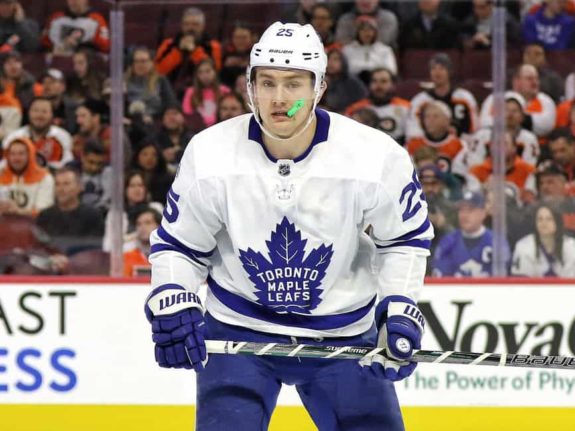 As we witnessed when the Rangers traded Rick Nash to the Bruins, NHL teams are willing to pay for experienced and proven scoring-wingers. Fortunately, van Riemsdyk fits this description perfectly, as his nearly 600 career regular season games played and almost 400 points recorded in those contests illustrate both his lethality and consistency at the NHL-level.
So, to say multiple teams would have a substantial interest in van Riemsdyk ahead of the trade deadline would be an understatement. However, to date, it remains unclear as to whether or not the Leafs would truly entertain dealing their hulking power-forward, as the franchise has emphasized rather emphatically their attraction to the idea of retaining their own rental players.
Why tonight should be James Van Riemsdyk's last game as a Leaf https://t.co/3u9vcwyS2e pic.twitter.com/4WJ1SnypIW

— The Faceoff Circle (@faceoffcircleca) February 25, 2018
Yet, if Toronto was to move van Riemsdyk, perhaps the most insistent team of all would be the Anaheim Ducks. Logging a career-low 14:38 of ice time per game and vastly under-utilized, van Riemsdyk could receive a fresh start in Anaheim, where he would undoubtedly see greater playing time alongside seasoned veterans.
In need of greater depth on the wings, van Riemsdyk would immediately hop into a top-six role with the Ducks, where he would receive ample and consistent playing time in addition to becoming a fixture on the team's power play.
Perhaps the only factor mitigating a deal between these two parties would be van Riemsdyk's contract, which carries a $4.25 million cap hit. With just under $3 million in cap space available, the Ducks would need the Leafs to retain a significant portion of van Riemsdyk's salary in order to concoct a deal and come to an agreement.
Brett Slawson is a four-year veteran of The Hockey Writers who covers the Toronto Maple Leafs, NHL prospects, and the OHL's Mississauga Steelheads.
Contact Brett on Twitter @brettslawson92, or by email at brett_slawson@hotmail.com.