It's been the biggest question surrounding the Toronto Maple Leafs for months now — what's going to happen with James van Riemsdyk? Does Toronto trade him? Do they try to re-sign him? It's really up in the air at this point.
The Leafs have an absolute logjam of forwards and right now there's more players than open spots, so the consensus opinion seems to be to trade the former second-overall pick. But if Toronto was to re-sign van Riemsdyk, what could the contract look like?
The Money
The rumoured asking price for van Riemsdyk is around $6 million per year, which unlike a lot of forwards searching for a big payout, is very reasonable. With Tyler Bozak and Leo Komarov also on expiring contracts, over $7 million will be freed up if they leave, meaning there could be room to keep van Riemsdyk. If you follow a $100,000 per point averaged over an 82-game season rule, he would fit $6 million per year perfectly.
Here are his stats since joining the Leafs:

He's been within eight projected points between his five seasons and his last two years put him on pace to hit 60 points right on the dot. Though it could be argued that he should go for a bit lower, maybe in the $5.75 million mark, if Toronto was to give him the $6 million he's asking for, it may give them the ability to negotiate a shorter term.
The Term
Since van Riemsdyk is in the prime of his career when his contract expires, he'll likely do his best to protect himself in making sure he gets a deal that'll keep him signed past his prime. If van Riemsdyk wants six years, which could be entirely possible, his contract will expire when he's 35-years old, which is way too long for the Leafs to keep him.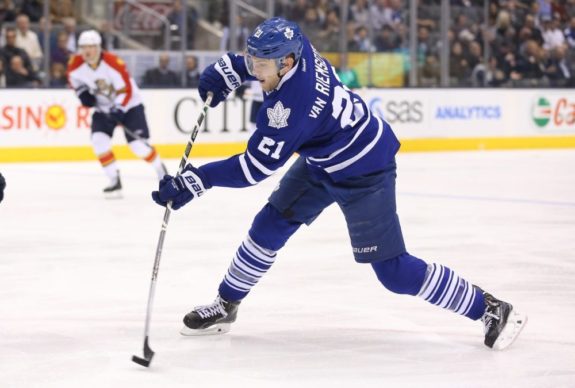 Toronto's management could actually be stressing less on dollar amount and more on term as of now. An ideal contract for van Riemsdyk would be just four years, ending when he's 33-years old.
It may seem unlikely that they could get a term that short, but Kevin Shattenkirk, who's just four months older than van Riemsdyk, just took a four-year deal with the New York Rangers. If they could ink the forward to a four-year deal worth $6 million per season, a re-signing should be worth looking into for Toronto.
The Implications
If he is re-signed, it means a lack of available spots on the roster moving forward. They've got Carl Grundstrom, Josh Leivo, Kerby Rychel and more left wingers who are NHL-ready but may not get a real chance if van Riemsdyk sticks around. That being said, he produces more than any left winger Toronto has and if he's going to keep putting up 60 points for the next three or four years, why not keep him around?
In terms of cap implications, $6 million is a lot to swallow for a team that has to sign their top three forwards in the near future. That being said, with the Connor Brown and Zach Hyman contracts coming in fairly low, there is a chance the Leafs could work around the cap to keep van Riemsdyk on the team.
Is van Riemsdyk Worth It?
It depends. Overall, the term may be more important than the actual money value, to avoid shifting into a Bruins situation where players are getting older and declining, but will be under contract for a while. It's crucial for the Leafs, who will need to watch their cap space very closely in the coming years, not to jeopardize their future in order to keep van Riemsdyk. If he's asking for a six-year deal, the signing should be a write off and Toronto should fill the void with one of their upcoming prospects or the likes of Josh Leivo.
But, if the Leafs can get him at a decent price for up to four years, it should be discussed.  Van Riemsdyk has been a big part of the team for the past half-decade and though he's not going to be the one to lead Toronto to the Stanley Cup, he's still a valuable asset — one who's extended future with the team should be seriously considered.