Now that the preseason has concluded, the Detroit Red Wings are gearing up to officially open Little Caesars Arena Thursday night against the Minnesota Wild. Detroit finished the exhibition schedule with a 3-4-1 record and saw a few surprise performances along the way.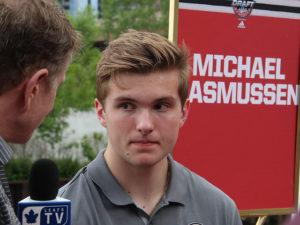 For one, 2017 first-round pick Michael Rasmussen impressed the organization as he led the way with four goals in five games. Additionally, Rasmussen was trusted to win "crucial" faceoffs, kill penalties, and was given ice time late in games. Though he's headed back to the WHL, the young center certainly made an impact in limited time with the Red Wings.
In addition to Rasmussen, Joe Hicketts, Jimmy Howard, Anthony Mantha, Martin Frk, and Gustav Nyquist all stood out with strong performances. Frk even earned a spot with the Red Wings after finding chemistry with Mantha and Dylan Larkin on what could become Detroit's second line. And starting Thursday, that cohesion and the accompanying results will begin to matter for the Red Wings.
To launch the 2017-18 NHL season, the Red Wings coverage team at The Hockey Writers makes their bold predictions for Detroit in this week's edition of The Grind Line.
Tony Wolak
Steamy Hot Take: Red Wings Make the Playoffs
Yes, this certainly sounds far-fetched for a team that only won 17 games in regulation last year, but believe me, it's possible.
Though this prediction may go down in flames, I'm going to go out on a limb and say that the Red Wings will indeed qualify for the playoffs after missing out a season ago. To do this, Detroit will need to execute their gameplan to perfection and rely on strong goaltending from Howard and Petr Mrazek. The tandem looked dialed-in during the preseason, though Mrazek gave up a few more juicy rebounds than he'd probably like. With every game likely being close, Detroit's goaltending will need to step up and be the difference.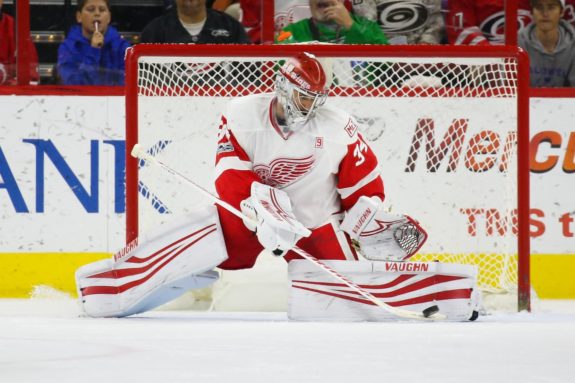 To supplement the solid performances in net, the Red Wings will also score more during the 2017-18 season. Several Red Wings players – including Justin Abdelkader, Riley Sheahan, and Dylan Larkin – underperformed last season and will have the opportunity to prove themselves. The team will have some ground to make up as well, with Andreas Athanasiou's contract negotiations at a stand-still and the regular season on the horizon.
Luke-Warm Hot Take: Athanasiou's New Deal
Fear not, Athanasiou will be back this season. As a secondary bold prediction, an agreement will be reached between the Red Wings and their lightning-quick forward in December. To make room for Athanasiou on the roster, GM Ken Holland will trade or waive a long-time Red Wings player, surprising many with a bold move of his own.
Griffin Schroeder
Steamy Hot Take: Dylan Larkin Will Lead the Red Wings in Points
What a difference a position change makes. With soon-to-be-37-year-old Henrik Zetterberg unlikely to repeat his resurgent performance last season, 21-year-old Larkin will pick up the slack and have a bounce-back season for the ages.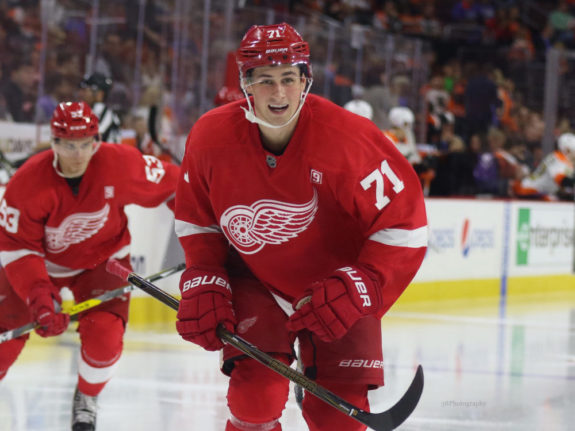 Paired with Mantha on his wing, the two will combine to form the most consistent offensive duo for the Red Wing attack. The momentum generated from the final quarter of last season and from the 2017 IIHF World Championship will play a significant role in Larkin's resurgence.
The Waterford native tallied two goals and 10 points at the World Championship for Team USA with Jeff Blashill as his coach. His confidence continued to strengthen from his solid finish to the regular season when he scored 13 points in the final 21 games while primarily playing the center ice position.
Primed for an elevated role with Mantha, Larkin will make his sophomore season feel like a distant memory in a big way. As for Mantha, he'll have a great season as well.
Luke-Warm Hot Take: Mantha Will Light the Lamp 30 Times
When he first was promoted from Grand Rapids last season, the 23-year-old scored 11 goals in his first 25 games. While he did hit a rookie wall and scored just six the rest of the way, he was the best possession player on the Red Wings.
Mantha posted a plus-6.5% Corsi-Relative ratio to lead Detroit and place 16th in the league among forwards who played at least 50 games. This bodes well for him going forward as he looks to make the same impact with a new linemate in Larkin.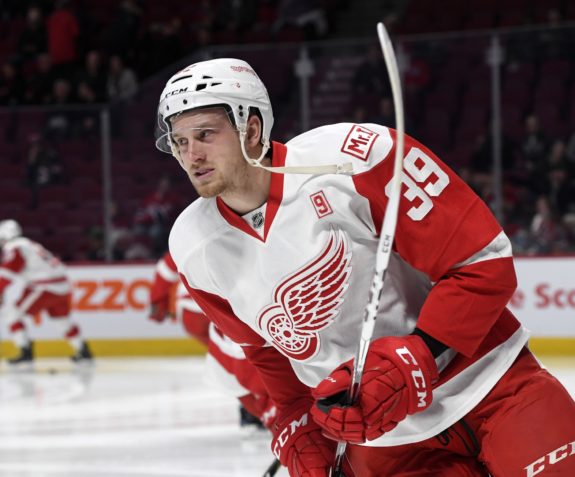 The Val D'or product missed 22 games between Grand Rapids and Detroit, and also suffered a season-ending finger injury, so starting in Detroit knowing that he will have a top-six role will do wonders for Mantha in reaching the 30-goal plateau.
And, of course, the Larkin and Mantha are scheduled to be restricted free agents next summer for the Red Wings, who will again be close to the salary cap ceiling.
John Curran
Steamy Hot Take: At Least Six Red Wings Will Score 20 Goals
It's no secret that the Red Wings struggled to score goals in 2016-17 but I believe the team will find an offensive resurgence this season inside Little Caesars Arena. Last year, Detroit had five players—Athanasiou, Frans Nielsen, Zetterberg, Mantha, Larkin—who were just a few goals shy of scoring 20 goals during the regular season. I believe that those five aforementioned players will reach the 20-goal plateau this season. Of course, Athanasiou will need to re-sign with the team before he can join the 20 goal scorer club in 2017-18.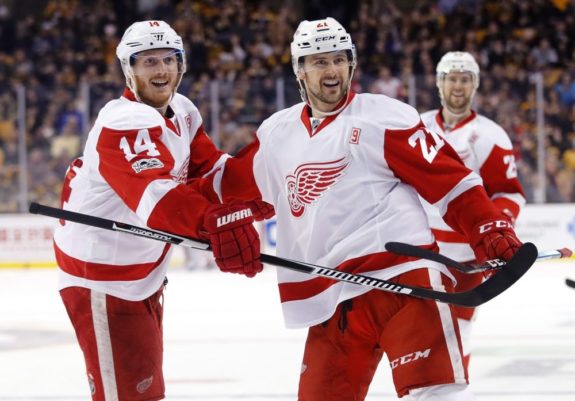 I believe Tomas Tatar will once again score 20 or more goals next season in Detroit. Keep an eye on Nyquist to bounce back and also possibly reach the 20-goal mark.
Luke-Warm Hot Take: Howard Helping Hockeytown
As a secondary take for the upcoming season, Howard will re-establish himself as the number one goalie in Detroit with another stellar season.
When the Red Wings chose to protect Howard over Mrazek in the 2017 Expansion Draft, the team sent a very clear message – that they believe Howard to be the go-to-guy between the pipes. It also sends the message that Mrazek needs to step up and become the professional that the team hoped he would/could be.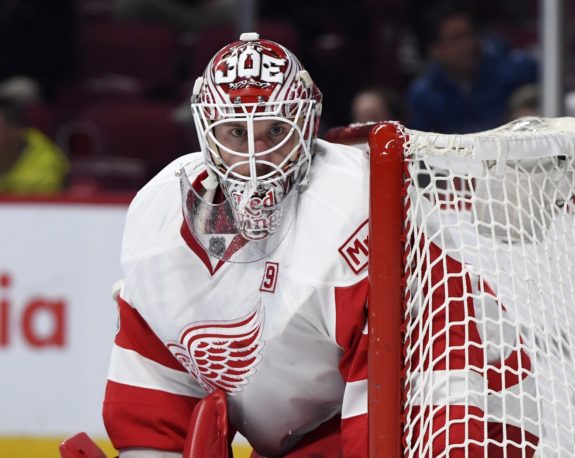 With the vote of confidence in his favor, I believe Howard will regain his swagger and have a productive season in 2017-18. Bitten often by the injury bug, I believe Howard will start between 30-40 games for the Red Wings.
How do you think the Detroit Red Wings will perform this season? Comment below with your thoughts.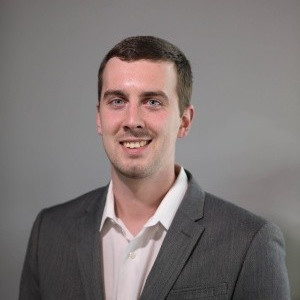 Tony Wolak is based in the Washington D.C. area and covers the Detroit Red Wings for THW. As a former junior and college hockey player, Tony has a unique perspective on Red Wings topics.