The Buffalo Sabres wrapped up their preseason with a 1-4-1 record. While the pace was better, the blue & gold scored a grand total of 12 goals in six games–only the Washington Capitals scored fewer goals (eight). They also suffered with slow starts in most of their games. For Sabres' fans, it sounds painfully familiar to last year.
Let's hope the warmup season is not a true indicator of how the 2017-18 season will unfold.
The reality is, while the preseason record is far from what they were hoping for, it's likely nothing to be too worried about. It could almost be expected. After all, the preseason games are glorified scrimmages, with hodge-podge lineups.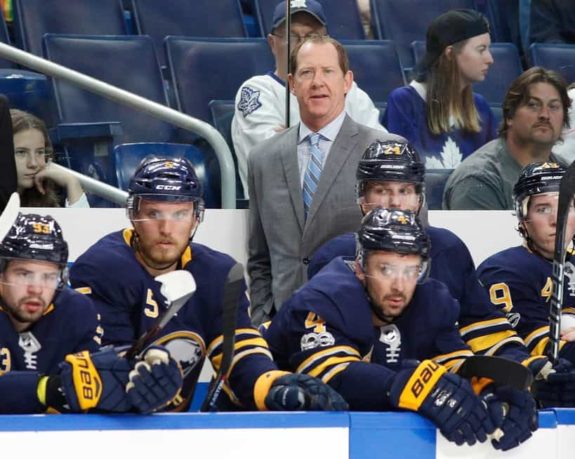 At the risk of sounding like an excuse, it's going to take time. It could be 10 games, 20 games or even half the season before this group starts to gel while executing Housley's system.
"Every time there's a new coach, new style, it takes a little time," said defenseman Rasmus Ristolainen. "There's a lot of new things but I really am looking forward to this style of play. It's good to get some offense going. I think we've got a great group."
New Coach, New Faces
This is a team with a new rookie head coach and of the 27 men on the roster right now, nine were not even on the Sabres last year. That's a third of the team.
Forwards Jacob Josefson, Seth Griffith, Jason Pominville, Benoit Pouliot and Jordan Nolan did not play for the Sabres last year. Defensemen Matt Tennyson, Marco Scandella, Nathan Beaulieu and Victor Antipin are all wearing blue and gold for the first time. Add in Malone, who played one game with the club last year, and Nylander, who played four games, and nearly half the roster has been overhauled.
Roster Taking Shape
While teams have to report their opening night 23-man roster on Tuesday at 5 p.m., the Sabres appear to already have theirs ready.
There are 27 players currently on the Sabres roster. Four players are injured, though–forwards Evan Rodrigues, Alex Nylander and Sean Malone and defenseman Jake McCabe. They'll likely be assigned to injured reserve.
Defenseman Taylor Fedun and forwards Justin Bailey and Nicolas Deslauriers were all sent to Rochester while defenseman Cody Goloubef was released from his professional tryout.
Bailey had a decent camp, but was invisible during the preseason. He didn't have much impact and doesn't appear ready for the NHL yet. He can report to the Amerks immediately.
"With our roster size, you've got to make difficult decisions. He's got to go back with the same attitude he had in camp down in Rochester and be a leader down there. He's close," said Housley.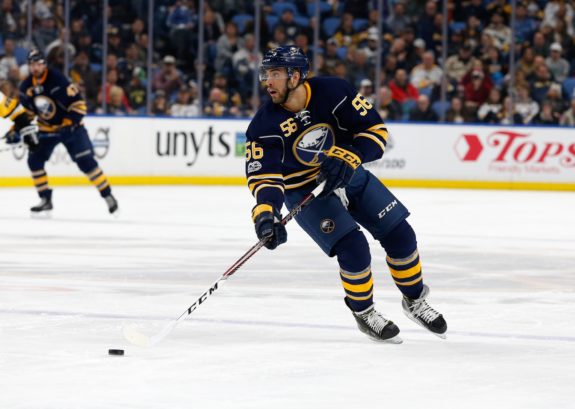 DesLauriers, a fourth-line energy player, had a decent camp. However, with the Sabres' waiver wire acquisition of Jordan Nolan, it appears D-Lo's time could be coming to an end.
Both Fedun and DesLauriers cleared waivers on Sunday and are expected to join the Amerks in Rochester. It will be DesLauriers first time in the AHL since 2014. Former Sabres general manager Tim Murray re-signed him to a two-year, one-way contact in June of 2016 paying him 775,000 annually. Last year, he was goal-less with two assists in 42 games.
"I'm happy they're still part of our organization," Housley said. "They had a good impact on our team and we need depth. 'D-Lo' and 'Feds' can provide that."
An interesting fact: Nolan is the only player who has been claimed off waivers since camp started.
Forwards
As it stands now, the Sabres healthy forwards are: Jack Eichel, Zemgus Girgensons, Seth Griffith, Jacob Josefson, Evander Kane, Johan Larsson, Matt Moulson, Jordan Nolan, Ryan O'Reilly, Kyle Okposo, Jason Pominville, Benoit Pouliot and Sam Reinhart.
The lines are still in flux as Housley is throwing them around looking for a spark. In the last game, free agent signee Seth Griffith, spent time with Eichel and Kane. They created several scoring chances but did not find the back of the net.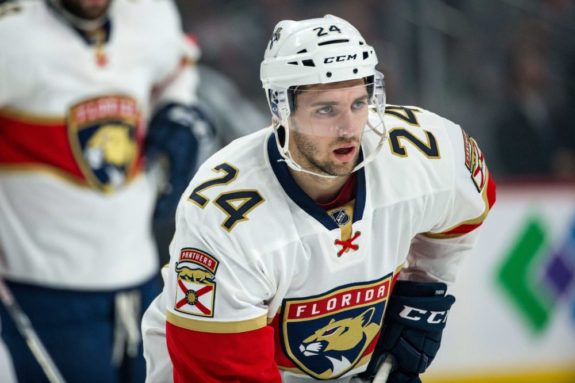 "We needed a little spark," said Housley. "We made some moves on the top three lines throwing some combinations to see if we can create some chemistry. Just trying to see if we can find something."
"I think his attitude is infectious, and he's got to play like he has the last two games," Housley said of Griffith."He's got to be up in the forecheck. I know he's a smaller guy but he gets on pucks and finds a way to win puck battles."
Defense
The overhauled blue-line corp is a little banged up. McCabe is nursing a banged up shoulder, while Bogosian's status is day-to-day after he suffered an injury late in Friday's preseason finale. Though he practiced hard, Scandella did not play in any of the Sabres' preseason games. He's returning from hip surgery.
The Sabres defensemen include: Jake McCabe, Victor Antipin, Nathan Beaulieu, Zach Bogosian, Justin Falk, Josh Gorges, Rasmus Ristolainen, Marco Scandella and Matt Tennyson.
Housley's five-man attack is predicated on an up tempo pace. Ristolainen, a workhorse who finished last season with an average of 26:28 minutes of ice time per game, could once again be looked at to log big minutes until his teammates are back. He says he's ready.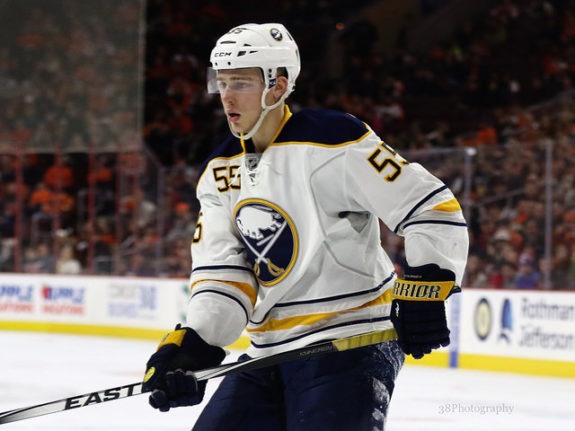 "That's what I practice for, I'm in great shape," said Ristolainen. "You practice to be in great shape and try to earn as many minutes as possible. I like to play as much as I earn."
The defensive pairings have been inconsistent at best. While it's likely Scandella will be slotted with Risto, he partnered with Beaulieu against the Leafs.
Robin Lehner and Chad Johnson will tend net for the Sabres.
Opening Night
It remains to be seen who will start in the season opener, as well as who will be the captain, when the Sabres host the Montreal Canadiens at KeyBank Center Thursday night.