When the Detroit Red Wings selected Michael Rasmussen ninth overall in the 2017 NHL Entry Draft he became the team's highest first-round pick since the team drafted Keith Primeau third overall in 1990. Like Dennis Cholowski, the Wings' 2016 first-round draft pick, Rasmussen's selection was met with a great deal of criticism from Hockeytown's faithful, something the six-foot-six center is not oblivious to:
"For me, I don't really focus on what other people think or say, I focus on myself. Whether you're a good skater or a bad skater, everyone needs to work on it. It's something I work hard to improve on. For me, obviously you can never be too good a skater so I'm going to get better, get quicker."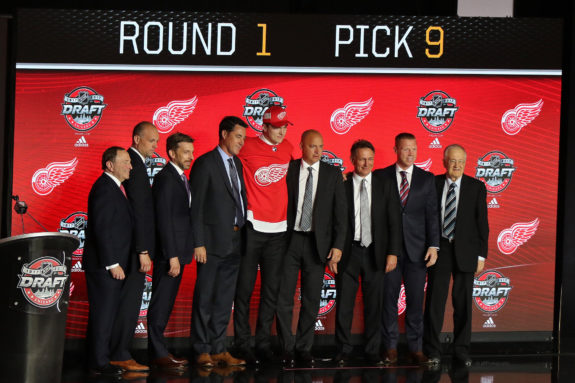 After appearing in his first two preseason games with the club, Rasmussen's performance may be beginning to change the tune of some detractors. While it is only preseason competition and he still has a lot to learn before making the jump to the NHL, it's becoming more evident why the Red Wings pulled the trigger on the big-bodied power forward.
Rasmussen Shines With Established Red Wings
During the Red Wings' fifth exhibition game against the Pittsburgh Penguins, Rasmussen was placed on Detroit's top-line, centering veteran wingers, Tomas Tatar and Gustav Nyquist. Henrik Zetterberg was originally slated to play in his spot but a sore neck kept Detroit's captain on the sidelines, allowing the first-round draft pick a golden opportunity to play alongside two established NHL players.
It only took 19 seconds into the Wings' first power play for the 18-year-old to demonstrate just how effective and dangerous he can be while on the man-advantage. Rasmussen used his large frame to corral a loose puck to the side of Pittsburgh's net then quickly and forcefully drove to the crease to bury the puck.
The Red Wings will undoubtedly be hoping that Rasmussen's power play goal is an early glimpse of what the young center will be able to contribute on a consistent basis once he reaches the NHL.  It's no secret that Detroit will try and utilize his size and skill on the special teams unit and with a net-front presence.
During the 2016-17 WHL season, Rasmussen scored 32 goals with the Tri-City Americans, 15 of which came while on the power play. The Red Wings have lacked a true net-front presence since Tomas Holmstrom hung up his skates in 2013 and Rasmussen is flattered to be compared to the iconic Red Wings' forward:
"If someone compares me to that player, it's pretty special," Rasmussen said. "I used to watch him growing up and I haven't really seen a player that's better in front of the net or better with his stick or better at not getting moved so that's an awesome comparison for sure."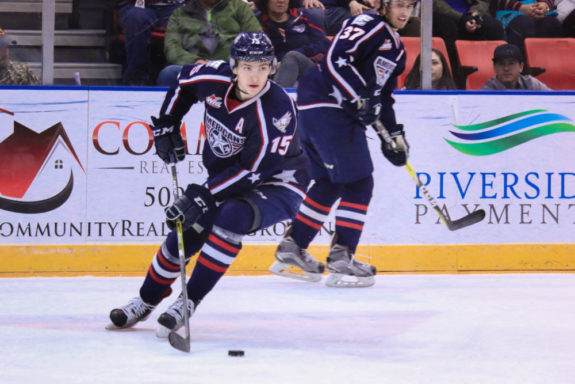 Rasmussen's preseason play thus far has earned him an extended look from the Red Wings as the team plans to play him in two more preseason games according to head coach, Jeff Blashill:
"We are keeping him to just give him a little more exposure at this level and to continue to put him in different situations so it gives you a better idea of what you have as an organization."
Earlier last month, I asked if Rasmussen had a legitimate chance at cracking the Red Wings' roster, and while it still seems like a long shot, the fact that he is getting an extended look from the team is interesting. I don't believe he will be wearing the winged wheel on opening night but his skill and determination may accelerate his climb up the Red Wings' prospect ladder.
Rasmussen Hears Praise and Patience
The Wings are obviously very high on Rasmussen as a player but they are are also stressing the importance of patience in regards to his development. Blashill recently pumped the brakes on the young center's hype-train during an interview with The Detroit Free Press:
"You stay real patient and you don't get overexcited and you don't get over-down on guys. I've seen guys really struggle and people will say, that guy will never make it, and they end up making it and doing great. I've seen the other way – you get overexcited about people. You just stay patient and you keep evaluating."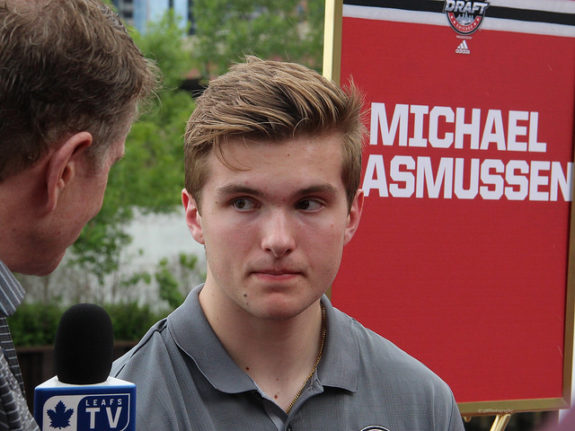 In the same article, Rasmussen earned a tip of the hat from Tatar, his linemate against the Penguins. After watching Rasmussen in practice for the first time, Tatar offered up this quick evaluation:
"Last practice I saw him for the first time and he looked pretty skilled," Tatar said. "Big body. Big size for a centerman. He has potential for sure."
I asked Gregg Krupa of The Detroit News his first-hand opinion of Rasmussen's debut performance at Little Caesars Arena against Pittsburgh, Krupa replied via tweet:
i thought he looked good and contributed on perhaps most shifts

did not see reputed problems of lack of pace, not skating without puck, yet https://t.co/AlRkrOVYMA

— gregg krupa (@greggkrupa) September 26, 2017
Again, Rasmussen isn't exactly threatening to take a top-three center's job, yet. Inserting a rookie into the starting lineup isn't quite the Red Wings' way, save for Dylan Larkin perhaps. It's a safe bet that Detroit will put the 18-year-old through their usual maturation system, but Rasmussen has both the skill and resolve to make it a much speedier process this time around.