Five years ago, the Toronto Maple Leafs had completed yet another unsuccessful season and one that further emphasized a period of sheer futility for the organization. The Leafs' 2011-12 campaign saw the team fail to make the playoffs for a seventh straight year, a result which cost then head coach Ron Wilson his job with only 18 games to play.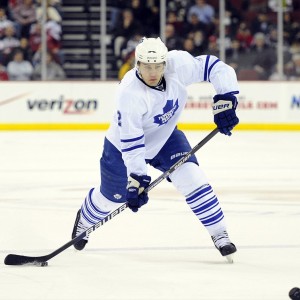 Despite the hiring of Randy Carlyle, a front office decision which too would be short-lived, Toronto remained in need of major on-ice changes.
Offensively, the Leafs found themselves in fine form, having scored the 10th most goals in the NHL; led by Phil Kessel's 37.
However, defense was another question entirely. When the 2011-12 season came to a close, the Leafs had surrendered 259 goals against, the second most in the entire league.
Sure, one could easily point to the team's goaltenders and the fact that four were used throughout the season. However, it was on defense where Toronto's true issues hid. Although boasting a fairly young blueline, the play of one defender stood out, yet for all the wrong reasons.
Luke Schenn, a fifth overall selection in the 2008 NHL Draft and a former standout with the Leafs at a young age, had endured a major regression in his play. Once projected to become a thundering, shutdown blueliner on the team's top pairing, Schenn struggled with his foot speed and on-ice awareness. In fact, not only did his CF% hit a career-low 43.9% in 2011-12, but his average ice time also fell by an outrageous six minutes in comparison to his previous season.
So, although hitting a low in the first year of his new five-year contract, the Leafs put Schenn on the market and, surprisingly, were able to net a player of massive potential in return.
That player, of course, was none other than James van Riemsdyk.
The Trade
A second overall selection in the 2007 NHL Draft by the Philadelphia Flyers, van Riemsdyk's NHL future was incredibly intriguing when he was acquired by the Leafs.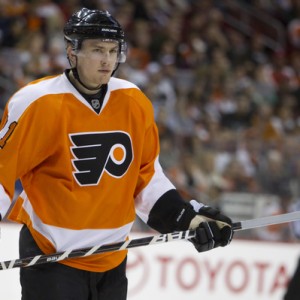 Having played in three seasons with the Flyers prior to his arrival in Toronto, it would be safe to say that van Riemsdyk's situation had become somewhat similar to that of Schenn's.
As a high draft pick, van Riemsdyk was expected to become a legitimate power forward and offensive threat in the NHL at a young age. Yet, after nearly 200 games with Philadelphia, such had simply not become the case.
In fact, van Riemsdyk's highest offensive output with the Flyers would be 40 points, 21 of which were goals, in his sophomore season; a solid total, but one not reflective of a second overall selection.
So, as the Leafs and Flyers engaged in trade talks, it was likely clear that both sides felt their players, who still retained incredible potential, may simply be in need of a fresh start. So, on June 22, Toronto and Philadelphia swapped the two young stars in a one for one deal — a trade which has now gone down as one of the best trades in the Leafs' long history.
The Ideal Power Forward
A long-time standout in the United States Development Program prior to his selection in the 2007 NHL Draft, van Riemsdyk had impressed so greatly as a prospect due to two main factors: size and skill.
Van Riemsdyk has more offensive skill than most forwards. So dangerous when he has the puck. Oh, and he's pretty good defensively, too.

— Scott McLaughlin (@smclaughlin9) November 18, 2012
In his Draft season, van Riemsdyk stood an impressive six feet three inches tall and weighed in at nearly 200 pounds. His size at the time was unlike that of any other forward in his class, especially so considering the elite skill level which he possessed.
As such, van Riemsdyk physically dominated opposing players, using his strength to protect the puck before driving to the play to the net. Once in a scoring position, van Riemsdyk became well known for his hard, quick, and accurate shot which had the ability to surprise goaltenders, as well as hands in tight. Further, his great on-ice hockey sense allowed van Riemsdyk to pass the puck when the opportunity presented itself, making him a quality all-around prospect.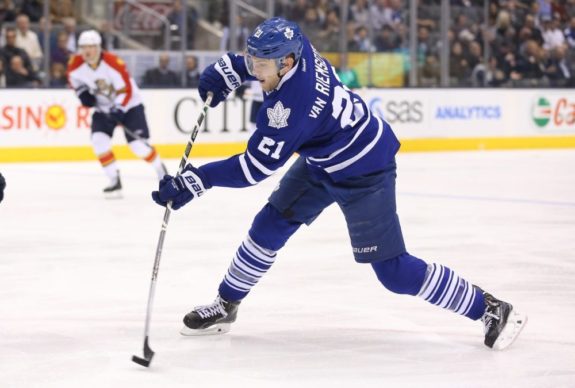 So, it came as no surprise when the Flyers called van Riemsdyk's name with the second overall selection.
Since his arrival in the NHL and acclimation to the league itself, van Riemsdyk's play has evolved greatly, yet remains based on those two qualities which made him a top prospect nearly 10 years ago.
Although he did not fully display these traits in his time in Philadelphia, van Riemsdyk has since become a highly valuable and dependable player in this, his fifth season with Toronto.
Using his size to his advantage, van Riemsdyk has become one of the Leafs' most consistent players, especially so offensively. Following his career-high 30 goals and 61 points 2013-14, van Riemsdyk has become counted upon to score 20-plus goals and upwards of 50 points on an annual basis. While he was slowed by injury in 2015-16 — a year in which he was likely on pace to set new career-highs — his projected offensive output of 60-plus points was highly accurate of van Riemsdyk's potential as a player.
Value as a Trade Asset
As we have seen, van Riemsdyk is undoubtedly an incredibly valuable player.
Blessed with great size and skills with the puck, especially close to the net, van Riemsdyk is an all-around threat who can beat you a number of ways on a consistent basis. However, it is these qualities which also make van Riemsdyk a significant trade chip for the Leafs, and considerably so given two major factors.
Contract Status
As mentioned, van Riemsdyk is in his fifth season with Toronto. Consequently, van Riemsdyk is in the second to last year of his current contract; a six-year deal worth a total of $25.5 million which he signed in Aug. 2011 while still a member of the Flyers.
Looks like the Flyers have agreed to a contract extension with James Van Riemsdyk. He was set to be an Restricted Free Agent.

— Bucci Mane (@Buccigross) August 30, 2011
His current contract, which pays the power forward $4.25 million per season, is set to expire following the 2017-18 season and is a major reason why the Leafs will, as they should, seriously entertain any trade offers which come their way.
Unlike typical rental players who are often shopped at the annual trade deadline, van Riemsdyk's case is much different, as his additional year of control adds immense value to his individual standing in any potential trade. Further, given his skill-set and proven production to date, van Riemsdyk's annual salary is meager in relation to his abilities and presence on the ice.
James van Riemsdyk now has the longest contract on the Leafs. It takes him to the 2018-19 season.

— Steve Dangle Glynn (@Steve_Dangle) June 24, 2012
Poised to become an unrestricted free agent in July 2018, van Riemsdyk is set for a substantial raise. The only question being who will be the one to offer and pay him the contract he quite clearly deserves.
Role With the Leafs
Contract status aside, van Riemsdyk's future in Toronto will also be based largely on his role with the team, both now and in the future.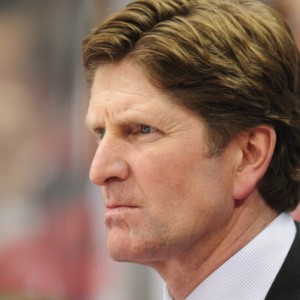 In the midst of a long-term rebuild, the Leafs are focused on the development of young players. As such, as seen already in 2016-17, head coach Mike Babcock and general manager Lou Lamoriello are unafraid to dish out substantial playing time to the team's youngest players.
Now, while this emphasis will certainly benefit Toronto's young stars and their personal development, this increase in playing time means a decrease in that of others. One of those who has seen a considerable reduction in his ice time is — you guessed it — none other than van Riemsdyk. In fact, through the team's first 30 games in 2016-17, van Riemsdyk ranked 15th on the Leafs in TOI/GP, averaging exactly 16:00 per contest.
This amount of ice time is surely troubling for van Riemsdyk, who has, in fact, seen his ice time plummet with the Leafs in recent years. In 2014-15, the Middletown, New Jersey native averaged a solid 19:05 per game. However, in 2015-16, he played just 17:45 per game. Now down to 16:00, as mentioned, van Riemsdyk's presence on the ice has been dramatically altered, a fact which is certainly unfortunate given he is in, or approaching, the peak of his career.
GIF: Meanwhile in Toronto, James van Riemsdyk is just havin' fun out there pic.twitter.com/33tpT2tuDm

— Pete Blackburn (@PeteBlackburn) September 24, 2014
So, with this being said, the Leafs will need to decide whether or not van Riemsdyk will be an integral piece of their team in the future, as he is simply too skilled and too valuable to play a role lesser than his abilities dictate.
The Final Decision
So, should the Leafs trade van Riemsdyk, either now or in the immediate future?
Well, given his contract status and uncertain, if not diminishing role with the team, the answer would appear to be yes.
At the moment, van Riemsdyk's value in a potential trade would be immense. Under contract for an additional year at a very reasonable cap hit, an acquiring team would be able to not only assess van Riemsdyk's role with their team, but also retain the ability to trade him at the 2018 NHL Trade Deadline if desired.
Maple Leafs' reported message to JvR suitors: 'If you're serious, ante up' https://t.co/suJW4xkjBx pic.twitter.com/95XkWxbCz2

— theScore NHL (@theScoreNHL) December 22, 2016
Perhaps more importantly, however, is van Riemsdyk's role with Toronto moving forward.
Auston Matthews, Mitch Marner and William Nylander, among others, represent the core of the Leafs' future, and one which will surely be supplemented with additional young prospects in coming trades and drafts. Given the Leafs' current philosophy of player development, this would lead one to believe that once acquired, Toronto will not hesitate to insert new young talent into NHL roles.
So, with additional waves of young talent surely on the way, van Riemsdyk's role with the Leafs will undoubtedly be infringed upon, even more so than it already has.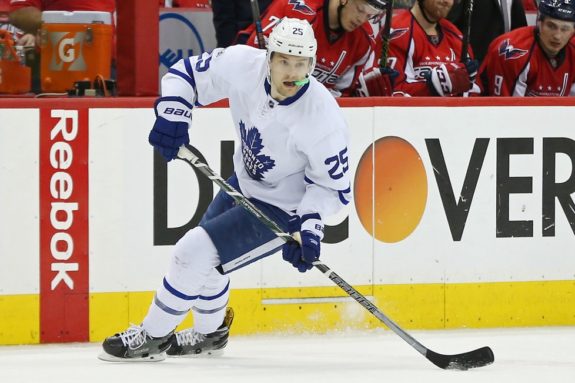 As a 27-year-old power forward who, given his skill and experience, is well deserving of a guaranteed top-six role, van Riemsdyk would surely be unhappy with anything but, especially in the prime of his career.
One important factor which could interfere with the Leafs' ability to move van Riemsdyk is the modified no-trade clause built into his contract.
Able to submit a 10-team list of those which he would not accept a trade to, van Riemsdyk does hold significant leverage in a potential deal — a fact which could significantly impact the Leafs' desired return.
Brett Slawson is a four-year veteran of The Hockey Writers who covers the Toronto Maple Leafs, NHL prospects, and the OHL's Mississauga Steelheads.
Contact Brett on Twitter @brettslawson92, or by email at brett_slawson@hotmail.com.