An assist against Boston Thursday night gave Jaromir Jagr 1,888 career points, moving the future Hall of Famer past Mark Messier into second-place among the National Hockey League's all-time greatest scorers.
The record-breaking point came when a shot from Florida Panthers defenseman Michael Matheson went off Jagr and straight to teammate Aleksander Barkov, who found the back of the net. The entire moment was a testament to the age-defying Czech's longevity: When his NHL career began in 1990, neither Matheson nor Barkov had yet been born and the Panthers franchise didn't exist.
What do Jagr's countrymen think of his historic achievement? To find out, THW spoke with Dallas Stars forwards Jiri Hudler and Radek Faksa Thursday morning.
Hudler Amazed
At 32, Jiri Hudler is no wide-eyed rookie. He was, however, an impressionable five-year-old when Jagr made his NHL debut.
"Amazing, isn't it?" said Hudler. "I think the same thing everybody else in the sport world or the league thinks: It's amazing what he can accomplish. I just think the age, being second after Wayne Gretzky, is unreal. I think Czech people back home are really proud of it."
Over the years, the Czech legend has hosted youth summer camps back home, not only for hockey, but also camps for tennis, soccer and general fitness training. It was at one of those tennis camps where the then-17-year-old Hudler met Jagr, forging a friendship which continues to this day.
After two consecutive years of declining point totals, Jagr, then 35, left the NHL in 2008 for Russia's KHL. He returned to North America in the fall of 2011. Hudler shed some light on those years.
"What's so great about the whole story is that he left the NHL and everybody thought, you know, this might be it," the Dallas Star said. "But if I think back a little bit, not in his mind. He knew he was going to come back and he knew, like, he might be saying some different stuff back then, but it wouldn't be a proper goodbye for him to play like this, right? This is years ago, so it's amazing that he comes back and he's playing at such a high level."
The 'Secret' to Jagr's Success
The Czech winger also opined on the 'secret' to Jagr's success, saying, "You know, he's born for it. His body is just…it's tough to get a puck from him and he's naturally strong. People are always talking about the workouts and stuff. He loves hockey. He's built for dominating, especially hockey."
Hudler continued, "He just takes the puck and in his mind, it's his for that moment. And when he decides to get rid of it, either shoot it or pass to one of his friends, he'll do that. Otherwise, over the years, when he played in the NHL or at any level, there weren't many [players with that sort of control] – you can ask any player – it's one of the hardest things to do, I think."
Asked where Jagr ranks in the pantheon of all-time great Czech hockey players, Hudler mentioned many other names, including Milan Novy, Petr Svoboda, Robert Lang and Dominik Hasek. After much thought, he concluded, "Those two (Jagr and Hasek) probably stand out the most, and I was fortunate to play with both."
Faksa Awed
Three days after Stars center Radek Faksa was born, Jagr had two assists for Pittsburgh in a 5-4 win over the Boston Bruins. It was the living legend's fourth season in the NHL. The 22-year-old Faksa has never known a world without Jagr playing hockey in it. What does he think about the milestone?
"Oh, it's crazy, you know?" said Faksa. "I know how hard is it to make even one point in the NHL, and he's got 1887 points now. It's unreal, how long he's still playing at a high level. It's a really great story, you know? Especially for me, a Czech guy, he's from the same country and he was my idol growing up."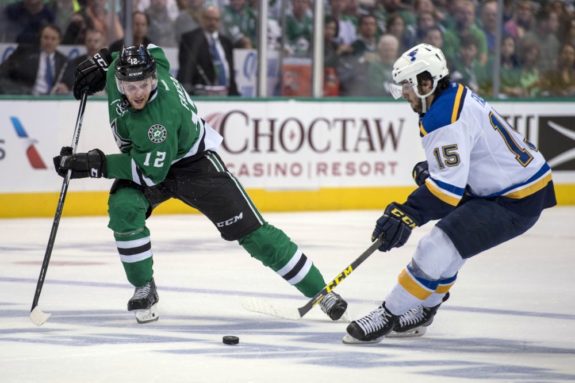 The younger Czech has never had the privilege of playing with Jagr, saying, "No, I never played with him. When he was [with] Dallas, I was just drafted that year…I think it was lockout [the lockout-shortened 2012-13 season], so the main camp was in January. So I came here for a week and spent a week with him here, and it was a big experience for me."
The Stars' 2012 first-round draft pick has played against Jagr, however, and will do so again on New Year's Eve, when the Panthers visit Dallas. Is the youngster up for the challenge?
"Yeah. If you're playing against a guy like that, you've got to always respect him, but you have to have the healthy respect, you know?" said Faksa. "You cannot be scared, but for sure, it's big respect for him."
Asked if he ever had a 'Should I check this guy, or ask for his autograph?' moment, Faksa laughed and said, "You know, the hockey is so fast, sometimes you don't realize who [anyone is]. So it doesn't matter to me who it is, if I can hit, I will hit."
Congratulations on your incredible achievement, Jaromir Jagr…and when you come to Dallas December 31, keep your head up.
Matt blogged about all things hockey at On Goal Analysis/The OGA Blogs from 2008-2014 and has written several travel articles for The Dallas Morning News. He began covering the Dallas Stars and Florida Panthers for The Hockey Writers in August 2015. Matt is also writing a biography of "Tex" Rickard, the Texas cowboy who founded the New York Rangers and the Madison Square Garden Corporation.