The Anaheim Ducks' recent six-game road winning streak, before their two most recent games, has generated a lot of buzz about Pontus Aberg and Ondrej Kase. It's also continued to showcase the enormous value of John Gibson. However, one impactful Duck who's flown under the radar is Ryan Getzlaf and his role in pushing Anaheim to victory.
Getzlaf Improving Ducks' Puck Possession
It's the drum that analysts and fans, myself included, beat relentlessly when discussing the Ducks' main weakness, offense. More specifically, puck possession. Whether you're a fan of fancy stats or not, it's obvious that you have to have the puck more to score more.
If you are a fan of fancy stats, you probably know that the Ducks have been near the bottom of the league for the duration of the season in possession metrics like Corsi For and Fenwick For. However, their possession and offensive numbers have been slowly increasing, which is thanks in large part to Getzlaf.
One of Getzlaf's more subtle improvements this season, which has helped the Ducks stimulate their offensive output, is in the faceoff circle. Whether in the defensive zone to start a breakout, in the neutral zone to organize a zone entry or in the offensive zone to execute a set play or start a cycle, winning faceoffs goes a long way toward improving possession numbers.
From the season's opening game until Nov. 16, when the Ducks went 7-9-4, Getzlaf won 55 percent of faceoffs, which is pretty high already. Since Nov. 17, the Ducks have gone 11-4-1 and Getzlaf has improved his faceoff success rate to 57 percent, a career-best and good enough for the second-highest mark among Ducks centers behind Ryan Kesler.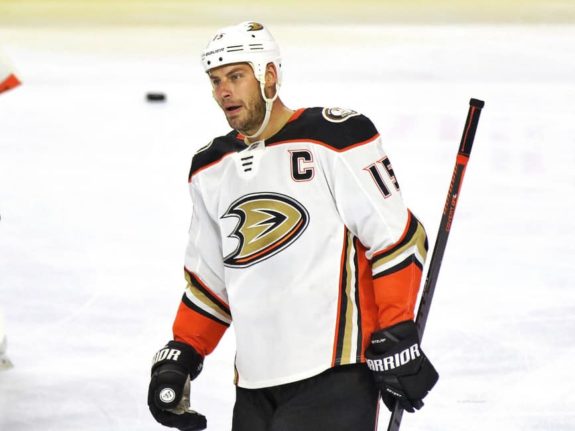 Getzlaf's faceoff improvement, combined with a corresponding improvement from Kesler, have aligned with Anaheim's slow improvement in possession numbers. They went from an almost 44 percent Corsi to 46 percent at all strengths. It's a modest improvement, but it is trending upward. While we can credit Kesler with helping that trend, he hasn't played nearly as big of a role in contributing points as Getzlaf has.
Getzlaf Scoring Means the Ducks Are Winning
In the last few weeks, fans have seen the return of Kase and the emergence of Aberg during a sustained period of success for the Ducks. Kase's scoring touch (nine goals and seven assists through 19 games) and Aberg's career season (he leads the team with 11 goals) are great, but they don't happen without Getzlaf.
During the Ducks' 11-4-1 stretch, Getzlaf has contributed five goals and 12 assists for 17 points. All three forwards play mostly on the top line and on the first power play unit, so their production is interrelated. However, the end result is far different when Getzlaf contributes points versus when he doesn't.
Overall, Anaheim's point percentage, the percentage of points they've earned relative to the total points they could possibly earn sits at 60 percent. When Getzlaf contributes at least a point, that number rises to 69 percent. The Ducks actually have a higher point percentage at 77 percent when Kase contributes at least a goal or an assist, but when you compare the impact on the team when they don't contribute, the difference is more drastic. When Getzlaf goes pointless, the Ducks have earned only 34 percent of all possible points in games he plays.
For Aberg, that number sits at 44 percent and for Kase, it's 56 percent. It's clear that Getzlaf's offensive success stimulates his teammates' abilities to contribute. From his imposing size, which continues to make him an intimidating forechecker, to his passing ability and finishing skill, Getzlaf is the playmaking motor that keeps the Ducks' offense running. Just look at this goal in the team's recent win against the Dallas Stars as an example of Getzlaf's influence.
If the Ducks are going to continue trending upward and remain comfortably in a playoff spot, Getzlaf is going to need to keep it up . Yes, Gibson helps keep games close enough that the Ducks' inconsistent offense can score enough to win, but you can't win a game 0-0. Kase and Aberg's finishing abilities and flashy highlights grab the headlines, but Getzlaf is the underlying factor in the team's success.
All stats courtesy of Hockey-Reference and NHL.com