It's been a rough two weeks for the Anaheim Ducks and their fans. They haven't tasted victory in six games, and there hasn't been much to cheer about with the exception of one player, Pontus Aberg. The 25-year-old has scored the Ducks' last four goals (yes you read that right) going back to Sunday's game against the San Jose Sharks. If he can prove he's matured, Aberg can be an impact player moving forward.
Who is Pontus Aberg?
Fans looking at game recaps and box scores may be wondering who Aberg is. The Swedish winger is on his third NHL team. After the Nashville Predators drafted him in the second round, 37th overall, out of the Swedish professional ranks, experts thought Aberg may have top-six potential.
Unfortunately, six years after Nashville drafted him, Aberg hasn't been able to stick with an NHL franchise, earning him the undesirable reputation as a 'suitcase'. He played parts of three seasons with the Predators before Nashville dealt him to the Edmonton Oilers in 2017-18. The Oilers waived Aberg in the preseason before the Ducks claimed him.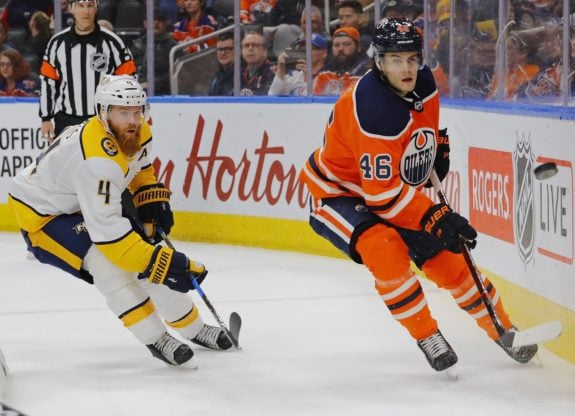 Over his combined 93 NHL games, Aberg has managed 27 points, which might not be dazzling, but there have been bright spots in his career. One occurred in the 2016-17 playoffs, which is the reason Ducks fans might recognize his name. He scored his first Stanley Cup Playoff goal, a game-winner, to defeat the Ducks 3-2 in Game 5 of the Western Conference Final. He then added two assists in the Predators' 6-3 victory over the Ducks in Game 6 to close out the series.
Is Aberg the Solution for the Ducks?
The short answer is not yet, but he can help. The Ducks' offensive struggles are largely due to their inability to break out of the defensive zone. Still, Aberg's speed, offensive skill and finishing touch have kept the Ducks in their last two contests. Just take a look at this spectacular goal against the San Jose Sharks:
In the short term, Aberg's offensive toolkit will help fill the void left by Ondrej Kase, who is still out indefinitely. Kase and Aberg are both skilled puck-handlers with right-handed shots and finishing ability. In addition, Aberg is able to play on his off-wing, giving head coach Randy Carlyle more options to insert him into the lineup.
However, in order to stick with Anaheim long-term and make an impact, Aberg has to overcome some problems. The first might be the reason he hasn't stuck around in one city for very long: maturity. After arriving in Edmonton in March 2018, Aberg had the opportunity to play alongside Connor McDavid, but then he missed a practice prompting coach Todd McLellan to scratch him from the lineup:
"He came out for reasons beyond his play," McLellan said when asked about the seriousness of Aberg's infraction. "It's serious. The coaching staff isn't pleased, the organization isn't pleased and I'm sure his teammates aren't pleased but players do make some mistakes. There are reasons for missing sometimes that you have to go and dig and find out why, and that's already been done, and we're ready to move on."
Aberg's absence, along with his inconsistency, made him the odd forward out in Edmonton. He's a streaky player, he scored three of five playoff points in two games, albeit important ones. In Edmonton, Aberg scored seven of his eight total points in four games. He will have to prove his recent success with the Ducks is more than another scoring streak.
Maturity and Trust Can Help Aberg
At age 25, it's time for Aberg to mature and take responsibility for his play and his professionalism. If he can do that, he may be able to continue his contributions to the Ducks' offense, especially if he keeps playing alongside Ryan Getzlaf and Rickard Rakell.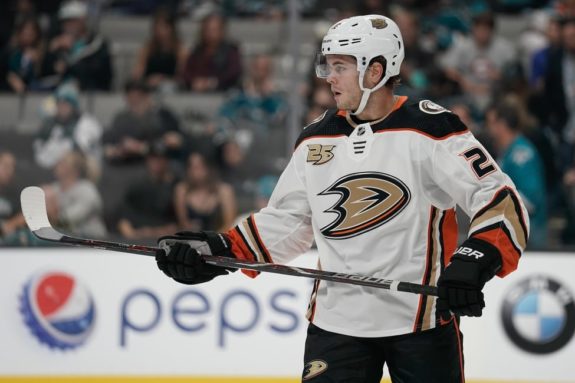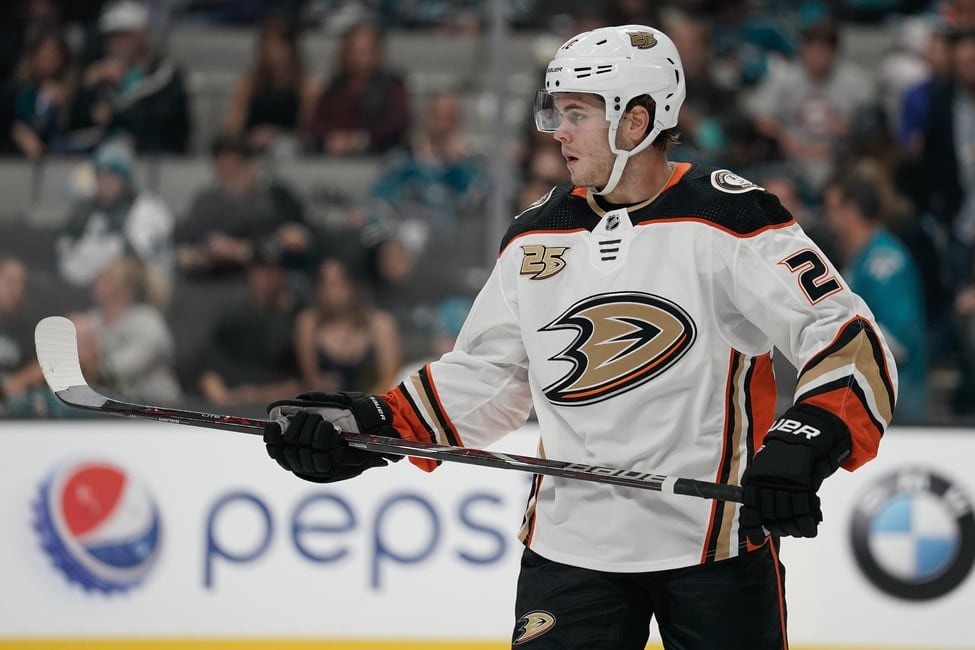 In order to continue earning top-line minutes with top-line players, like the opportunity he once had in Edmonton and has been given in Anaheim, Aberg will have to gain Carlyle's trust. That isn't easy.
When more Ducks forwards return from injury, Aberg will have to continue to be on his best behavior and provide offense for a team that has had very little. If he can do that, chances are good that will have his most successful NHL season.
One of the most important factors for him will be playing time. It's obvious that playing more affords more opportunities to have an impact. Since coaches want to play their best players the most, increased playing time for Aberg comes with better linemates.
Increased TOI also helps players get into a rhythm during an individual game. More time with the puck and a regular shift are important for many young players to gain confidence and improve at the NHL level. It's the reason why coaches must decide early in a player's development whether to send them to the lower levels to play more or keep them in the NHL to play a few shifts a game.
Inconsistent time in the NHL and frequent change of cities may have held back Aberg's development. A perfect example of what can happen when a player receives increased playing time with better linemates, William Karlsson another Swedish player of the same age.
Two Swedes in a Pod?
Before Karlsson had his breakout year with the Vegas Golden Knights, he also played for two different NHL teams. When he finally established himself with the Columbus Blue Jackets, he played on the third line. Although there was no indication of any maturity problems like Aberg experienced, Karlsson's career-high in points was 25 after his second year with the Blue Jackets.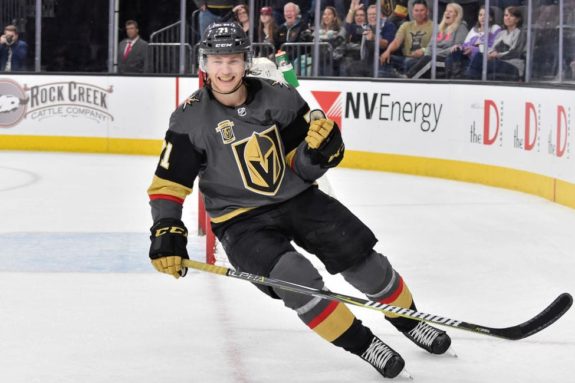 When the Golden Knights picked him in the expansion draft, he made his former general managers and coaches look foolish, including Ducks general manager Bob Murray.
Some of Karlsson's success came from increased ice time. His average TOI jumped more than five minutes when he joined the Golden Knights, leading their forwards with 18:43 per game. Knights coach Gerard Gallant highlighted that factor in an appearance on Sportsnet's "Hockey Central":
"He took advantage of ice time," Gallant said. "He took advantage of playing with two guys that've been really solid hockey players that I know pretty well in Reilly Smith and [Jonathan] Marchessault, and they clicked from day one when they went together."
Could consistent playing time and an increased role benefit Aberg like it did Karlsson? The Ducks would certainly love to see it. For a team struggling to produce offense and suffering from a badly injured group of forwards, Aberg's recent production brings hope to a team that hasn't had much lately.