Sitting at 3-4-3, there's no question that the St. Louis Blues' October has not gone how they planned. After a blockbuster offseason, when general manager Doug Armstrong brought in David Perron, Tyler Bozak, and Ryan O'Reilly (among others), the faltering start has already led to some questions being asked of head coach Mike Yeo.
But Yeo isn't the only person deserving to be questioned. The whole team has failed in considerable ways, and while there have been a few bright spots, they have not counteracted the shortcomings. Heading into a November where they will play fourteen games, seven against division opponents, the Blues will need to answer these five questions, and the answers they give could be the difference between climbing back to a playoff spot and falling into insignificance.
1) Will the Power Play Stay Strong?
At the end of October, the Blues' power play ranks fifth in the league. It's an impressive accomplishment for a team that ranked second from the bottom last season with a paltry 15.4% power play success rate. They've ballooned up to 29.5% this season, due in part to the addition of players like Ryan O'Reilly, who leads the team with six power play points.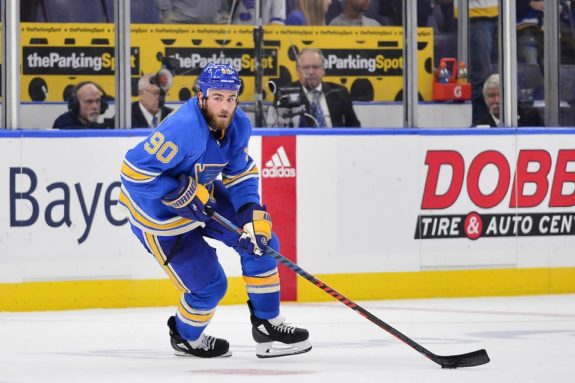 But, those who can look past beyond what became of the Blues' 2017-18 season will remember that the power play was off to a white hot start last October too. Then, they were fueled by an inflated number of goals from their defensemen.
This season's numbers seem much more sustainable, though it's unlikely that O'Reilly and David Perron will maintain a point per game pace. So far, the power play has led the Blues to a third place tie in goals scored per game. They will need to stay hot if they want to continue to be offensively prolific.
2) Will Jake Allen Steady?
Jake Allen is probably the most divisive figure among Blues' fans, with many wanting to make him the scapegoat for the entire team, and others believing he should shoulder none of the blame. The truth certainly falls somewhere in the middle, but it was no secret coming into the season that Allen's success would be integral to the team's success, particularly after his collapses in recent seasons have jeopardized the team for extended stretches.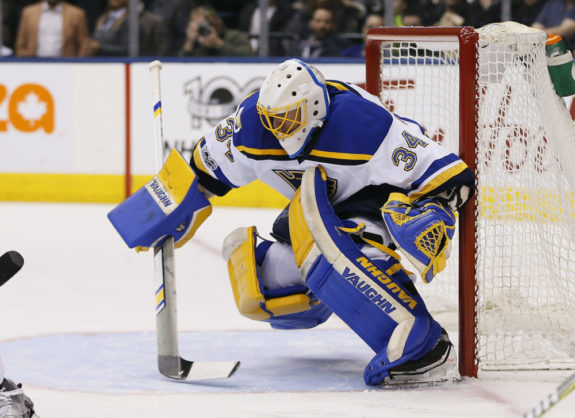 However one wishes to distribute blame, so far, the Blues have failed, and so has Jake Allen. He currently has abysmal statistics, with a .874 save percentage and a 3.99 goals against average. Only three of his nine starts have qualified as "quality," and he is 3-2-3 in those nine starts — Chad Johnson substituted for Allen in one particularly poor performance, but ended up taking the loss. While the defense has been porous, Allen simply has not backed up his team in any significant way.
Jake Allen has allowed 3 or more goals in 7 of his first 8 games.

It's not all his fault, but that's definitely not a good look.

It's okay to say he hasn't been great without igniting a hate parade on the 28-year-old goaltender. #stlblues

— Dan Buffa (@buffa82) October 26, 2018
The Blues will need him to steady his performances if they are to succeed. The good news for Allen is that after an injury scare in Saturday's game against the Blackhawks, he has recovered quickly, and says that he's good to go in Thursday's game. The Blues need Allen to be healthy, and they need him to be good. Let's see if good health precedes good performances on the ice.
3) What Will the Roster Look Like?
The Blues' roster is in flux. Robby Fabbri is returning, along with other players like Carl Gunnarsson and Nikita Soshnikov. Head coach Yeo has traditionally struggled to set a consistent roster, and now that he has so many options, it may continue to be an issue. The Blues will probably need to find a consistent roster to find consistent success, and that's made more difficult by questions surrounding Robert Thomas and other young players.
We've already discussed Thomas at some length at The Hockey Writers, but for the uninitiated, the Blues have a tough decision to make. If Thomas plays in ten games in the NHL this season, it will cost the Blues a year of his entry-level contract. Up until that point, though, they have the option to send him back to his junior team, the Hamilton Bulldogs, without losing contract time.
Many believe that Thomas would be better served in the NHL, and that he has surpassed the level of competition in the OHL, but the Blues will be forced to decide whether they can find the playing time for him to justify his staying in St. Louis.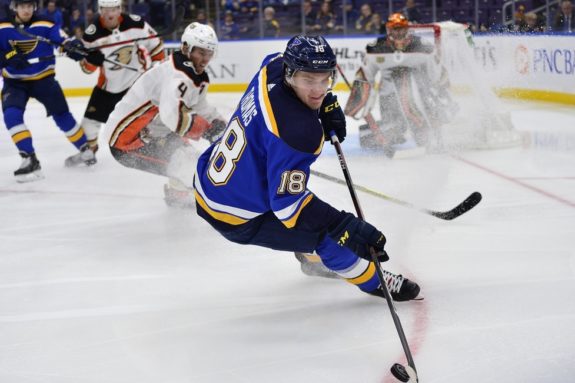 Though Thomas' decision is the most black or white, with staying in the NHL and returning to juniors for the year as his only two options, the Blues face similar questions with other players. They recently re-assigned Jordan Kyrou, another star prospect, to their AHL affiliate San Antonio Rampage. Other young players are seeing reduced playing time, or finding themselves in the AHL like Kyrou.
The Blues need to find their best roster soon to start winning, but they cannot afford to do so at the cost of their future. Finding the proper balance between experience and youth will be a difficult challenge for Yeo, but he must do so to thrive as the head coach.
4) Will the Defense Steady?
The Blues have long been considered a defensively stalwart team, with a top four defensemen that would be the envy of almost any team in the league — but that hasn't been the case this year. The team is second worst in the league in goals against per game at 3.9, trailing only the Florida Panthers in that category. Team captain Alex Pietrangelo, generally considered one of the better shutdown defensemen in the NHL, currently sits at a minus-8, and while +/- isn't a perfect statistic, it's a telling sign of exactly how bad things have gotten.
While Pietrangelo has looked bad, Jay Bouwmeester has looked like a shell of his former self. The Blues now need to survive his final year under contract, and with Yeo hesitant to bench him or even limit his minutes (he was scratched once, but immediately returned to twenty minutes per night duty), that becomes a difficult proposition.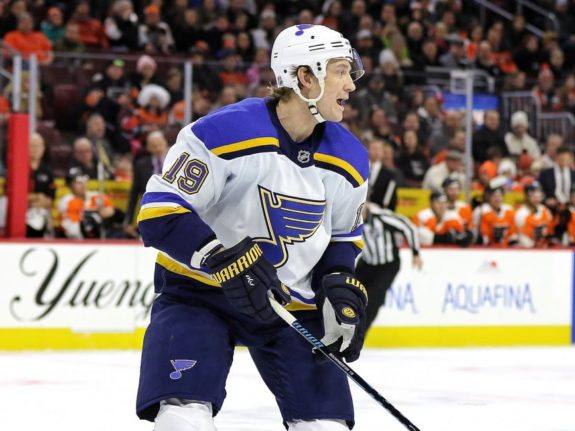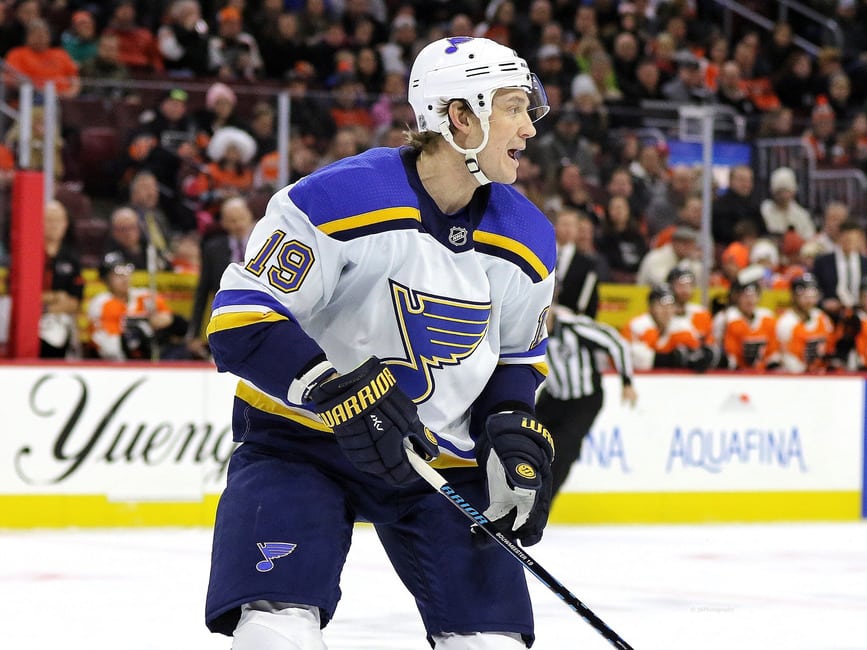 No team can succeed while allowing almost four goals a game, even a team that is as prolific offensively as the Blues currently are. Right now, their defense is too poor, and their offense may be hotter than is sustainable. If both units trend in the wrong direction, the Blues are in serious trouble — but the strong performance against Chicago on Saturday indicates that perhaps they are finding their way, which leads to our final question.
5) Which Blues Are the Real Blues?
The biggest question facing the Blues encompasses all of those asked above, and it is one they will answer clearly by the end of November. Are the Blues the well-oiled machine that overwhelmed the Blackhawks on Saturday, finally recovering from a faltering and uncharacteristic start? Or are they the disorganized, porous, and ineffective bunch that surrendered numerous third period leads throughout October?
With the recent, healthy arrivals, they will have new pieces to fit into the puzzle, but if the team has struggled with chemistry, the returning players could be as much a challenge as a blessing. Either way, Jake Allen and the defense will both have to play better for any of it to make a difference, and the power play will need to continue its strong play to support them.
In the tough month ahead, the Blues will have to answer this question, whether actively or passively. If they rest on their laurels, they will remove themselves from the playoff discussion very quickly. If they continue to play the determined, aggressive hockey that they played to close out the month of October, they will finally start to reflect the team fans expected coming out of the offseason.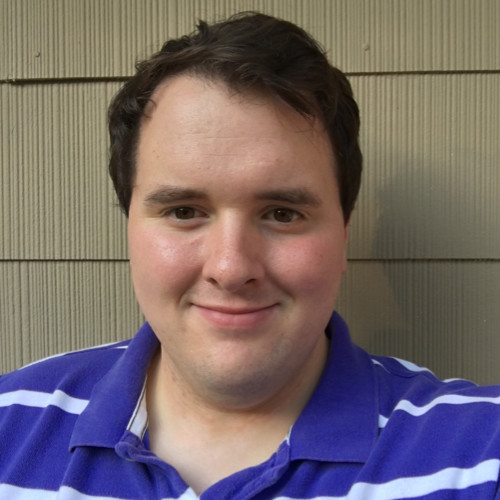 Stephen Ground is a veteran of over three years at THW, focusing on the St. Louis Blues, NHL goaltending, and the annual World Junior Championship. He is the co-host of the Two Guys One Cup Podcast, a hockey podcast focused on the Blues.