'Ducks Drill Down' is a regular, ~weekly column that recaps the latest goings-on with the Anaheim Ducks.
---
The Anaheim Ducks are back in third place in the Pacific Division following three consecutive victories. After a dispiriting 4-2 home loss to the St. Louis Blues on March 12, Anaheim turned the homestand around with wins over the Vancouver Canucks, Detroit Red Wings, and New Jersey Devils.
Montour & New Guys Lead Resurgent Ducks
What ended up being a strong week began with a rather meek effort against the Blues. The Ducks were never able to really get anything going. Down 3-1 in the third, they got to within 3-2 fairly early in the third period on Derek Grant's ninth goal of the season that featured a primary assist from Chris Kelly—his first point as a Duck.
In a microcosm of that game, however, Anaheim fell behind by two once again just five minutes later. They could not muster anything after that and generated just 22 shots on goal the entire night.
Having suffered their third loss in a row, the Ducks needed a big turnaround. They got the start of that Wednesday night at home against the Canucks, earning a 3-0 shutout victory. John Gibson made 32 saves while Brandon Montour scored twice. In between those two scores, newcomer Jason Chimera scored his first goal with Anaheim—off another assist from fellow newcomer Kelly. 
Incredibly, Montour's two goals against the Canucks were his first since Nov. 19—in between, he did not score a goal for 49 straight games. As an offensive-minded defenseman who got off to a strong start this season in the scoring department, the drought was a bit unexpected, but now perhaps he's catching fire during the stretch run.
Montour indicated that his confidence did not ever really waver despite the prolonged drought that he finally extinguished.
"I feel like every level that I've been at, I've been able to produce," Montour said on Thursday. "It's one of those things where it comes with confidence. I believe in my ability.
"It's not one of those things where because it's the NHL—obviously it's going to be tougher and you got all that—but I feel like I should be capable to do that."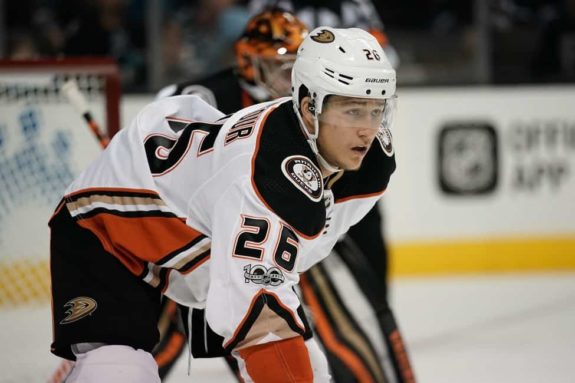 Anaheim made the win over Vancouver stand up with a solid 4-2 victory over the Red Wings Friday night before one of their most complete efforts of the season Sunday night against a good Devils team that includes old friends Sami Vatanen, Patrick Maroon, and Kyle Palmieri. The Ducks jumped out to a 2-0 lead early in the first period on goals by Ryan Getzlaf and Jakob Silfverberg, and they led all the way to the end. Montour added another goal on the power play while Rickard Rakell picked up his 31st of the season.
In a rare dominant performance from a possession standpoint, the Ducks outshot the Devils 36-17 in total and had 69 percent of the total shot attempts at 5-on-5. This kind of effort is what Anaheim has been looking for all season, and if it's a harbinger of things to come, the Ducks could be a very dangerous club, assuming they get into the playoffs.
Injuries Befall Ducks' Defensemen
Bieksa Sidelined With Hand Injury
Despite their overall successes on the ice, the injury bug struck the Ducks yet again. Defenseman Kevin Bieksa had surgery on Friday to remove scar tissue from his left hand. Bieksa had apparently been bothered by it for most of the season, and it finally got to the point where he decided to get it taken care of. He will be out of the lineup for two to five weeks.
The 36-year-old's Bieksa's deteriorating speed has hurt his game this season, but it would seem that his hand issue would undoubtedly have an adverse effect on his puck-handling, passing, and shooting abilities.
"I think you'd have to ask him that," head coach Randy Carlyle said when asked about the impact of the injury on Bieksa's game. "To take the step to have the correction done, it obviously was an issue. Certain individuals have certain strengths they have to play to. This was something that was bothering him."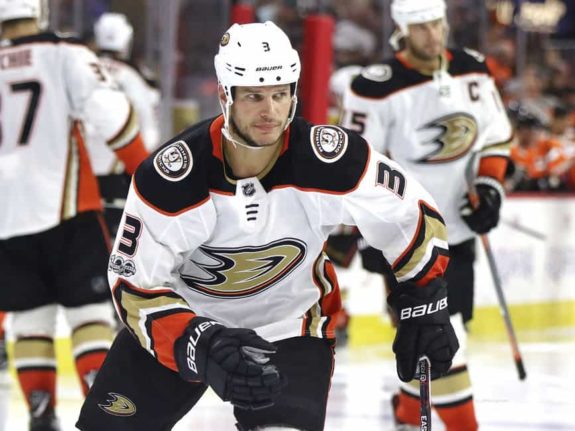 Bieksa's absence does afford an increased opportunity for 21-year-old defenseman Marcus Pettersson, who had been scratched in two of four games before Bieksa had his surgery. It will be interesting to see how much more responsibility Carlyle gives the youngster, but he does not have too many other options.
Manson Exits Game Sunday
Adding injury to injury, Josh Manson—who has been one of Anaheim's most consistent defenders all season long—left Sunday's game against the Devils in the first period and did not return. The team's Twitter account indicated that he had an upper-body injury. The extent of the injury is unknown, but hopefully it's nothing serious, as Manson has been so good for Anaheim all season long.
Manson has played with Hampus Lindholm for much of this season, forming the team's most reliable defensive pair. He's also chipped in 5 goals and 25 assists for 30 points, easily shattering his previous career high of 17 that he compiled last season.
If he's out for any extended period of time, Pettersson's role becomes that much more important, and Korbinian Holzer might have to step in to eat some minutes. The Ducks and their fans, of course, are hoping the situation doesn't come to that at this stage of the season.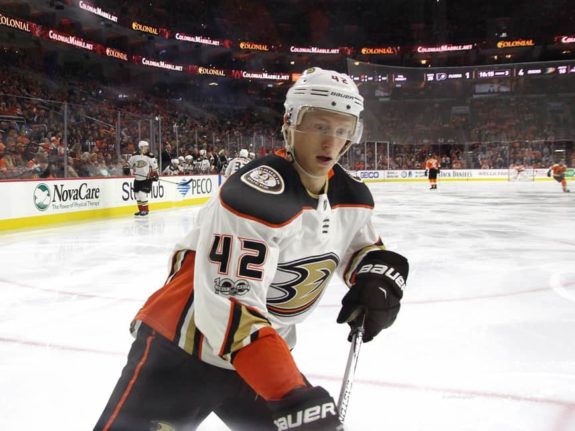 Ducks' Upcoming Schedule
The Ducks will look to keep their winning ways going when they head up north of the border this week for the start of a crucial four-game set that will take them through Calgary, Winnipeg, Edmonton, and Vancouver. They've won three games in a row, but all have been in the comfort of Honda Center, so that will have to translate to the road if they are to maintain their tenuous grasp on a top-three spot in the Pacific Division.
Through the weekend's action, the Ducks have 86 points through 73 games while the Los Angeles Kings are right on their heels with 84 points through 72 games. Anaheim has fallen three points behind the second-place San Jose Sharks and has played one more game. At this point, though, any type of playoff berth would be welcome given the tumult the Ducks have faced this year.