Rickard Rakell was always projected to be good, but not necessarily great. Before being selected 30th overall, the young Swedish forward was seen as dependable, with strong hands. He was frequently overshadowed by countryman Gabriel Landeskog, who was drafted 28 spots ahead of him in the same year, 2011. Rakell was drafted as a center and most saw his ceiling being a second line, two-way player. That was before he shifted to the left wing, and before he started playing with Ryan Getzlaf.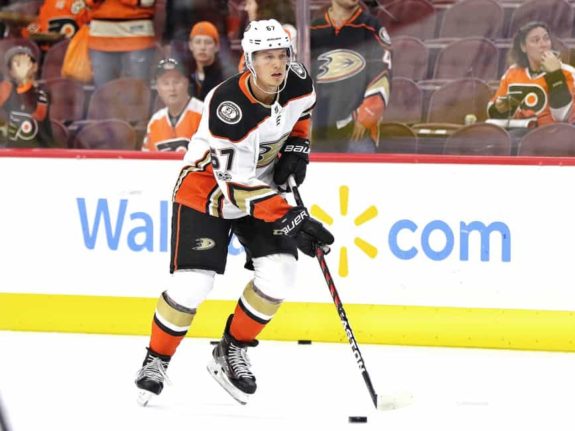 In the 2017-18 season, Rakell tallied a career-high 34 goals, completing back-to-back 30-goal years. He was no longer seen as a playmaker but as a play finisher, using his nifty stick work to weave through opponents and to finish off passes from his all-seeing center, Getzlaf. In the 2018-19 season, however, Rakell's start has been sluggish — just four goals in his first 27 games. What's going on?
Taking Poor Shots and Bad Luck
The average shooting percentage (S%) for forwards in the NHL is typically somewhere between 10 and 11%. Rakell's scoring in previous years has been above average, so naturally his S% followed suit: in 2016-17 he scored 33 goals with a S% of 18.6, followed by 14.8% the next season. The ~4% drop between seasons was fairly normal as teams around the league began paying more attention to him and applying a little more pressure. It also didn't help that, much like this year (more on that later), the 2017-18 Ducks team was torn apart by injuries.
Despite maintaining his average of just under three shots per game, Rakell's current S% is just 5.0, nearly a third of what it was the previous season and the lowest it's ever been since he became a regular NHLer. With that poor of a S%, goals are obviously going to be very difficult to come by.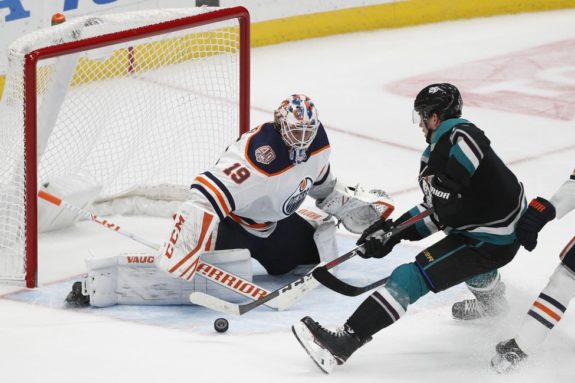 Part of these scoring woes can be attributed to lacking any semblance of luck. Hockey was determined to be the "luckiest" sport in North America, and that luck swings both ways (from "Hockey is Luckiest Major North American Sport: Researchers," Toronto Sun – 4/14/16). It's possible that pucks just aren't sitting well for Rakell, or that goaltenders or defensemen are getting in the way at the worst time. But being an elite goalscorer requires pushing past that bad luck and scoring goals anyways.
It's also possible that the shots Rakell is taking just aren't good shots, or other teams are getting even better at defending him. Putting the onus entirely on Rakell, maybe he's simply making poor decisions with the puck. While some of these are likely occurring, I believe the biggest problem isn't with Rakell but with the players around him.
Ducks Flying With a Broken Wing (or Two)
A glance at the Ducks' offensive stats would very likely raise your eyebrows: the team is last both in goals per game (G/GP) and shot differential. Now, flip over to the injury reports and you'll partially understand why they've been so bad: missing Getzlaf and Ondrej Kase for extended periods of time, Corey Perry and Patrick Eaves for a majority of the season so far, plus Jakob Silfverberg, Ryan Kesler, and other smaller role players like rookie Maxime Comtois and Carter Rowney – and that's just the forwards.
While he's not the player he used to be, Perry is still a very effective player. He notched 102 points in his last 153 games and he forces teams to pay attention to him when he's on the ice. When he's not on the ice, it's significantly easier for top defensemen to focus more energy on Getzlaf and, yes, Rakell. That poor S% could very well be from lower scoring opportunities, thanks to everyone's favorite pest, Perry, being forced to watch the game from the broadcast booth.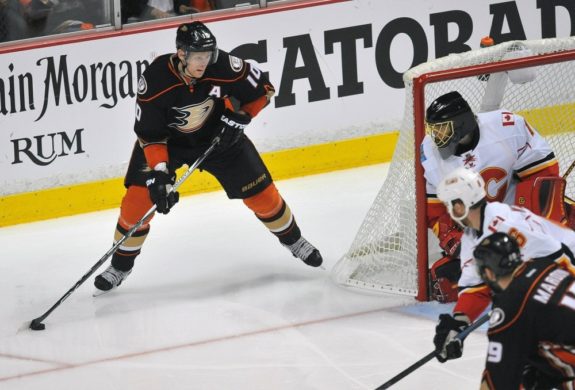 The injuries go beyond the top line, however. The second line of Kase, Adam Henrique, and Nick Ritchie was, in seasons past, a spark plug. Two-thirds of that line were missing for the first 15 or so games, but the energy has returned. As the Ducks get healthier and their lines fill out, it's no longer the "Getzlaf and Rakell Show." It becomes the "Getzlaf and Rakell and Perry and Kase and…" You get it. With more dynamic scoring, certain players will get a little more space to breath – players like Rakell. And Rakell has shown what he can do with space: score.
https://www.youtube.com/watch?v=WUSucm86qsE
Rowing in the Wrong Direction
There's a saying that I love that goes, "Rowing harder doesn't help if the boat's headed in the wrong direction." Hockey is a lucky, physical sport, but it's also a mental one. When goalscorers like Rakell hit a drought, they tend to retreat into their own minds a little bit. Sticks are gripped tighter, pucks going a few inches off the mark, and plays are forced.
Rakell has a habit of trying to do it all himself. He'll take the puck into the offensive zone and dance around a couple of defenders, but will ultimately get the puck stripped. Now, oftentimes, this move is done during a change. As opposed to simply chipping the puck in like others, Rakell will attempt to actually make something happen. While it would be incredible and certainly make his highlight reel, it's really difficult to score on a 1-on-3.
When Getzlaf was out, he attempted to shift from a goalscorer to a play maker. He made passes in situations that he maybe should have opted for a shot instead. It's frustrating to not succeed, and Rakell seems intent on forcing goals through using increasingly creative and unlikely means. This, of course, only makes the frustration worse and the cycle continues.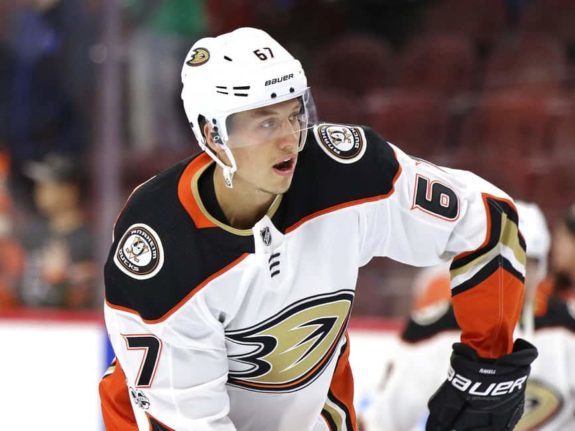 Now that the lines are settling a little bit and other players are heating up, the best thing he can do is to relax and remember that his center is still one of the best passers in the game. Get to the right spot, get your stick down, and take the shots. Is it possible that Rakell overachieved with this 30-goal seasons? Maybe. Maybe somewhere around 25 is a more realistic range for him, and that expectations for Ducks' fans will need to be tempered slightly.
Or maybe Rakell is just stuck. Ducks legend Teemu Selanne always believed that scoring was like a ketchup bottle: sometimes it gets stuck and you need to patient. "Then all of a sudden – splat!"
A lifelong Orange County resident, I've been going to Ducks games since I was a kid. I graduated from Loyola Marymount University with a degree in Screenwriting and have been using it to write professionally ever since. Get me a slice of pesto pepperoni pizza and a hockey game and I'll be a very happy camper!
Twitter: @zachstava