As the Anaheim Ducks slogged through another loss in which they were decisively outshot Sunday night in Nashville against the Predators, it would only be natural for a number of observers to think bigger-picture about the team's future. It's painfully obvious that even considering injuries and some bright spots, the club's previously successful veteran core is deteriorating (with the exception of Ryan Getzlaf) and that a reset to a new era is needed.
Early on this season, one young player who impressed with his speed and skill and fit the mold of what the Ducks should be going forward was 19-year-old Max Comtois. He scored less than a minute into his first NHL game and notched an impressive two goals and five assists in 10 games with the Ducks before suffering a lower-body injury. Upon being able to resume play, he spent some time in the AHL for conditioning. Now, however, it appears Comtois's time in the NHL is done for this season, as the Ducks have assigned him to the Drummond Voltigeurs of the Quebec Major Junior Hockey League (QMJHL).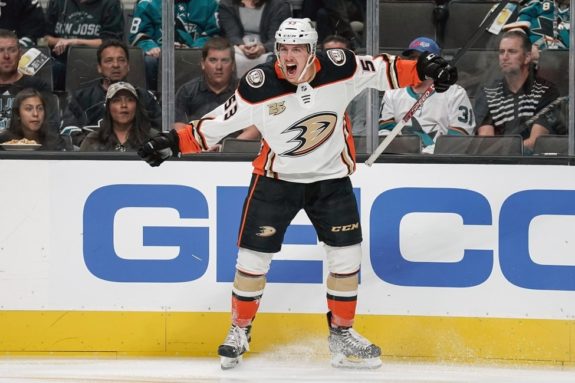 Comtois Represents What the Ducks Need
After all the talk about adjusting to a new speed-based system, Comtois's hot start to his NHL career seemed to fit the Ducks' stated vision perfectly, despite the struggles of the team as a whole. Having a greater composition of young, skilled players like him is what the Ducks need to completely break away from their worn-out, slower style predicated on physicality, toughness, and intimidation. Not to mention a new coach to implement this vision, but I digress.
It's not all bleak on the horizon for the Ducks. Besides Comtois, young NHLers like star forward Rickard Rakell, energetic winger Ondrej Kase, and the skilled and feisty Pontus Aberg represent some promise. Beyond that, players in the pipeline like Josh Mahura, Sam Steel, Isac Lundestrom, Max Jones, and Antoine Morand provide a beacon of hope for the long-term success of the franchise.
But right now, it seems like Anaheim is stuck in the middle with a disparate collection of players and the wrong coach for the direction the team should take, and that has them merely treading water (and that low bar has mainly been possible because of goaltender John Gibson's stellar play). While last season still seemed to be the time to "go for it," the club's downward trend is creating more and more evidence that this might now be time for the Ducks to more fully embrace a rebuild and give more of their youngsters a chance—especially someone like Comtois, who has shown he can play at this level.
Instead, Anaheim continues to give opportunities to borderline NHLers and veteran retreads and journeymen like Ben Street, Andrej Sustr, Luke Schenn, Brian Gibbons, and Carter Rowney. At this point, without having taken a clear and full path forward in any particular direction, the Ducks' vision is nebulous at best.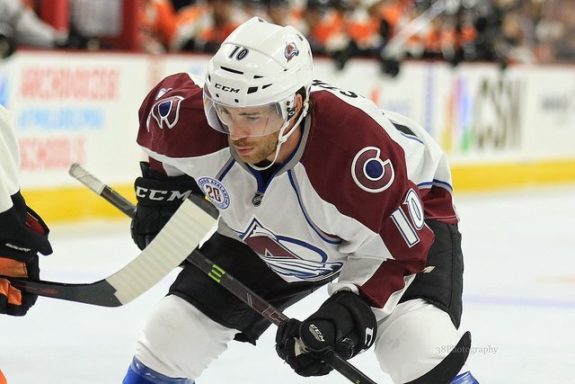 The Silver Lining for the Ducks
With Comtois having played 10 NHL games this season, his entry-level contract takes effect and thus will not slide to next year. Be that as it may, there is an important distinction with respect to his situation that the Ducks surely took into consideration when deciding to assign him back to juniors.
The likely expansion of the NHL to introduce a Seattle-based franchise throws a wrench into all teams' plans over the next couple of years, as a Vegas Golden Knights-like expansion draft could take place in the 2020 offseason. Assuming the rules of the Vegas expansion draft hold mostly if not completely, players with two professional seasons under their belts would not be exempt from the expansion draft. By 2020, Comtois would be one of those players, forcing the Ducks to use a valuable protection slot on their budding young star.
As of now, though, Comtois has not met the threshold for a professional season, so he would be exempt from a 2020 expansion draft so long as he does not play any more NHL games this season.
This is a great point by @CJWoodling with regards to #Ducks forward Max Comtois.

Pro seasons are determined by players age on 12/31 of the first contract year and then applying the waiver rules outlined in the CBA.

Meaning Comtois is 19 and needed 11 NHL games for a pro season. https://t.co/tHViaFnGv2

— CapFriendly (@CapFriendly) November 25, 2018
This is surely something the Ducks had in mind when demoting Comtois, as there is a good chance it will pay dividends in a couple of years. That being said, Comtois's assignment back to the junior level after a strong NHL showing sheds light on some greater issues with the Ducks—most notably, their lack of conviction in taking a clear direction that they sorely need in order to set themselves up for long-term success. 
Tom has been with The Hockey Writers for almost four years. After previously covering the LA Kings and the New York Rangers, Tom now covers the Anaheim Ducks.
While in college at Clemson University, the 2016 college football national champions, Tom wrote game summaries and feature articles for the official team website of the Greenville Drive, a Class-A minor-league baseball team and affiliate of the Boston Red Sox. Tom is happy to be able to continue to fulfill his passions for sports and writing with THW.