The Anaheim Ducks traded Frederik Andersen to Toronto this summer and will turn to John Gibson and Jonathan Bernier in net this season.
During last season's campaign, Anaheim split time very evenly between Gibson and Andersen. Gibson started in 38 games and Andersen in 37. In 2016-17, the Ducks will lean on Gibson more with Jonathan Bernier likely starting around 20 games.
Gibson Looks to Play Lead Role in Net
In the 2016-17 season, he will get the opportunity to play a full season as the Ducks starting goalie. Gibson made his first appearance in the NHL during the 2013-14 regular season and playoffs. Since then he has played in 66 NHL games with a record of 37-21-4, a goals-against average (GAA) of 2.22 and a save percentage(SV%) of .920.
His best month of play was during December last season when he was named the rookie of the month. Gibson went 5-3-1 with a 1.62 GAA, .929 SV% and three shutouts in 10 appearances. If he can sustain this type of play over the course of a full NHL season, then he can carry Anaheim to another successful regular season. He finished last year with a 21-13-4 record, 2.07 GAA, and .920 SV%. If he plays 60 or more games next season, then he would be on track to win 30+ games during the regular season.
Gibson's strength has been his athleticism and youth, but his positioning has sometimes been suspect. In order for him to be successful in playing a 50-60 game season, he will need to work on his positioning especially during odd-man rushes. There have been times he has been caught leaning too far on an odd man rush or not making the correct adjustment in time. This isn't a major concern given the strength of Anaheim's defense, but it's something for Gibson to fine tune as he gears up for his first full season as the Ducks leader in net.
Bernier's Role in Anaheim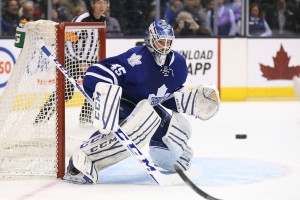 Anaheim will look for Jonathan Bernier to come in next season to provide backup support to Gibson. Bernier will likely appear in 20-25 games. He didn't have great numbers while in Toronto going 59-68-17 with a .915 SV% and 2.80 GAA. However, he also didn't have a solid defense in front of him. A change of scenery back to California should help him.
When Bernier played in Los Angeles, his record was 29-20-6, with a 2.36 GAA and .912 SV%. With Anaheim's solid defense, Bernier should be able to play in 20-25 games next season and provide 10-15 wins depending on how many games he starts in. He will be a solid backup to Gibson, providing relief when necessary and filling in when back-to-back games are scheduled. Bernier plays with great confidence, although he has been inconsistent at times as a starting goalie. Playing a backup role in Anaheim will suit him better next season.
Lack of Offensive Support
The primary concern for Anaheim is not the individual play of Gibson and Bernier, but the lack of offensive support they might experience. Anaheim saw the departure of plenty of secondary scoring players this offseason. David Perron, Jamie McGinn, Mike Santorelli, and Chris Stewart have all left the team. The four players combined for 33 goals last season.
Santorelli and Stewart played a majority of the season combining for 17 goals, while Perron and McGinn provided 16 goals, but in far fewer games. The potential for Perron and McGinn to provide more during a full season could be something Anaheim will miss come October. Perron had eight goals in just 28 games and really found chemistry with Ryan Getzlaf. In 2014-15, Perron scored 17 goals and the previous season he had 28 in Edmonton. There was a real possibility he could have scored 15-20 in a full season with Anaheim in 2016-17.
McGinn recorded eight goals last season in just 21 games in Anaheim. Between Buffalo and Anaheim, he had 22 goals combined for the season. In his previous full season with Colorado in 2013-14, he had 19 goals. He is another player who could have provided 15-20 goals next season for Anaheim.
Last season Anaheim got off to a terrible 1-7-2 start, but the lack of scoring was very troubling. The Ducks managed just 10 goals in those first 10 games and were shutout five times. Anaheim didn't have Perron and McGinn at the beginning of last season, but they won't have them again in addition to Santorelli, Stewart, Shawn Horcoff, and recently injured Nate Thompson.
Rakell Talks Continue to Progress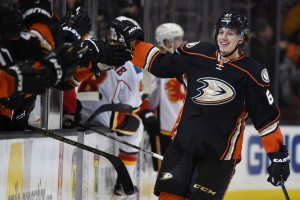 Talks with Rickard Rakell are progressing and he should be returning next season, but plenty of gaps still remain in the Ducks offense line rushes. Anaheim recently acquired Mason Raymond and Jared Boll, bringing the total of healthy forwards to ten, including Chris Wagner. The Ducks could also start Nick Ritchie, which would bring the total to 11. The Ducks would still have to bring another player up from San Diego just to have four complete lines.
Bob Murray is going to have to make a trade to replace the lost secondary scoring and/or bring up players from the San Diego Gulls. The Ducks are extremely deep on the blue line and trading a defenseman for a forward has been mentioned since the end of the season, but still hasn't happened.
In addition to bringing up Ritchie, Murray could call up Mike Sgarbossa, Corey Tropp, Nic Kerdiles, or Stefan Noesen. Sgarbossa had 17 goals last season, Tropp had 16, Kerdiles scored 15, and Noesen chipped in with 10. They are all secondary scoring options Murray could turn to if a trade isn't made for a scoring forward.
For the past couple of seasons in Anaheim, there has been a debate as to who the starting goalie should be. Next season there is no question as Gibson will be Anaheim's number one goalie with Bernier serving as the backup.
The real question is whether or not they will receive enough offensive support come October.