Back in early 2009, Chuck Fletcher joined the Minnesota Wild, becoming only the second general manager in the team's 16 year history. Fletcher, a native of Montreal, Quebec, took the role with Minnesota after three years as assistant general manager for the Pittsburgh Penguins.
After six years with the Wild, Fletcher has made some great draft picks and completed some outstanding trades (like Devan Dubnyk – the Wild could really use another trade like that right now). But he's also made some trades he'd probably prefer to forget.
With the trade deadline looming, the pressure is on Fletcher to make one of those outstanding trades to save his sinking team, not one he'll regret down the line. But with that being said, let's take a closer look at some of Fletcher's previous best and worst moves in his time with Minnesota.
2009
June 26: Fletcher's first move as GM was a trade with the New York Islanders on Draft Day. The Wild gave up its 2009 first-round pick at no. 12 for a 2009 first-round pick at no. 16, a 2009 third-round pick at no. 77 and a 2009 seventh-round pick at no. 181. While that might not seem all that impressive, the players Minnesota went on to draft with those two additional trades made this a solid first trade for Fletcher. For the players Fletcher drafted after this trade and many more, check out fellow THW contributor Jon Nomland's upcoming post analyzing Fletcher's best and worst draft selections.
November 23: A few months into the 2009-10 season, Fletcher traded Benoit Pouliot to the
Montreal Canadiens in return for Guillaume Latendresse. While this wasn't one of Fletcher's worst trades, it definitely wasn't one of his best. Pouliot found goal-scoring success after leaving Minnesota, while Latendresse struggled to provide the offense Fletcher and the Wild desired. In three seasons with Minnesota, Latendresse played only 82 games, as he repeatedly suffered from injury. The Wild eventually let Latendresse go at the end of his contract in 2012.
2010
February 12: This is one of those trades I imagine Fletcher still has nightmares about. In Feb. 2010, Fletcher swapped Nick Leddy and Kim Johnsson for Chicago's Cam Barker. To Fletcher's defense, he couldn't have predicted how well Leddy would turn out, but that really doesn't make this trade any less painful. Barker ended up playing 71 games over two seasons in Minnesota – he scored twice and was a minus-12 in his time in a Wild uniform. Leddy, on the other hand, well we all know how he's worked out. Safe to say, this one is near the top of the list for Fletcher's worst deals.
June 26: This trade worked out a little better for Fletcher. On Draft Day, 2010, Fletcher traded the Wild's 2010 third-round pick and 2010 fourth-round pick to the Florida Panthers in exchange for one 2010 second-round pick. Minnesota eventually used this pick to draft Jason Zucker, and he has worked out quite favorably for the Wild so far. Safe to say, this was a pretty smart switch for Fletcher.
2011
February 28: Fletcher started off 2011 by making a deal with the Boston Bruins, swapping goaltender Anton Khudobin for defenseman Jeff Penner and the rights to Mikko Lehtonen. Considering the Wild's crazy goaltender situation over the past couple of years, it probably would've been smarter for Fletcher to hold onto Khudobin, who has bounced around, but still been able to maintain a spot on an NHL team. Penner, however, never saw an NHL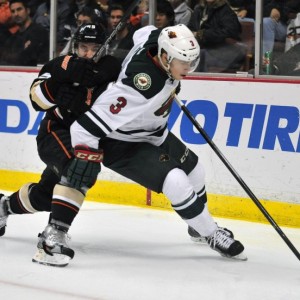 game after being acquired by the Wild, but he did spend two seasons with the Houston Aeros. The Wild also failed to do anything with the rights to Lehtonen, who now plays with Djurgardens IF of the SHL.
June 24: It's debatable who got the better end of the bargain with this trade. In the summer of 2011, Fletcher made a deal with the San Jose Sharks, exchanging Brent Burns for Charlie Coyle, Devin Setoguchi and a 2011 first-round pick. Setoguchi spent two seasons in Minnesota, and contributed a pretty decent amount offensively before Minnesota traded him to the Winnipeg Jets in 2013. He wasn't anywhere close to a superstar for Minnesota, but he wasn't a complete dud, either. The Wild has also had success with Coyle, who is having one of his best seasons since joining the team. One might argue that Burns is far superior to Coyle, and that may be true for the moment, but Coyle is only 23, while Burns is 30. Coyle has serious potential and the ability to become a top talent in Minnesota. Burns is an incredibly talented defenseman, but I think more time needs to pass before this trade can truly be judged.
July 3: This seemed like a great deal at the time, but it really just didn't work out that well for anyone involved. In the middle of the offseason, Fletcher made another deal with San Jose, trading Martin Havlat for Dany Heatley. After the swap, Havlat failed to become the 20-plus goal scorer he had previously been, and Heatley was rather disappointing, as well. Both players had been successful in the past, but neither seemed to be able to contribute as they had earlier in their careers. In the end, this probably ended up being a pretty even deal, although not one of Fletcher's best.
2013
April 3: Right now, this trade isn't looking like it was such a great idea (kidding, a little bit). In 2010, the Wild and Sabres made a deal, with Minnesota giving up Matt Hackett, Johan Larsson, a 2013 first-round pick and 2014 second-round pick in exchange for Jason Pominville and a 2014 fourth-round pick. Minnesota clearly got the better deal with this trade, even though Pominville seems to have forgotten how to play hockey this season. However, he scored 30 goals in his first full season with the Wild, and 18 last year, so it's safe to say he has helped the Wild at some point. On the other hand, Matt Hackett currently plays in the ECHL with the Utah Grizzlies, and Johan Larsson has played 47 games with the Sabres this season.
June 30: Toward the end of June 2013, Fletcher traded Cal Clutterbuck to the New York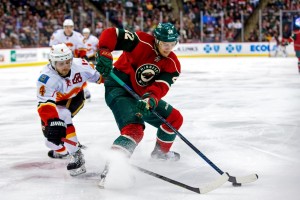 Islanders and received Nino Niederrieter in return. This is another one of those deals where both teams ended up with a pretty fair deal. Clutterbuck has been successful in New York, while Niederrieter seems to have adapted to playing with the Wild much better than he did with the Islanders.
2014
March 4: Ilya Bryzgalov might not be the best goaltender Fletcher has ever traded for, but he's definitely one of the fan favorites. On March 4, 2014, the Wild were in need of a goalie, and Bryzgalov was Fletcher's guy.  The Edmonton Oilers agreed to swap the Russian netminder in exchange for a 2014 fourth-round draft pick. This might not be Fletcher's all-time best trade, but it was probably his most entertaining. Bryzgalov played 12 games with Minnesota before moving on to the Anaheim Ducks. The team didn't lose much with this trade, but it gained some good entertainment and a solid backup goalie, so I'd say this was one of Fletcher's better trades.
March 5: A day after acquiring Bryzgalov, Fletcher made another move, swapping Torrey Mitchell for the Buffalo Sabres' Matt Moulson and Cody McCormick. The Wild also gave up a 2014 and 2016 second-round pick in the trade. Mitchell reportedly requested a trade out of Minnesota, so Fletcher may have had his hands tied with this deal. That's not to say it was a horrible trade; the Wild most likely just had limited options for shopping Mitchell, and got what they could. Moulson ended up scoring six goals in 20 games from the Wild, while McCormick played 14 games and added a little bit of grit to the team. Both Moulson and McCormick ended up returning to Buffalo after the 2013-14 season with Minnesota. Mitchell spent another season with the Sabres after the trade, playing 51 games and scoring six goals. Moulson and McCormick really didn't do all that much in Minnesota, but it's hard to say this was a bad trade. If Mitchell really did request a trade, Fletcher had to make a move, and at least got something in return.
2015
January 14: Speaking of acquiring good goaltenders for almost nothing, Devan Dubnyk fits perfectly into that category. Minnesota traded a third-round pick in the 2015 draft to the Arizona Coyotes and got Dubnyk in return a little over a year ago. At the time, Dubnyk seemed to be far from what the Wild needed, but Fletcher's gamble paid off. Dubnyk went on to save the Wild's season, become a Vezina nominee and 2016 NHL All-Star. Not too shabby when you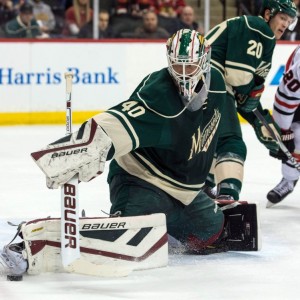 consider Fletcher only gave up a third-round pick for the 29-year-old goaltender. This trade is one of Fletcher's best in his six years with the Wild.
March 2: After Dubnyk got the Wild back on track, Fletcher made a few more moves to help push his team into the postseason. Acquiring Chris Stewart was one of those moves. Fletcher gave up a 2017 second-round pick for the Sabres big right-wing. Stewart provided some extra grit and offense in his time with Minnesota, although this probably won't be a deal many people remember a couple of years from now. However, no harm was done giving up a second-round pick, so it seems this was a decent trade for Fletcher.
March 2: On the same day that he traded for Stewart, Fletcher also made a deal to bring Jordan Leopold to Minnesota. With a little help from Leopold's daughter, Fletcher gave up Justin Falk and a 2015 fifth-round pick to the Columbus Blue Jackets for the veteran defenseman. Leopold added experience to the blue line during the Wild's playoff push, but really didn't seem to make a huge difference other than that. However, Justin Falk hasn't been anything special for Columbus, either, so it seems this trade ended up being fairly even in the end.
This is not a full list of every trade Fletcher has made in his six years with the Wild, but it is a list of some of his most memorable, and some that we'd probably all like to forget. For a full list of trades, click here.