To say the Minnesota Wild had a bad start to 2016 is an understatement.
In 13 games throughout the month of January, the team managed to win only three out of 13 games and collect a mere eight points. That's more than bad; that's inexcusable.
A 3-8-2 record is bad enough, but this feels like Groundhog's Day for many Minnesota Wild fans. Last season, the team went through the same mid-season slump, at almost the exact same time. From the middle of December to the middle of January, the Wild went 2-8-4, plummeting in the standings and almost playing themselves out of the postseason.
Luckily for Minnesota, Devan Dubnyk came to the rescue last season. But Chuck Fletcher can't find the Wild a superhero every year. It's just not possible, and at this point, I'm not even sure a superstar could fix this team – although it can't hurt to try.
The Minnesota Wild is a complete mess right now, and something – anything – needs to be done quickly, before this team ends its season. While there isn't one single reason for the Wild's nosedive, there is definitely a long list of issues this team needs to work on.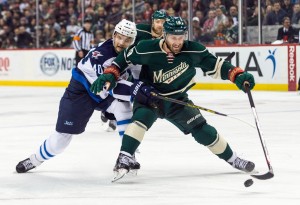 No Room for Excuses
While the Wild might try to blame this poor record on a tough travel schedule, bad ice or distractions, this team has no excuses for its embarrassing play over the past month. Every team travels. Every team has a break for the holidays, plays back-to-back games and has tough opponents throughout the season. Those aren't excuses; that's part of playing hockey in the National Hockey League.
This team has also been relatively healthy over the past month, so that's not an excuse, either. If half the team was missing due to injury, that's a different story. But that wasn't the case for the Minnesota Wild. This team just isn't motivated or energized. Some nights it really does seem like this team just shows up because they have to.
Whatever is going on behind the scenes, these guys have to put that away and figure out how to play like they actually want to be there. No more complaints; no more excuses; no more "good road periods." The Wild needs to snap out of it and start playing hockey.
No Offense
This one really speaks for itself. In the past 13 games, the Wild was shut-out twice and had a hard time scoring more than two goals in a majority of those 13 games. Clearly this "star-studded" team isn't as impressive as intended.
Minnesota's roster is filled with players that are supposed to be offensive powerhouses, yet they're not producing anything. Jason Pominville, Thomas Vanek, Mikael Granlund, etc…the Wild's scorers just don't seem to be panning out. Maybe it's Mike Yeo's fault for putting these guys out there at the wrong time with the wrong linemates, or maybe it's time for Fletcher to make a trade. I don't think it's possible for the Wild to acquire another season-saver like Dubnyk, but this team certainly cannot continue on the way it is.
This team needs to find a way to get it together.
Most nights, these guys can barely complete a pass. Apart from a few uncommon, magical moments, this team is sloppy and slow; they don't shoot and they have no jump. They look tired and lazy, and that kind of play isn't going to win any games, no matter who is on the ice.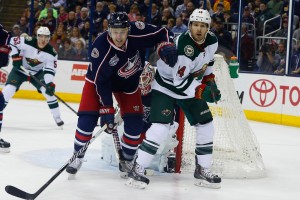 To make matters worse, Minnesota has struggled against some of the easier teams in the league. Over the month of January, the Wild lost to Winnipeg, San Jose, Philadelphia, Buffalo and Nashville – all teams with some of the worst GAAs in the league. Scoring shouldn't be this hard for the Minnesota Wild, but I suppose when most of the players refuse to shoot, it's hard to put the puck in the net.
Mike Yeo Must Go?
I don't want to be that person that panics and calls for the coach's head every time something goes wrong, but at what point is this actually something that has to be considered?
This is the second year in a row under Yeo this team has collapsed mid-season. Apparently he has a problem keeping his team motivated throughout the entire season. Not only does he seem to have a problem keeping them motivated, but he seems to have a problem managing his players, as well. During the 2015-16 season, Yeo has made some very questionable decisions with the players he puts on the ice during critical times, the players he chooses to reward, and the players he puts in the doghouse.
It's hard to say that this is all Yeo's fault, because there is only so much he can do, but it certainly doesn't seem like he's considering all his options. This team needs to be shaken up a little bit. Lines need to be changed, and some players need to be benched for a game or two. All teams have slumps, but 3-8-2 is a pretty clear sign it's time for some sort of change.
After losing to the Arizona Coyotes in a shootout Monday night, the Minnesota Wild head into the All-Star break with a lot to think about. It's not too late for this team to turn things around, but time is running out for this team.
What do you think is the cause of the Wild's downfall?
Alli covers the Minnesota Wild and has been a contributing writer with THW since August 2014. She is currently a journalism and sports management student at the University of Minnesota. For all of your Minnesota Wild news and updates, follow her on twitter: @allibaker23