Looking Back
This is the first time in a long while that the New York Islanders will not be part of the major headlines come draft day. Fans of the team are not going to know what to do with themselves when the 2015 NHL Draft takes place in Florida. New York only has two picks before the sixth round, both in rounds three and four. I thought it was a good time to look back at general manager Garth Snow's drafts and how he has done. Snow has been at the helm for each draft since 2007.
2007
The rookie GM's first draft did not go very well. In fairness, Snow only had five picks in the 2007 draft and his first selection wasn't until the third round, where he took defenseman Mark Katic. Who you say? Exactly, the other four selections did not amount to anything either.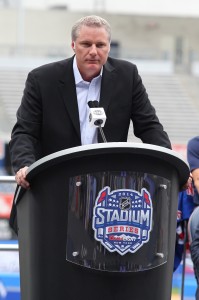 2008
The 2008 draft was a bit better, to say the least, for Snow and the organization. This was truly the first year of the rebuild. New York had 13 picks in this draft. Snow made waves by trading down twice  from the fifth overall spot and acquiring extra picks, before selecting Josh Bailey with the ninth overall selection. One of the picks acquired by trading down became very valuable as that pick turned into Travis Hamonic in the second round. The Islanders took a chance on Russian forward Kirill Petrov in the third round. He is finally coming over to the Islanders this season after a few years in the KHL. Finally, New York selected Matt Martin in the fifth round, a real good selection, especially given the round. Snow had quality selections, but given the amount of picks (had three picks in both the second and third rounds) he had, one would like to have seen a bit more.
2009
This was by far Snow's best draft. New York had seven picks in the 2009 draft after wheeling and dealing on draft day. But most importantly, Snow had the No. 1 overall pick. The talk ran rampant: would Snow take John Tavares, Victor Hedman or Matt Duchene? In the end, New York took Tavares but Snow also selected Calvin De Haan in the first round (12th overall, traded up twice in the first round to select De Haan), Casey Cizikas in the fourth round and Anders Lee in the sixth round. Talk about value. This was an excellent day for the Islanders organization.
2010
The Islanders had six picks in the 2010 draft, including the fifth overall selection, where they selected Nino Niederreiter. El Nino and New York never gelled and Niederreiter was eventually moved to Minnesota for Cal Clutterbuck. What saved this draft for Snow was the fact that he traded up from the fifth pick in the second round to the last pick of the first round and selected Brock Nelson. Mixed bag for Snow in this draft. Nelson is one of the young Islander core players going forward and Clutterbuck is a winning secondary player. However, when a team has the fifth overall pick, it needs to do more with the selection.
2011
New York had eight picks in 2011 and it was their first two picks that helped stock the cupboard. Once again, the Islanders had the fifth overall pick, but this selection was a much better return for New York as they selected Ryan Strome. In the second round, the Islanders selected defenseman Scott Mayfield. Snow added two core players to his organization for years to come in the 2011 draft.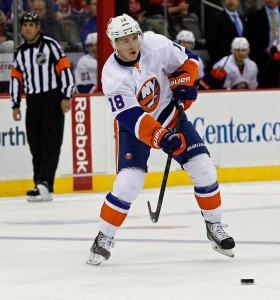 2012
This was an unusual draft as the Islanders had seven selections and used them all on defensemen. New York selected Griffin Reinhart in the first round, fourth overall. They also added Ville Pokka in the second round, Adam Pelech in the third and Jesse Graham in the sixth. Who would have thought that Pokka would become such an important selection, as he was the key piece with the Blackhawks trade that saw Nick Leddy come to Long Island? Pelech and Graham are in the Islanders' system and are considered good secondary prospects. Reinhardt, of course, is one of the top fifteen prospects in all of hockey, according to Hockey's Future latest rankings. After the 2009 draft, this was Snow's best draft.
2013
This was coming off a playoff season for New York, first one since the 2006-07 season. Therefore, the Islanders first round selection wasn't until the 15th overall pick. Snow made it count as he added defenseman Ryan Pulock. This defender is also on Hockey's Future recent Top-50 Prospect Rankings, checking in at No. 39. Pulock a big body and a future weapon on New York's power play. Pulock will see plenty of time with the Islanders next season; maybe as soon as opening night for the 2015-16 season. It's to early to tell on some of the other draft selections in 2013. Eamon McAdam (goalie, third round), Taylor Cammarata (center / winger, third round), Stephon Williams (goalie, fourth round) and Victor Crus Rydberg (center, fifth round) all have the potential to help New York going forward, but don't expect any superstars from this group.
2014
This was coming off a very disappointing season and one where Snow traded away one of his future first round picks to acquire Thomas Vanek (that pick is 21st overall pick in this year's draft). Wisely, Snow had it protected for last year's draft where New York had the fifth overall pick and selected winger Michael Dal Colle. The forward is also is on the recent Hockey's Future Top-50 Prospect Rankings, checking in at No. 16. Dal Colle is probably a year away, but has an excellent chance to be a first-line forward and one of Tavares' wingers for years to come. Snow, once again, traded up from his perch early in the second round to a late first round pick and snagged talented forward Josh Ho-Sang at the 28th overall pick. He also added two good goalie prospects in the third and fourth rounds in Ilya Sorokin and Linus Soderstrom. They could be part of the Islanders future towards the end of Halak's contract.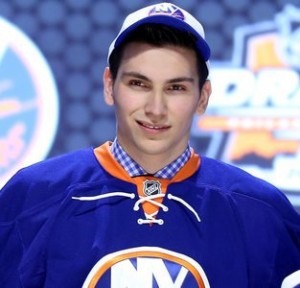 Final Analysis
Overall, I would say Snow has done a good job through the draft. Finding sleepers is not easy, even in the first round. He was wise, especially early on in the rebuild to acquire as many as picks as possible for this very reason. The only big miss I can criticize was his selection of Niederreiter. Although, to be fair, the 2010 first round from pick No. 5 through 30 was a relatively modest to weak draft. Only a couple of selections jump off the page from that draft. But each year, Snow was able to add to the Islanders organization and the cupboard. This franchise has a lot of young talent at the NHL level  and in the system. You have to give the GM kudos for where this franchise currently stands. But to be fair, Snow has had a lot of time to get this franchise upright and has had a lot of top picks in recent years. Losing this year's first round pick for Vanek (netted into secondary prospect Sebastian Collberg) is a negative. It is a good thing the organization is flushed with young talent, so a mistake like that won't hurt that much.
Overall Grade to Garth Snow: B+
Follow me on Twitter @TheNLKing
CJ Lizza