The New Jersey Devils already have a logjam up front with 14 forwards signed, prospects ready to make the leap to the NHL, and now a trio of players attending training camp as tryouts. Defensively, the situation isn't much different. The Devils have seven defensemen signed and prospect Damon Severson knocking on the defensive door. Devils General Manager Lou Lamoriello, as always, has high expectations for his squad and will be inviting a pair of experienced NHL defensemen, Mike Komisarek and Tomas Kaberle, to camp. Both players are on the downside of their careers looking for a late spark. Komisarek played in just 36 NHL games over the last two seasons combined while Kaberle hasn't touched the ice in an NHL game since March 5, 2013. Will they be skating with New Jersey on October 9 when the Devils open their season at the Philadelphia Flyers?
Analyzing the Devils Training Camp Tryouts: The Defensemen
Tomas Kaberle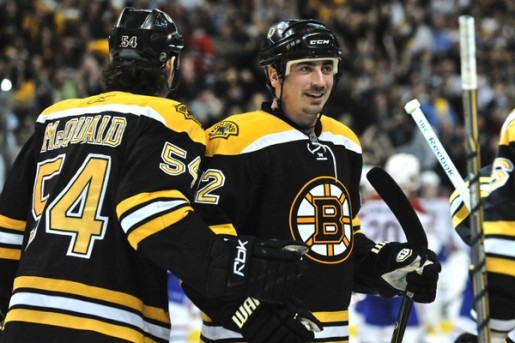 Drafted 204th overall in the 1996 NHL Entry Draft by the Toronto Maple Leafs, Kaberle has carved out an admirable career for himself. He started 57 games during the 1998-99 season, posting 22 points, before playing in all 82 games in each of the two following seasons. The Maple Leafs had their playoff run snapped both years by the Devils in the Eastern Conference Semifinals. Kaberle put up a goal and an assist in the six-game series in 2000. In a seven-game loss in 2001 he scored a goal with three helpers. The only remaining player from those series playing with New Jersey is forward Patrik Elias. (Scott Gomez, another participant, is also on a tryout contract with New Jersey.)
He spent 11 full seasons with Toronto and played in every game six times. His best seasons in the NHL came from 2005-06 through 2007-08 when he finished with 67, 58, and 53 points respectively. During the 2006-07 season, on March 2, 2007, he was on the receiving end of a controversial hit by Devils forward Cam Janssen at the Continental Airlines Arena. After Kaberle passed the puck to teammate Carlo Colaiacovo, Janssen drilled him in the Toronto end in a hit that sent the defenseman to the dressing room on a stretcher. He missed eight games due to the lingering effects of the check, the only eight games he missed that season.
He played in all 82 games again in 2010-11 but split the season with the Maple Leafs and the Boston Bruins, where he was traded for a prospect and a pair of draft picks on February 18, 2011. In 878 games with Toronto, he scored 83 goals and compiled a phenomenal 437 assists. Even more remarkable is what he brought to the power play. Of his 520 career points with the Maple Leafs, 263 came with the man-advantage, 31 goals and 232 assists.
Kaberle notched nine points in 24 games as a Bruin during the regular season but the highlight of his career would soon follow. In 25 postseason games, the native of Rakovnik, Czech Republic, assisted on 11 goals and was a +8 defensively en route to his first Stanley Cup title and the first for Boston since 1971-72.
After the pinnacle moment of his career, Kaberle wouldn't follow up with any encore performance. He signed a three-year contract in the offseason with the Carolina Hurricanes and lasted just 29 games and had a -12 +/- with Carolina before being traded to the Montreal Canadiens. He resurrected his season with Montreal by scoring 22 points in 43 contests but watched his +/- dip to the lowest point of his career. He finished the season -18. Then after playing in 10 games in the lockout shortened 2012-13 campaign, in which he eclipsed 20 minutes of ice time just once, his contract was bought out.
Kaberle did make an appearance at the 2014 Winter Olympics, however, playing in five games and assisting on three goals for the Czech Republic. He played with several current Devils, Elias, Marek Zidlicky, and Jaromir Jagr, during the Games.
Kaberle has many assets that he brings to camp but he faces an uphill battle in landing a roster spot. His scouting report, via The Hockey News, states that Kaberle "possesses excellent hockey smarts" and, as his stats already suggest, "can quarterback the power play." However, the Devils already have several players that exceed what can be expected from Kaberle. Andy Greene and Zidlicky can quarterback the power play exceptionally well. Eric Gelinas, who just re-signed with the Devils for another season, is coming off a solid rookie campaign offensively in which he finished tied for second in the NHL among rookie defensemen with 17 power play points. Lamoriello has a history of obtaining veteran defensemen around the trade deadline as insurance for the stretch run. With three young defensemen in Gelinas, Jon Merrill, and Adam Larsson on the blue line to open this season, he may be trying to get a jump on a cheap insurance policy in the event one of them falters.
Mike Komisarek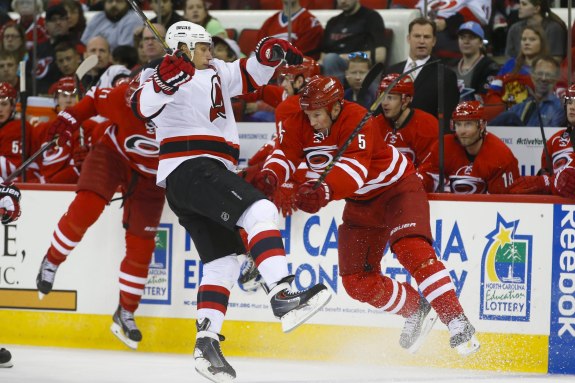 Komisarek also played with Carolina, Montreal, and Toronto. He was teammates in Toronto with Kaberle in 2009-10 and over half of 2010-11. Unlike his fellow tryout on defense, Komisarek made a name for himself playing the body and being a defensive defenseman, making the NHL All-Star team in 2008-09. He was also selected to represent the United States Olympic Team at the 2010 Winter Olympics but was unable to play because of season-ending shoulder surgery in early February.
The Hockey News describes him as someone "willing to hit anything that moves" and a player "good at blocking shots." At 32 years of age he is four years younger than Kaberle and probably has a better chance at making the Opening Night roster.
Komisarek, 6-foot-4, 235-pounds, could be an adequate replacement for Anton Volchenkov and Mark Fayne. With Volchenkov's skills clearly diminishing and a pipeline of young defensemen ready to take his place in the NHL, he was bought out by the Devils earlier in the offseason when Lamoriello, reluctantly, used his final compliance buyout. Volchenkov would have carried a cap hit of $4.25 million this season and in 2015-16. Fayne, on the other hand, left on his own, signing a contract with the Edmonton Oilers after becoming an unrestricted free agent.
Whereas the Devils already have an abundance of offensive minded or all-around defensemen, there is a shortage of pure stay at home blue-liners. Currently, with the absence of shot-blocking artist Volchenkov and the departure of the reliable Fayne, only captain Bryce Salvador fits that role and he missed more than half of last season due to injury. Four seasons ago Salvador missed the entire year due to a concussion. Komisarek could fill in for the two departed defenders and be used to stabilize the young defensive unit in the event of an injury to Salvador. (Peter Harrold, the seventh defenseman signed by the Devils, would likely replace Greene or Zidlicky if one of them fell to the injury bug.) If any of the youngsters starts to feel overwhelmed in the NHL, Komisarek's powerful presence could settle their game. Lamoriello has always been a GM who believes in building a team from the goaltender on out so Komisarek, as well as Kaberle, will be under his watchful eyes during training camp.
Leo is in his second year with THW. He covers the 3-Time Stanley Cup Champion New Jersey Devils and the Albany Devils of the American Hockey League. You can follow Leo on Twitter, @LeoScaglioneJr.