Andreas Athanasiou THW Close-up:
Date of Birth: August 6, 1994 Hometown: Woodbridge, Ontario Height: 6'1″  Weight: 175 lbs Shoots: Left Position: Centre/Left Wing NHL Draft Eligibility: 2012  
Click here for the live updated 2012 NHL Entry Draft Guide – "The Next Ones" – your quintessential draft resource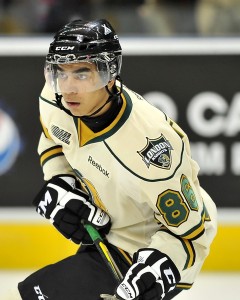 Andreas Athanasiou (ath-an-ah-see-ew) was a name to watch coming into the 2011-12 season, blessed with tremendous skill, many scouts put him on their watch lists and high in their preliminary rankings.   TSN analyst Craig Button had him listed 8th in his pre-season draft rankings.
By mid-season he was ranked 24th by NHL Central Scouting.
Whether it was his inability to capitalize or other prospects simply progressing past him, he fell further than he would have liked as the season went on.  Currently he is ranked as the 40th North American skater by NHL Central Scouting and #36 overall by ISS.
However, it wasn't exactly that he had a terrible year, playing on a loaded Knights team this season he finished third on the team in the regular season with 22 goals, and helped lead them to the Memorial Cup final where they lost to eventual champ Shawinigan.  He played primarily on the second line with OHL veterans Austin Watson and Greg McKegg.
When talking about Athanasiou's game, it begins and ends with speed.  One of the faster players in the draft, he has the type of top end speed that kills.  He's also very dynamic offensively with slick hands and is a tremendous stickhandler, which has drawn comparisons to another CHL player who was in a similar situation to him a year ago and the Sea Dogs Tomas Jurco.  In fact Athanasiou did a similar stickhandling and trick shot video to that of the Red Wings 2010 draftee (see video section below).
He is not without his flaws, however, as he still needs to put on some weight and muscle to play at the next level.  He also needs to continue to improve his defensive zone play and while it is getting better under the tutelage of the Hunter brothers, it still needs to progress.  Athanasiou himself also thinks that he needs to work on his shot to get to the next level:
"I need to work on my shot.  I have to use it more", Athanasiou said. "I have a pretty good shot but I tend to pass a little more than shoot.  I get into the offensive zone and there are a lot of talented players around me, but I have to shoot the puck and get some garbage goals like that."
Consistency was also an issue for Athanasiou, as he found himself going stretches without production and often ending up as a healthy scratch.
He is a true boom or bust prospect and there will be a team who takes a chance on him, likely in the second round, based on his dynamic offensive abilities and high ceiling.  They will be hoping they get a high end goal scorer with highlight reel potential and not a player who plays on the peripheral and lacks intensity at times.
International Tournaments:
2011 World U17 Hockey Challenge – Canada (Ontario) – 5 points in 5 games – won gold medal
Scout's Honour:
"Andreas Athanasiou is an extremely skilled forward playing for the London Knights of the OHL. Scouts love his incredibly speedy and dynamic skating to go along with his great puck handling. He has an accurate shot which has earned him powerplay time on a very talented London team. His speed is essential to today's neutral zone game and also allows him to create turnovers and tire out opponents. It's so important that he gets stronger since he isn't very tall to begin with. Another thing scouts have worried about is his inconsistency. If Athanasiou adds strength he has the potential of becoming a great top six offensive asset." – DobberProspects.
"I think what really separates Andreas from other elite skaters is not just the ability to skate but the ability to skate with the puck on his stick….he moves very, very well east-west, laterally.  He's really dynamic on the rush and he creates a lot of opportunities just by taking the puck to the net."
"You don't see that often.  His zero-to-60 speed is incredible. Flat-footed he can go from a dead stop to 60 incredibly fast. He can really pull away from defenders and at this level it means so much." – Misha Donskov,
Knights asst. coach/GM
Statistics:
Bio/Interview Links:
NHL ETA:
Risk/Reward Analysis:
Risk: 4/5  Reward: 4.5/5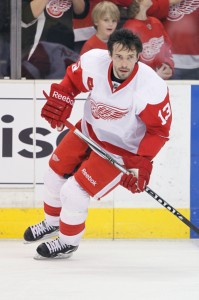 NHL Potential:
Strengths (See THW Close-up):
Skating
Stickhandling
Offensive awareness
Passing
Puckhandling at top speed
Highlight reel potential
Aspects He Needs to Work On:
Strength
Shoot the puck more
Defensive zone play
Aggressiveness
Consistency
Intensity
Fantasy Hockey Potential:
Offensive: 9/10  Defensive: 5/10
NHL Player Comparison(s):
Athanasiou idolizes and models his game after two Russian stars, Pavel Bure and Pavel Datsyuk.  Shows speed like Bure and hands like Datsyuk. Lacks Datsyuk's defensive game at this point.
Islanders Michael Grabner is also an apt (and more realistic) comparison
Video:
Off The Iron (Interesting Notes):
Athanasiou is of Greek descent, currently there are 5 active NHL players who also have Greek origins.
*"The Next Ones" prospect profile template design architect is Chris Ralph