It is never too early to at least casually think about next fantasy hockey season. Granted, we are only in June but already the "Free Agent Frenzy" looms ever closer. The goal of this "summer series" is to mix a bit of hockey and fantasy hockey together. July 1st is less than four weeks away so let's break down some of the top UFA's in a fantasy perspective.
Everyone wants Zach Parise……
Yes Parise is the most talked about unrestricted free agent in this year's class. If you think we are kidding, then just go read twitter, nhl.com, or right here at The Hockey Writers. Every team is interested in some way or another with Parise, even if their chances of landing the UFA are unrealistic at best. We are going to take a three year average as we often do here to try and ascertain fantasy value. Please keep in mind that injuries do play a role sometimes. Our three year averages come via Scott Cullen of TSN.
| Year | Tm | GP | G | A | P | +/- | PG | PA | SG | SA | GW | PIM | Sts | Hits |
| --- | --- | --- | --- | --- | --- | --- | --- | --- | --- | --- | --- | --- | --- | --- |
| 2011-12 | NJ | 82 | 31 | 38 | 69 | -5 | 7 | 7 | 3 | 4 | 3 | 32 | 293 | 65 |
| 2009-10 | NJ | 81 | 38 | 44 | 82 | 24 | 9 | 17 | 1 | 0 | 5 | 32 | 347 | 108 |
| 2008-09 | NJ | 82 | 45 | 49 | 94 | 30 | 14 | 16 | 0 | 3 | 8 | 24 | 364 | 65 |
Where did the 2010-11 season go, you may ask? That was when Zach Parise tore his meniscus or shattered it depending on one's interpretation. It did cost him all but 13 games of that season as he likely came back too soon from the injury. Let's also point out that in 2007-08 (year before breakout), Parise did have 65 points on only 266 shots (32 goals). The Captain of the New Jersey Devils does have five 30 goal seasons in six full years for fantasy owners.
Overall, the three year average is 38 goals, 44 assists, and 82 points. If you combine the 23 power play points per full year and 335 shots per season, that does sound very enticing to future teams interested. However, we do have a few concerning numbers to throw into the mix.
The drop in power play points this year was too noticeable to just disregard. When a player drops to 14 power play points after having just 26 in his last full season, red flags do rise. It is not the only one needless to say. It became abundantly clear that Parise lacked that extra step or two in acceleration needed to be an elite player in the NHL this season. This could be a blip or a sign of things to come. The goal drop down to 31 is a little alarming as well to be honest.
Parise has hit a bell curve of sorts as far as his numbers but how the rest of his career plays out depends more on how hard does he really want to get back to those elite numbers (85-95 points). What if Parise had sat out a few weeks when the knee was originally injured? That part does not matter now because despite all this, everyone wants Zach Parise.
There are five teams that seem to be most in the running for the talented forward. Here they are.
New Jersey Devils
New York Rangers
Detroit Red Wings
Carolina Hurricanes
Minnesota Wild
This does not mean another team could swoop in and sign the Minneapolis native. All of these teams will have the cap space in some way, shape, or form. It will be interesting to see where Parise goes because there is a definite difference in fantasy impacts. Can anyone really predict how much a player will give your fantasy team depending on the NHL team? That is a tough question on the surface. However we can offer some likely projections.
New Jersey Devils (80-85 pts, 35 goals)
New York Rangers (80-85 pts, 35 goals)
Detroit Red Wings (84-88 pts, 35-40 goals)
Carolina Hurricanes (78-82 pts, 30-35 goals)
Minnesota Wild (75-80 pts, 30-35 goals)
It is difficult to come up with concrete numbers with the uncertainty of where Zach Parise could end up. Conjuring up lines could also be difficult but if Parise signed with the Rangers, he would likely play with Brad Richards and Carl Hagelin maybe Derek Stepan. As for New Jersey, would he still play with Dainius Zubrus and Travis Zajac? That does seem a likelihood. Parise might play with Pavel Datsyuk and Henrik Zetterberg in Detroit. Carolina may see him with Jiri Tlusty and Eric Staal. Minnesota may temporarily place him with Mikko Koivu and Danny Heatley.
Where does Parise sign on or after July 1st is still a mystery? The one thing is clear that the forward will test the market no matter what. That was obvious from a year ago and still is today. If there was a list of where Parise will sign as of this moment, this would be our order.
Detroit Red Wings
New York Rangers
New Jersey Devils
This could very well change. Detroit makes the most sense for now based on the fact that it was said the Red Wings were not interested in making just one big splash. The Rangers with the injury to Marian Gaborik (out 5-6 months — shoulder surgery) need a scoring Winger and are willing to outbid pretty much anyone. New York will make a substantial offer and does have a cup contending nucleus better than any other team on our list. Detroit does have the classiest organization in the last two decades and New Jersey is the team he has played for his whole career. Do not count anyone out just yet and we will say Carolina could be a dark horse. Stay tuned.
Suitors For Suter?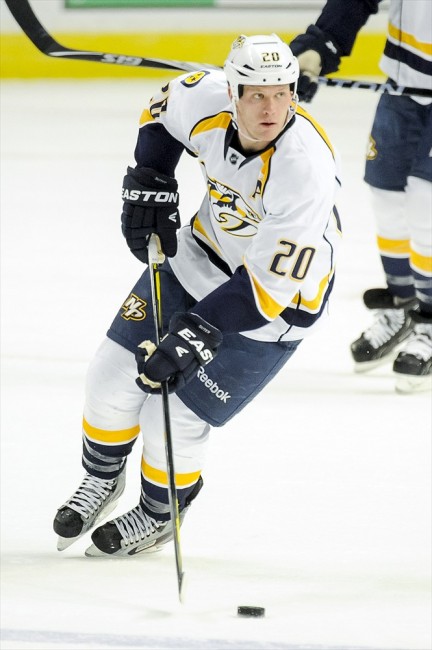 It just seems like yesterday that Ryan Suter was almost a forgotten sidekick to Shea Weber but those days are long gone. The defenseman has really raised the bar with his play so much that teams will definitely flock for his services in this free agent period. He is only 27 years old and already established as a top two way defender. With his prime years ahead, it does seem likely some team is going to make him a very rich man. Here is his three year averages.
| Year | Tm | GP | G | A | P | +/- | PG | PA | SG | SA | GW | PIM | Sts | Hits |
| --- | --- | --- | --- | --- | --- | --- | --- | --- | --- | --- | --- | --- | --- | --- |
| 2011-12 | Nsh | 79 | 7 | 39 | 46 | 15 | 3 | 22 | 1 | 1 | 1 | 30 | 134 | 46 |
| 2010-11 | Nsh | 70 | 4 | 35 | 39 | 20 | 1 | 16 | 0 | 1 | 1 | 54 | 115 | 64 |
| 2009-10 | Nsh | 82 | 4 | 33 | 37 | 4 | 2 | 15 | 0 | 0 | 1 | 48 | 125 | 55 |
So the numbers are definitely on a nice, steady upward climb. Suter is more positionally sound and does not have to rely on hitting as much as some defensemen often do. With the right fit, 50 point fantasy seasons are definitely not a stretch at all. The three year averages indicate five goals and 36 assists for Suter but keep in mind that the 2010-11 season was one where he only played in 70 games. His ATOI is amongst the top five for defensemen also. With 18 assists per year, just imagine what Suter could yield fantasy owners on a team like Detroit for example. Now there is some potential that has his fantasy stock on quite a rise.
There is a little bit of concern that Suter may not do quite as well without Shea Weber by his side. Honestly, there is going to be an adjustment period no matter where he ultimately signs. Ryan Suter is too talented to let that keep him down for any extended period of time and besides this is prime fantasy territory at this juncture of his career.
It does seem there is only one real team in the market for his services but believe us when we say there are quite a few teams that want in on this any way plausible. There was a list of teams we tried to come up with in our top three but trust us in the fact that a few teams will unexpectedly pop up. Will Suter's rights be traded before July 1st? Hey, Tomas Vokoun's already were after all. Feasibly Parise's could be traded as well but it just seems a guy like Suter could be more likely, if that is even possible. Time will tell on that one. Anyway, here is our list.
Detroit Red Wings
Nashville Predators
New Jersey Devils
How on Earth does New Jersey even belong in this conversation? Honestly if Zach Parise winds up somewhere else, the Devils may go blueline first to improve a more gaping problem. Nashville could still be in the running depending on how things go or if Shea Weber actually gets an offer sheet. Detroit obviously is going to try and go "all in" on signing Suter. There may be a team that jumps in out of nowhere but it does not seem all that likely at the current time.
What projections would Ryan Suter receive? This depends on the team he signs with but it seemed like this is how it may go according to NHL simulations for the 2012-13 season.
Detroit Red Wings (10-12 goals, 50+ points)
Nashville Predators (8-10 goals, 50 points)
New Jersey Devils (10-12 goals, 45-50 points)
The consensus was right around the same numbers for the defenseman. There are just too many things to like about a guy with this kind of upside, especially if he goes to an elite organization like Detroit. There is even the possibility that he could be a future Norris Trophy nominee. Ryan Suter has that kind of talent but maybe just needs the spotlight along with the fantasy lights. A move to Detroit could provide just that spark.
Suter will get paid no matter what and so will fantasy owners who can get him at lower prices now because his price is going to head upward after he signs, It may be a good time to get in on the ground floor now while one can do so. Detroit is the obvious choice here and for good fantasy reason.
Where will "The Wizard" land?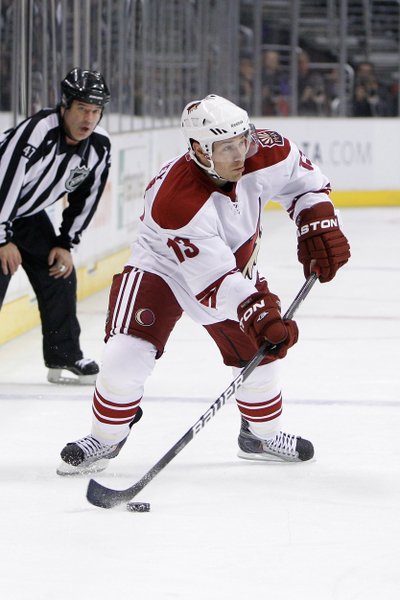 This is a question that seemingly has an easy answer but you never quite know. Boston charged hard for Whitney at the deadline but Phoenix definitively said no. Ray Whitney wound up having a season that most 39/40 year old players would dream about as he tallied 77 points in 82 games. This could be one last big payday for the forward as he realistically only may have a good year or possibly two left. The three year averages are next up for everyone's perusal.
| Year | Tm | GP | G | A | P | +/- | PG | PA | GW | PIM | Sts | PCT | Hits |
| --- | --- | --- | --- | --- | --- | --- | --- | --- | --- | --- | --- | --- | --- |
| 2011-12 | Phx | 82 | 24 | 53 | 77 | 26 | 8 | 12 | 1 | 28 | 185 | 12.97 | 28 |
| 2010-11 | Phx | 75 | 17 | 40 | 57 | 0 | 3 | 23 | 1 | 24 | 156 | 10.90 | 29 |
| 2009-10 | Car | 80 | 21 | 37 | 58 | -6 | 7 | 12 | 5 | 26 | 171 | 12.28 | 24 |
This is interesting in a lot of ways. Here is a player in his later years who has managed to average almost 21 goals a year. That is not bad for a guy who has always  been known for being an elite level passer. If you toss in this season, Whitney averages 64 points a year and there are a lot of teams that can use a 40+ assist per year professional. Advanced stats need not apply in telling you that Whitney will be very sought after come July 1st especially if Phoenix decides not to resign him.
It would be curious to see what Whitney would do with a little more pressure and expectations heaped upon him. He thrived in Carolina and won a Stanley Cup there but in Phoenix, it has been a relaxed environment on the ice up until this year's conference finals run. The biggest thing for Whitney owners is he would have to be protected a bit if he made the move east to say Boston. However, a guy who can rack up 20+ power play points on a team dying for power play efficiency can never hurt.
There is a high degree of difficulty sometimes in trying to figure out where a player could end up but we attempted to narrow this to three teams for the sake of debate and based on the latest information that has been coming in. Here is the top three so far.
Phoenix Coyotes
Boston Bruins
Los Angeles Kings
The Whitney sweepstakes will likely feature several dark horses so stay tuned between now and July 1st. Boston has to be the one team that is going to try and sign Ray Whitney in the worst way. At least that seems to be the prevailing thought. Phoenix would still make the most sense as Boston is in a transition of sorts with Tim Thomas taking a year off. Boston is still a contender though Phoenix may be more of one. Even the Kings may take a shot or perhaps New Jersey does even. There is just that feeling that a few others teams may jump into the mix here.
If we had to do fantasy projections based on the three teams, what would they look like? The tough part is always trying to gauge line combinations but again we put our best foot forward here.
Phoenix Coyotes (22 goals, 43 assists, 65 points)
Boston Bruins (19 goals , 50 assists, 69 points)
Los Angeles Kings (17 goals, 48 assists, 65 points)
These are mostly based on the averages but also is aided by age and other intangibles. The unknown is how Whitney's play will be at age 40. Does he have a Teemu Selanne like endurance or do we see a drop of sorts? Phoenix still actually presents the best opportunity for power play points as far as Ray Whitney. Honestly this does seem like a Phoenix or Boston scenario but stay tuned.
Whitney will likely see a raise and honestly with what he has done in the last 3-4 years at this stage of the game, he is worth every single penny.
Who will pen Penner to a new deal?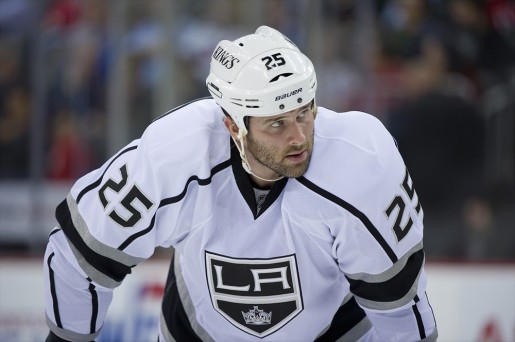 The question becomes where will Dustin Penner ultimately go. He was roundly killed in fantasy circles for his lack of production in the regular season but in the playoffs he has sparked hopes afire once again. The Kings forward could win the Stanley Cup and then cash in a bit. Is he the playoff warrior he has become this year, the 30 goal scorer from a few years back or is he a regular season dud like this season? Could he be a little of all three?
Anything is a possibility at this juncture. Penner is a 245 pound beast who plays best when he is engaged in the game. He does not necessarily have to play 18-20 minutes a night but his minutes have to be hard and gritty. Penner has the ability to be physical but does not always use it. That is his biggest detriment and issue. Let us try to set up those fun three year averages once again.
| Year | Team | GP | G | A | P | +/- | PG | PA | SG | SA | GW | PIM | Sts | Hits |
| --- | --- | --- | --- | --- | --- | --- | --- | --- | --- | --- | --- | --- | --- | --- |
| 2011-12 | LA | 65 | 7 | 10 | 17 | -7 | 1 | 0 | 0 | 0 | 0 | 43 | 119 | 90 |
| 2010-11 | LA | 19 | 2 | 4 | 6 | 0 | 0 | 0 | 0 | 0 | 0 | 2 | 36 | 27 |
| 2010-11 | Edm | 62 | 21 | 18 | 39 | -12 | 6 | 2 | 1 | 0 | 3 | 45 | 137 | 63 |
| 2010-11 |  Edm/LA | 81 | 23 | 22 | 45 | -12 | 6 | 2 | 1 | 0 | 3 | 47 | 173 | 90 |
| 2009-10 | Edm | 82 | 32 | 31 | 63 | 6 | 9 | 8 | 0 | 0 | 1 | 38 | 203 | 55 |
The decline coming to Los Angeles is painfully obvious. However, in the playoffs this year, Dustin Penner has 11 points in 17 games while playing about 13 effective minutes a night. He can play with top line players and checking lines also. His role is defined and that is going to be key moving forward, no matter where he ends up for the 2012-13 season. Furthermore, the 28 year old has played a solid two way game in the playoffs which has not been seen in over two years.
The Penner everyone saw in 2009-10 is kind of the one you see in the playoffs for the most part. He had teammates who could feed him the puck and take advantage of his size and hands. Los Angeles has that ideal situation and so do a few other teams. The problem is can Penner stay engaged. We can say it over and over again until we are blue in the face. Let's list the three potential targets for Dustin Penner at the moment.
Toronto Maple Leafs
Los Angeles Kings
Ottawa Senators
It was really tough to come up with a third team based on what has been coming in as far as information lately. Will Los Angeles be able to sign him? Something tells me that Brian Burke (Toronto GM) makes a major push in an effort to bring Penner to Toronto. Salary wise his numbers are interesting (thanks Capgeek). What would be the offer? Could Penner get 4-5 million? Perhaps. He earned 4.25 million in the last year of a three year deal. The last year and a little bit in Los Angeles hurt his payday a good bit but like we said before, the playoff run helps.
Do not be surprised if a team like Ottawa makes an offer or another team in desperate need of playoff grit with a little scoring touch. Yes it is a gamble but it is one worth taking. The next question is how do you quantify Penner's projections? There really is not an answer for this. However, we are going to give it the old college try. Here we go.
Toronto Maple Leafs (20-25 G, 25-30 A, 50 pts)
Los Angeles Kings (15-20 G, 15-20 A, 35 pts)
Ottawa Senators (20-25 G, 20-25 A, 45 pts)
Keep in mind, that Penner is pretty much a 45-50 point guy for fantasy owners at best. Toronto would make him more effective on the man advantage and give him more minutes. It will be interesting to see if Los Angeles makes a big push to resign. Do not be surprised if they do so. Dustin Penner is a very valuable commodity when looked at as far as a bottom line but is a higher risk when it comes to fantasy circles. The location has to be a perfect fit for it to work out for the regular season. Toronto presents that best opportunity.
How will this pan out? Stay tuned. There is a lot more to come and we will resist all those "jokes". Now is not the time for that.
Sticking With Semin?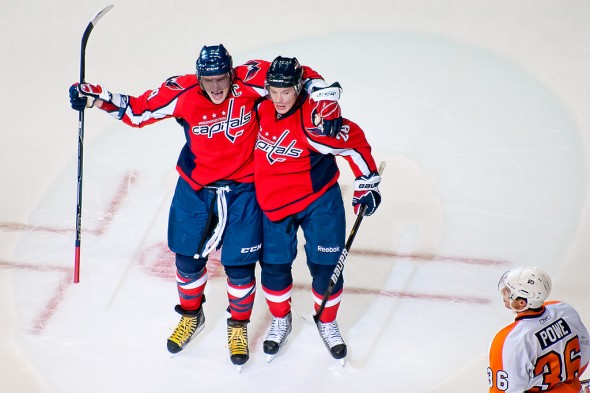 It is going to be another interesting negotiation with Alexander Semin. Will he take another one year, six million dollar a year deal or will he want something more? With Alex Radulov rumors seeming to indicate that he may become a New York Ranger, that eliminates one potential destination for Semin. There may be a few other possibilities but the fact that Semin is such a talent creates intrigue. The reality is that he is an extreme enigma which drives potential suitors insane. His playoff run consisted of four points in 14 games and countless chances. For a player of his talent, Semin was more or less invisible. Is he worth $6.7 million dollars a year? That answer now seems to be no.
This is a player with elite level talent who mentally does not always have "it". Some also say that he rides the coattails of Alexander Ovechkin and that may be correct to a point. Last year's 54 point season had to be disappointing coming off a 54 point year during the 2010-11 campaign. Does it really matter if there was a system in place or not? Your offensive players have to produce for your fantasy team. When they do not, questions need to be asked.  The most obvious is the pay scale to points but the less obvious may be the lure of the KHL or other NHL teams. It has to be addressed.
There is a very slight but real possibility that Alexander Semin could say he has had enough and bolt to the KHL for a few seasons until the Olympics. However, the pull of certain Russian players and the money may be enough to keep him on this side of the world. The Capitals should be able to convince him even if it is at a slight pay cut. However, what if they do not? First, let's take a look at that three year average and break that down a bit.
| Year | Team | GP | G | A | P | +/- | PG | PA | SG | SA | GW | PIM | Sts | Hits |
| --- | --- | --- | --- | --- | --- | --- | --- | --- | --- | --- | --- | --- | --- | --- |
| 2011-12 | Was | 77 | 21 | 33 | 54 | 9 | 2 | 9 | 0 | 0 | 1 | 56 | 183 | 31 |
| 2010-11 | Was | 65 | 28 | 26 | 54 | 22 | 6 | 12 | 1 | 0 | 4 | 71 | 196 | 27 |
| 2009-10 | Was | 73 | 40 | 44 | 84 | 36 | 8 | 19 | 2 | 0 | 5 | 66 | 278 | 30 |
So when the Washington Capitals set the world on fire a few seasons ago offensively, who knew the drops fantasy wise would be this much? There were very few that thought Washington and some of its players would twist in the wind quite like this. Yet, they were one game from the Eastern Conference Finals when all was said and done. The problem is fantasy hockey fans do not care about postseason results. Fantasy hockey general managers care about results and numbers.
If Washington is not scoring, Semin is more of a liability no doubt about it. The alarming facts do remain. The power play points dropped from 27 to 11 in the last two years. Shots on goal dropped from 278 to 183. Game winning goals dropped to just one this year. There are so many red flags for fantasy owners here. Washington still has to find a coach and the blueprint is there so who knows what style will the Capitals ultimately embrace. There are many more questions than answers. Will we attempt to toss in some options of where else Semin could go? Yes we will do so right now.
Washington Capitals
KHL
Carolina Hurricanes
The reality is that the options are few for Semin. There are the Capitals, the KHL, and maybe another Southeast Division team or two that could be in the running for his services. Other than that, there is really little else. The KHL has been a viable option for the last couple seasons and if there is a lockout, do not be surprised if Semin signs in Russia. Remember this variable and wrinkle very well or fantasy owners will be doomed. All of our projections assume a full season and we will eventually adjust them depending on what occurs. Based on a full season scenario, there is still a decent chance that Semin bolts but the better chance is he resigns in Washington.
There is that challenge or feeling that another divisional rival could make an attempt and that is true. So how do we project a player on a team who does not have a coach or a system? This is not simple but we will try it anyway. Based on our premonition that Washington is a 80-90% chance of being Semin's destination, we figure that Alexander Semin will bounce back a bit this year with a 30 goal campaign. If we toss in another 35-40 assists and Semin is slotted at around 65 points for the 2012-2013 year.
All of this could change obviously but it just seems that Semin has two realistic options. Which one does he choose and for how long? Those are questions that are not quite answered just yet.
These are our five UFA's to keep a fantasy eye on for next season but surely there are others. Please give us your top five and maybe a few honorable mentions as well. It will be fun to see what fantasy hockey and hockey fans come up with.