In the midst of the media storm surrounding Tim Thomas' decision to sit out the 2012-13 National Hockey League campaign, I can't help but think of Tuukka Rask.
It may not be the ideal way to step into his new role as the potential starting goaltender for the Boston Bruins, but when opportunity knocks for a goaltender at the NHL level, you better answer.
Don't worry Bruins fans; Rask is ready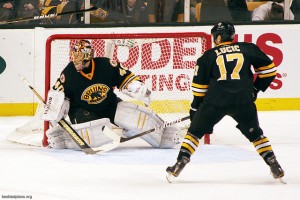 Rask has spent almost a decade as a professional and even longer as a sure fire goaltending prospect. He suited up for Ilves in Finland's top division, SM-liiga, and has represented his country seven times in various international tournaments, first digging his skates into the crease with the Under-16 squad.
Rask made the move to North America in 2007-08 and joined the Boston Bruins organization, splitting his time since then between the Providence Bruins in the American Hockey League and the big club.
All of this to say: at a very young age and for much of his career, Rask has been groomed for this moment, at age 25, to be a number one goaltender in the NHL.
During the 2010-2011 season, Rask served as an excellent back-up to Thomas, appearing in 29 games, and recording a 2.67 goals-against-average and a 9.18 save percentage. For his contributions, he earned a Stanley Cup ring.
Last season, he played in six fewer games, but his numbers in the same categories improved: 2.05 goals-against-average, .929 save percentage.
When he is at the top of his game, Rask is a very good goaltender to watch. He has great size (6-foot 3, 181 pounds) and plays a very dynamic and often exciting style. His skating and movements in the crease are very smooth. At times, Rask makes it look effortless.
Like every athlete, Rask has struggled at times during his career. From a technical point-of-view, he can get sloppy with his rebounds and passive with his hands. These, more than anything, are mental mistakes and relatively easy to work through. With Anton Khudobin likely to step into the number two spot in Boston, Michael Hutchinson, and newly signed Swedish goaltender, Niklas Svedberg, the Bruins are in good shape between the pipes.
Final thoughts on Thomas
Nobody can put into words what Thomas has gone through to get to this point in his life.
Not career, life.
But, bet your bottom dollar that Rask learned a thing or two from Thomas about taking the very, very long and winded road to becoming an elite-level goaltender.
Not career lessons, life lessons.
The story has already been written about Thomas' season: it will be remembered for the political and personal distractions, and early exit from the Stanley Cup playoffs.
The story of the 2012-13 season has yet to be written. This time, it will be Tuukka's Turn to hold the pen and etch his name in the history books as the new number one goaltender for the big, bad Bruins.
Eli is an instructor and consultant with PRO Goaltending, providing top training programs for goaltenders at all levels including professional, collegiate and Major Junior. Eli brings passion and energy to The Hockey Writers where he offers analysis and insight to the world of goaltending. He currently works and resides in Ottawa.