Martin Brodeur is one of the greatest goaltenders to ever play in the National Hockey League. In 18 NHL seasons, Brodeur has rewritten the goaltending record book by winning 656 regular season games and posting 119 regular season shutouts. Along the way, the greatest player in the Devils' history has won three Stanley Cups and won four Vezina Trophies. But while Brodeur is a first ballot Hall of Famer, does his resume have enough to make him the greatest goaltender that every played?
In order to determine whether Brodeur should hold the title of the best goalie to ever play, a comparison was made between Brodeur's career stats, and the stats of five goaltenders who could also be considered the best goalie to ever play. These goalies were Dominik Hasek, Jacques Plante, Glenn Hall, Terry Sawchuk, and Patrick Roy.
Brodeur vs. Dominik Hasek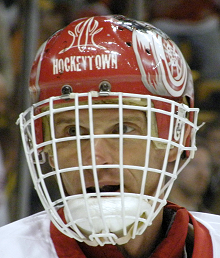 Although Hasek didn't play his first NHL game until he was 26 years old, he quickly became one of the best goaltenders of his generation. Hasek played an unorthodox style in net that allowed him to make some of the best saves in history, usually with his back on the ice. Hasek led the league in save percentage for six consecutive seasons (1993-94 to 1998-99), captured six Vezina Trophies between 1993-94 and 2000-01, and became the only goaltender to win two Hart Trophies as league MVP (1996-97 and 1997-98). Although Hasek is planning to return to the NHL next season at age 47, his 389 career wins are 11th in NHL history.
But while Hasek put up great numbers in the regular season, his playoff statistics pale in comparison to Brodeur's. In nine seasons as his team's starting goalie in Buffalo and Detroit (not counting the 2007-08 Red Wings, where he didn't play after Game 4 of the Western Conference Quarterfinals), Hasek's teams only made it to the Stanley Cup Finals twice, and his only Stanley Cup win came in 2002. In fact, Brodeur almost has as many playoff wins (111) as Hasek as playoff games played (119). Another advantage that Brodeur has above Hasek is his durability. In 15 NHL seasons, Hasek only played 70 or more games once, and 60 or more games four times. In comparison, Brodeur has played 70 or more games in 12 of his 18 NHL seasons, and has eight 40-win seasons, while Hasek only has one.
Edge: Brodeur
Brodeur vs. Jacques Plante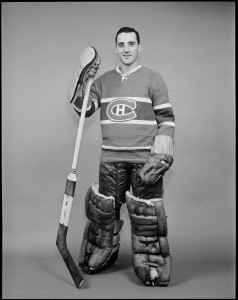 In addition to being the backbone of the last team to win five Stanley Cups in a row, Plante was also an innovator for all goaltenders. Plante was one of the first goaltenders to leave his net and play the puck, an attribute that has been of Brodeur's greatest strengths throughout his career. Plante was also the first goaltender to wear a mask in an NHL game, a move that revolutionized the position. However, putting aside how he changed the position, Plante's stats are also remarkable, as he won 437 games (6th in NHL history), won six Stanley Cups, and seven Vezina Trophies.
However, Brodeur has the edge on Plante in a few major categories. First, although Plante played on some of the best teams in history, his career winning percentage (.522) is less than Brodeur's (.550). Also, in addition to having 200 more wins and a better career goals against average (Brodeur: 2.23, Plante: 2.38), the average number of goals per game scored throughout the NHL in Plante's best years was lower in Plante's best years than in Brodeur's best years.
Edge: Brodeur
Brodeur vs. Glenn Hall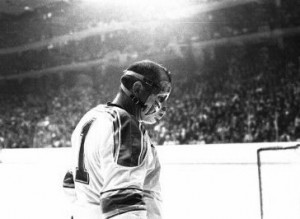 Although Brodeur played in 70 or more games for ten straight seasons, it is Glenn Hall who will be remembered as the NHL's Iron Man in between the pipes. Between the 1955-56 season, when he was playing for the Detroit Red Wings, and into the 1962-63 season when he was a member of the Chicago Black Hawks, Hall played in 502 consecutive games, all without a mask. Hall's play on the ice wasn't too bad either, as he led the Black Hawks to a Stanley Cup in 1961, won 407 games in his NHL career, and also led the expansion St. Louis Blues to three straight Stanley Cup appearances. Hall was also the first goaltender to play in the "butterfly" style that would later be revolutionized by Patrick Roy and used by the majority of NHL goalies today (with Brodeur being one of the exceptions).
While Hall had one of the best careers in league history, his numbers don't match up to Brodeur's. Even though Hall led the league in games played eight times, he only led the league in wins four times. On the other hand, Brodeur has led the league in wins nine times despite leading the league in games only six times. Brodeur also won two more Stanley Cups and has one more Vezina Trophy in his career than does Hall. And even though Hall led the league in shutouts six times as opposed to five times for Brodeur, the Devils' goalie has averaged one shutout for every 10 games of his career, while Hall averaged one shutout for every 10.8 games.
Edge: Brodeur
Brodeur vs. Terry Sawchuk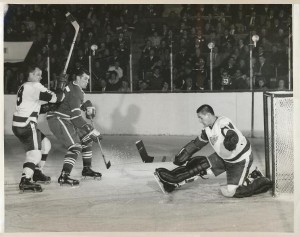 When Terry Sawchuk passed away at the age of 40, only a few weeks after playing in his final NHL game, he held the records that Brodeur would later go on to break. Sawchuk's best years in the league were at the beginning of his career, when he led the league in wins for five straight seasons and win three of his four Stanley Cups. In addition to his four Stanley Cups, Sawchuk won four Vezina Trophies, and is the only goaltender besides Brodeur to have over 100 career shutouts. As good as Sawchuk's overall numbers were, his dominance in the net wasn't the same after he was traded to the Bruins after the 1954-55 season. Although Sawchuk would return to the Red Wings later in his career, he would only win one more Vezina Trophy and one more Cup over his last 15 seasons.
Brodeur has a leg up on Sawchuk in that his high level of play has continued throughout the majority of his career. Brodeur has been so consistent that even though his best statistical years in terms of goals against average and saver percentage came in the early part of his career, Brodeur won all four of his Vezina Trophies after turning 30 years old. Also, Brodeur only has one losing season in his entire career (2010-11), while Sawchuk had seven losing seasons, and either split the goaltending duties or was the backup goalie for the last six seasons of his career. Brodeur's durability allowed him to surpass Sawchuk in career wins and shutouts.
Edge: Brodeur
Brodeur vs. Patrick Roy
Patrick Roy is not only one of the greatest goaltenders to ever play, he is also the greatest clutch goalie in the history of the game. Throughout his 18-year career with the Montreal Canadiens and the Colorado Avalanche, Roy won 551 games (2nd all-time), captured four Stanley Cups, and won three Vezina Trophies. Also, although he wasn't the first goaltender to play the "butterfly" style, Roy modernized the style and most goalies in the league now play in the butterfly.
Although Brodeur has more career wins (even without shootout wins) than Roy, Roy stands out from Brodeur in terms of his play in the playoffs. In addition to having won four Stanley Cups to Brodeur's three, Roy also beat Brodeur when the two squared off in the 2001 Stanley Cup Finals. In 2001, Roy won his 3rd Conn Smythe Trophy as playoff MVP, more than any other player in league history. While Roy has three Conn Smythe Trophies, Brodeur doesn't have any, and when the Devils won the Stanley Cup in 2003, it was Anaheim Mighty Ducks' goalie J.S. Giguere who was given the award.
Edge: Roy
Martin Brodeur is one of the top five goalies to ever play in the NHL. His records are undisputed, and it is unlikely that there will be another goalie who plays the way he does. However, he is not the best goalie to ever play.
Note: Feel free to comment below about who you think is the best goalie ever. As in any historical discussion about sports, there are many opinions and ways to rank all-time greats, and I would love to continue this discussion about where Brodeur ranks in NHL history.