The Carolina Hurricanes made a multitude of changes to their hockey operations department on Tuesday afternoon as the team prepares for the 2012-13 season. Here's a quick run down of the moves that took place:
-Former player Ron Francis, who has served as a member of the Canes front office for six years, has been promoted to Vice President of Hockey Operations.
-Jason Karmanos, who will be entering his 15th year with the Hurricanes, has become the franchise's Executive Vice President and Assistant General Manager.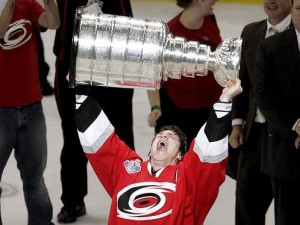 -Rod Brind'Amour, another former player and the captain of the 2006 Stanley Cup championship team, has been promoted to a full-time assistant coach for the 2012-13 season.
-Another member of that '06 Cup championship team, Cory Stillman, was hired as the Director of Forwards Development—the position Brind'Amour filled last season.
-Former goalie coach Greg Stefan has returned to his old position that he held from 2005-2007 after serving as a professional scout for the organization in 2011-12.
-Dave Hunter, a part-time amateur scout for the Canes for the past four seasons, will now become a pro scout.
"We feel that the staff we have assembled in our hockey department is stronger than ever," Jim Rutherford said in a press release. "I am very fortunate to have Ron working with me on a day-to-day basis in the front office. With Rod coaching full time and Dave agreeing to an extension, our coaching staff is solidified with a tremendous amount of experience."