If I asked you who ranks in the top-tier of defenseman point totals, would you believe me if I told you Andrei Markov was one of them?
Sure, you have the usual suspects in Brent Burns, Duncan Keith, and Kevin Shattenkirk, but you didn't know Andrei Markov has also posted 14 points in 19 games to start the 2016-17 season and is in a six-way tie for second place behind his teammate, Shea Weber.
Quietly, Markov has played some of his best hockey in the last few months if you include the World Cup of Hockey in September. The top 4 of the Canadiens defense has been much improved over last season and the Russian is a big example of that.
In his final year of a three-year, $17.25 million contract, Markov has impressed at the age of 37. It's still early in the season and we have a long way to go, but the results so far have been promising. If The Habs can keep him fresh as the year goes on, he'll be in good shape for a long playoff run.
What's Different?
There are a couple of reasons why Markov is playing at a high level to start the season. With the pressure of being in the top pair now being handed off to Alexei Emelin, Markov is slotted as the fourth defenseman. In that spot, his overall time on ice is down from last year's total of 23:50 to 21:29 which keeps him fresh, and he's also been in game shape longer than most having competed at the World Cup of Hockey before the regular season began.
Hard not to be impressed with Andrei Markov. He's averaging less TOI than he has in years (21:18) and ranks 4th among NHL Dmen with 14 pts.

— Eric Engels (@EricEngels) November 19, 2016
Other than those main reasons, Markov is the same defenseman he always was. If you look at players like Alex Galchenyuk, Paul Byron, and Torrey Mitchell just to name a few, they all seem rejuvenated and Markov is no different. It could be attributed to the excitement of the season with all the new faces or the determination to prove people wrong after a disappointing 2015-16 season.
Whatever the case may be, specific to Markov, he doesn't look like a 37-year-old player so far. The season is young as we are just about a quarter of the way through it, but his play is encouraging if he can keep it up.
Is It Sustainable?
Markov has always been a quality defenseman. Throughout his career, he's been more than reliable and the Canadiens know what they have in him. The question of if his play is sustainable or not is a tricky one. In Markov's case, there are two possible roadblocks in the future and I touched on them above.
The first is ice time. Right now, Markov is down on ice time and it's keeping him fresh as I alluded to earlier. Last season he was playing on the first pair and given the circumstances with injuries and the unique season the Canadiens had, he was playing far too much. This season with Emelin taking over the top spot alongside Weber, it allows Markov to slot into a much more manageable second pair with Jeff Petry where he's found success.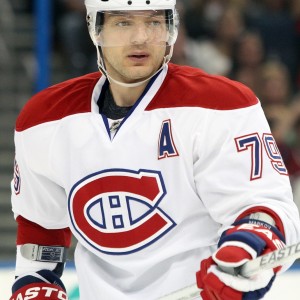 The second point, which is obviously out of anyone's control, is the potential for an injury. Markov has been injury prone throughout his career. When I say that I'm not talking about out a week here or day-to-day minor ailment, he's susceptible to a severe injury. Now there's no way of avoiding injury in the NHL or in any professional sports league, but there are ways to minimize the chances of one occurring. One way to do that relates to the first point, keeping his minutes down.
Ultimately if Markov's minutes are managed, it will decrease the likelihood of injury and would keep him fresh for a postseason run. With Markov being such a crucial part of the Canadiens, this is important for them to watch as the season goes on.
Markov's Outlook
In my opinion, if the Canadiens can keep Markov's ice time average down as it has been, he can be much more valuable to them in April than he has been over the last few seasons. Early season play by both Petry and Emelin have allowed the Canadiens to manage their 37-year-old defenseman better than recent seasons.
I do think the defense core needs tweaking to get to the next level but I assume something will be done at the trade deadline. In the meantime, if Markov can keep at this pace or close to it, the Canadiens will be in good shape.
With his contract up after this year and his age being a factor, there's no telling if Markov has a spot on the Habs next season. If this is his last stand, he's certainly getting off on the right foot and giving the Canadiens a better chance to win because of it.
Nick Guido is a Montreal Canadiens Contributor for The Hockey Writers. You can Follow him on Twitter @nickguidoTHW for his articles, opinions and general Habs talk.