Week five of fantasy hockey is in the books and owners may be wondering what is happening with all their defensemen contributing to their fantasy categories. Just know you are not alone as this week was yet again highlighted by a weak defensive fantasy output and an impressive showing by the goaltenders, a theme owners are starting to get used to. Luckily this week there was a large step up by fantasy forwards, leveraging out overall weekly stats for many fantasy squads. With that information, here are your week five major fantasy hockey award winners:
Fantasy Hart Trophy – Nicklas Backstrom
GP:4 G:4 A:4 Pts:8 PIM:4 PPP:3 GWG:1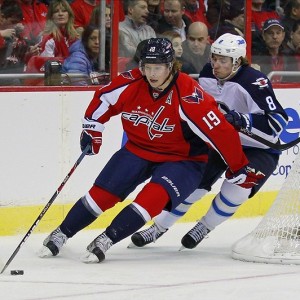 The Fantasy Hart Trophy is awarded to the week's most valuable player.
Perhaps one of the best complete weekly outputs we have seen yet this year came from Nicklas Backstrom of the Washington Capitals in week five. With four goals and four assists in four games, Backstrom single-handedly may have won multiple categories for his owners with his extremely impressive offensive output.
His week was highlighted by a five-point performance against the rival Pittsburgh Penguins on Nov. 17. Playing on the Capitals' 2nd line, Backstrom seems to have found a perfect connection with veteran winger Justin Williams and the young and exciting Marcus Johansson.
With eight points on the week, Backstrom led the next-best fantasy performer by two points. His four goals were good for most in the week, tied with four other players, and his four assists were tops among NHLers. His dominance spread to yet another category, as he also led all players with some very friendly three power-play points.
Watch all four of @backstrom19's goals that helped name him the "Third Star of the Week" for the week ending Nov 20. https://t.co/jNF7x6S8vW

— Washington Capitals (@Capitals) November 21, 2016
Backstrom has always been a prime source of solid fantasy stats due to his ability to stay healthy as well as play on and around the Capitals' top units. The Swedish centreman is proving to his owners yet again that he will be a good number-one contributor in the assist column, much like he has been since joining the league 10 years ago. He continues to be a top end power-play performer while leading the Capitals' impressive unit next to fellow superstar Alexander Ovechkin. Look for Backstrom to continue his success as he thrives with his newest linemates contributing not only in the passing stats but scoring goals as well.
Honourable Mentions: Jeff Carter, Nikita Kucherov
Fantasy James Norris Trophy – Aaron Ekblad
GP:4 G:3 A:0 Pts:3 PIM:6 GWG:1
The Fantasy James Norris Trophy is awarded to the week's most valuable fantasy defenseman.
It has been a slow couple of weeks lately for fantasy defensemen and that trend continued to unfold across week five. There were nine defensemen who shared the positional lead with three total points on the week, making this a tough decision yet again. This week's winner is awarded this honour strictly due to his ability to contribute in the goals category, something that was few and far between from defenders in week five.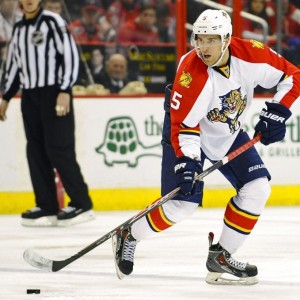 Florida Panthers defenseman Aaron Ekblad is this week's Fantasy James Norris winner. Ekblad led all defenders with an impressive three goals in four games. His one game-winner helped him solidify himself as the most valuable fantasy defenseman occupying rosters for the week, as it broadened his stats to more categories, something that could not be said for many other defensemen.
Ekblad started the 2016-17 season extremely slowly after many experts expected this to be his fantasy breakout season. With two goals through his first 15 games to start the year, Ekblad was shooting just five percent with a whopping 40 shots on goal prior to this week. With his high shot output from the back-end, it was only a matter of time before his owners were going to see better results in the goal category.
Although Ekblad has done little to reward his fantasy owners before this week, if you were patient and held on to this highly-skilled defenseman, you may finally be starting to get the fantasy output that was expected at the beginning of the season.
Ekblad has surprisingly failed to register an assist on the season, something owners, as well as the Panthers, are hoping will change in the very near future, as he has averaged 24 assists through his first two seasons.
The lack of assists seems to be a fluke category for Ekblad much like his early low shooting percentage. Ekblad is far too talented to continue the assist dry spell and his position on the Panthers' top power-play unit is sure to start helping him produce some results.
Honourable Mentions: Nick Holden, Nikita Nesterov
Fantasy Vezina Trophy – Cam Ward
GS:3 W:3 L:0 GAA:1.00 SV%:.964 SO:1
The Fantasy Vezina Trophy is awarded to the week's top goaltender.
It seems every week there is one goalie who decides to put on his hero's cape on and leads the way for both his team as well as fantasy owners. We've seen multiple goalies on the season post impressive undefeated weeks almost every seven days. This week was not much different as yet another undefeated goalie is taking home the Fantasy Vezina award.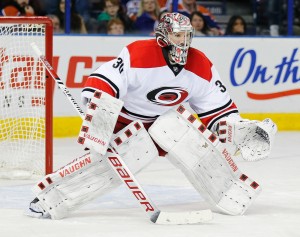 Cam Ward of the Carolina Hurricanes was this week's top netminder, winning an impressive three games through his three starts on the week. The veteran goaltender rewarded his owners with sensational performances leading to an impressive win, save percentage, and goals-against average to just barely beat out Tampa Bay's Andrei Vasilevskiy for this award.
Across his three starts, Ward allowed three total goals for a week–best 1.00 goals-against average for starters with three starts or more. His .964 save percentage was good for second-best in the league behind Vasilevskiy. Where Ward truly earned this award was not only the extra start but the additional with which he supplied his owners.
With Vaselevskiy being perfect with two shutouts across two games, it was hard not to give him the award, but with Ward's one total shutout and one more win, it made him a slightly more valuable contributor across the major goaltending categories.
Ward's week five seemingly came out of nowhere, as he had struggled prior to the fantastic start this week. In fact, his three wins tied his previous season total and increased his save percentage to a mediocre .916%. For owners who reaped the benefits of the impressive week, they can only hope this will be a turning point on the season as Ward became the solidified number-one starter in Carolina after Eddie Lack suffered a concussion in practice earlier this week.
With goaltenders performing so well this seaso,n this was yet again a tough pick as there were many worthy contributors.
Honourable Mentions: Chad Johnson, Andrei Vasilevskiy