When the salary cap for the 2016-17 season was set at $73 million, it seemed like the Chicago Blackhawks and Andrew Shaw were set to part ways. Prior to the 2016 NHL Entry Draft, it was reported that Shaw was seeking a contract worth $4.5 million per season which was simply not feasible for Stan Bowman and the 'Hawks.
At the start of the Draft, the Blackhawks and Montreal Canadiens made a trade that sent Shaw to La Belle Province in exchange for the 39th and 45th overall selections in the 2016 Draft. The Blackhawks ultimately made out with a solid haul for the pending-restricted free agent who they weren't able to sign, but the Montreal Canadiens made out well in the deal as well.
A New Contract with Montreal
With Shaw asking for a contract worth $4.5 million per season, the Blackhawks looked like big winners in their trade. Despite the value Shaw brought to the Blackhawks in his tenure with the team, justifying his contract demands seemed unrealistic and irresponsible. Fast-forward a few days and Shaw was able to sign a six year contract extension with Montreal Canadiens prior to July 1 when free agency opens. To the chagrin of many Blackhawks fans, however, the average annual value of the salary was not $4.5 million, but $3.9 million.
Shaw is good for double-digit goals each season, reaching 20, 15, and 14 in the last three seasons, respectively. What he does better than most, however, is antagonize his opponents. The Canadiens already had a play similar to Shaw on their roster in the form of Brendan Gallagher. With both of them in the lineup at once, other teams will be hard-pressed to stay out of the penalty box each game.
While the goals and drawn penalties are nice and valuable in their own right, they are far from what Shaw does best. His best trait is easily his heart. Every team in the NHL looks for heart-and-soul players who will look to carry a team on their back, defend their teammates, and leave it all on the ice each and every game. Shaw does this, and more, and the Canadiens were fortunate to sign him to such a respectable cap hit over the next six seasons, bringing him to 30 years old at the end of it.
Chicago's Mishandling of the Salary Cap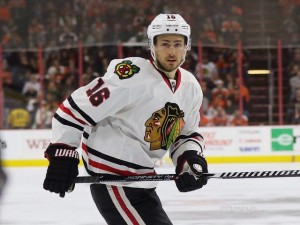 When the Blackhawks signed their fourth line center Marcus Kruger to an extension worth $3.08 million per season last year, they tied their hands for future contracts. While Kruger is an important piece in Chicago's bottom-six, extending him to a contract worth that kind of money with a no-trade clause was unnecessary. The Blackhawks have the two highest cap hits in the entire NHL in Patrick Kane and Jonathan Toews, and as a result, no fourth-liner should ever play for the Blackhawks with such a high salary.
Had Chicago found a trade partner willing to take Kruger, or had they not signed him to such a lucrative deal in the first place, things would have been different. It isn't too far-fetched to believe they could have fit Shaw into their lineup had the Kruger factor not been an issue. At the end of the day, the Blackhawks will simply have to live with what they got in return for Shaw's rights.
Return Still Worth It for Chicago
Alex DeBrincat and Chad Krys. Two names that Blackhawks fans should learn, and learn quickly. While many people overlooked DeBrincat due to his 5 foot 7, 165 pound frame, he is a legitimate scoring threat who could be a star in a few years. Many general managers regretted not taking Johnny Gaudreau early in his draft year prior to the Calgary Flames selecting him in the fourth round, and DeBrincat could be another small player who becomes a big steal.
? DeBrincat (right) expects to return to Erie next season while Krys is heading to Boston Univ. #NHLDraft pic.twitter.com/hLOQz0nr9R

— Chicago Blackhawks (@NHLBlackhawks) June 25, 2016
In consecutive seasons with the Erie Otters, DeBrincat scored 51 goals and 100+ points in just 68 and 60 games played respectively. Putting up those kind of numbers in his lone OHL seasons should have put DeBrincat higher on most scouts radars, but again, size is sometimes valued slightly too highly in the scouting process. Durability might be a concern for DeBrincat at the NHL level, but there have been many smaller players who have excelled at the NHL level against all odds; DeBrincat could be the next.
As for Chad Krys, the young defenseman is set to play at Boston University this fall. Krys is a solid skating defenseman who has legitimate top-four potential at the NHL level if he can refine his skill-set. At 5 foot 11 and 185 pounds, Krys is more of a mobile defenseman who can drive play and join the rush when needed; traits that Krys knows the Blackhawks are fond of.
"I think they like skating defensemen who can move the puck quickly, get the puck up to their forwards and handle the puck well and be involved," Krys said. "So it's great to be part of an organization that has defensemen who play like that."
While the Blackhawks will lament the loss of Shaw for years to come, they still made out very well with the return they got. Two high-ceiling prospects like DeBrincat and Krys could eventually make the Blackhawks forget all about Shaw, but only time will tell. For now, Chicago will have to find players to fill their roster through their AHL team, as well as free agency which starts on July 1. The next few days will be interesting for the Blackhawks, but Bowman has been here before and has always come through in the past.
Brandon Share-Cohen has covered the NHL and various professional sports for seven years. Working with The Hockey Writers, Brandon works extensively on covering the Boston Bruins in addition to his role as the News Team Lead.