Why fix what's not broken? The Penguins are heading into the off-season with their championship-winning roster almost set to return. That's a good thing for them, because their players' salaries won't create a lot of wiggle room for the Pens' general manager Jim Rutherford to work with on the market. There are, however, a few considerable holes to address.
Due to their cap situation, it's highly unlikely that the Pens will be able to bring back either Ben Lovejoy or Justin Schultz. Lovejoy is coming off a career season in which he made a case for other general managers to throw big money at him as soon as July 1.
Lovejoy had nothing but good words for the Penguins organization and, at the time, would not hint towards his plans come July. The Pens' financial situation, however, is utterly obvious to everyone involved and that made Lovejoy's words sound like: "Many, many thanks for all the opportunities I've been given and the amazing years I've had with you, but I have to move on and you know it."
Schultz has been solid for the Pens when called upon, but even if he accepts a significant discount from his previous, outrageous contract with the Oilers, his asking price might still be too high for the Pens to pay. Whether Schultz has impressed his coach, Mike Sullivan, or not is also up for debate.
Schultz loved being a part of this amazing championship run and it must still be tough to realize that this has really happened after being buried in 'Oilers Hell' for years. His future with the organization, however, is far from resolved.
Should both Schultz and Lovejoy depart, the Penguins would have to form a defensive pairing with Ian Cole and Derrick Pouliot. Barring any signings or trades, one of the two would have to play his off-side due to the fact that both are left-shooting defencemen. Behind Cole and Pouliot, there is currently no defensive depth.
A third candidate who might call for a replacement is Matt Cullen. Even though the veteran has just decided today to return for at least another season, it's anything but certain that he will spend the 2016-17 season with the Pens.
What are Rutherford's possible aims on a very thin market, then? Here's an in-depth look at a few options.
Potential Emergency Targets
Matt Taormina, 29, Offensive Defenseman, Shoots Left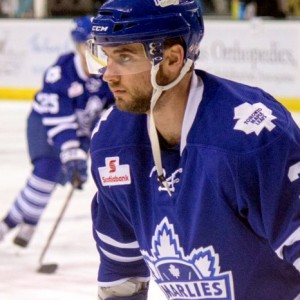 Taormina is an offensively very gifted defenseman (13 goals, 41 points for Syracuse in the AHL this season), smooth skater and good passer who, at age 29, still has not broken through at the NHL level. His defensive game isn't up to the challenge and a potential signing would mean the hands-full for Jacques Martin and Sergei Gonchar, the Pens' defense coaches.
T.J. Brennan, 27, Offensive Defenseman, Shoots Left
Another leftie who wouldn't solve the Pens' positioning problems. After three years in the Toronto Maple Leafs' organization, Brennan is in a similar spot as Taormina when it comes to his defensive game. Brennan, however, has been unbelievably productive for the Toronto Marlies, tallying 25 goals and 68 points in 69 games at the AHL Level.
Bottom line: To sign players like Brennan or Taormina, nonetheless, could become a necessary evil, if only to bolster the Pens' defensive player pool. The talent is there for these guys but to get them ready to play in the NHL requires a lot of defensive fine-tuning. To make that happen in a very short time is a tall order, even for guys like Gonchar and Martin. There isn't much in Wilkes/Barre which is close to being ready for the NHL. Swedish defenders Niclas Andersen and Tim Erixon are due for making the next step if they ever intend to be playing in the NHL.
Wild Card
Dominic Moore, 35, Bottom-Six Center, Shoots Left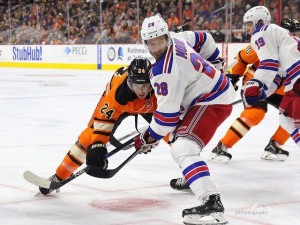 The soon-to-be 36-year-old ex-Penguin, Moore, is heading into his career's autumn. In this report he presents a wild card, because it's unknown whether Cullen will be a Penguin next season or not, even though he won't retire. Every Pens executive, player and fan knows how dangerous of a player Moore is. He has a knack for scoring big goals against the Penguins and his amazing foot-speed and wicked shot present a challenge for every bottom-pairing of defensemen in the league.
Should Cullen not return, the Penguins would better consider bringing Moore back aboard. He is good for about 10 goals per season, fits their playing style and identity very well and could perfectly replace Cullen's veteran presence. The Pens aren't sure whether Oskar Sundqvist is ready for full-time NHL duty and as long as they have doubts, players like Moore are invaluable in terms of mentoring younger players like Sundqvist.
To have the Swedish prospect playing full-time would also mean to have a slight downgrade in offensive production from the fourth line, because his strengths lie in the defensive side of the game.
Bottom line: It's Rutherford's gamble to either start the season short-handed on defense and get a guy like Moore, or to acquire a defenseman, bring Cullen back or, alternatively, start with Sundqvist as his fourth line's center.
Honorable Mention
Yevgeni Medvedev, who has legal issues to sort out after being arrested for DUI. He's 33 and coming off a so-so NHL rookie-season with the Philadelphia Flyers, who are likely not going to re-sign him. He's had a terrific start with them before a concussion sidelined him. His play dipped in the aftermath and Medvedev was a healthy scratch, repeatedly. The big-bodied Russian two-way defender is a good skater, talented passer and possesses a hard shot. He tallied four goals and thirteen points in 45 games for the Flyers last season.
Ready, Aim, Fire!
Yannick Weber, 27, Offensive Defenseman, Shoots Right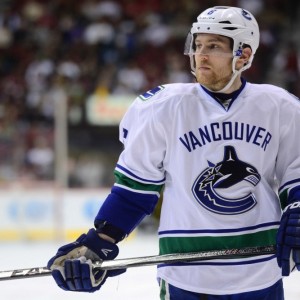 Of the players in this report, none has more NHL experience than the Swiss product Weber. He's played 274 games for the Montreal Canadiens and Vancouver Canucks who decided not to re-sign him for the following campaign.
Weber has amassed 70 points in the NHL while mostly playing in a bottom-pairing role. During his second season with the Canucks in 2015, he scored 11 goals. He possesses a howitzer of a slap-shot which could present an intriguing option for coach Sullivan's second powerplay unit.
Weber usually plays a very simple and safe game in and on the way out of his own zone, but his strengths are clearly on the offensive side of the game. He does also not have a lot of upside despite only being 27 years old.
Bottom line: Should the next candidate be too expensive, Weber is the right-shooting way to go for the Pens.
Adam Clendening, 23, Two-Way Defenseman, Shoots Right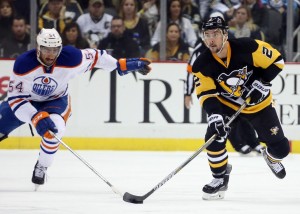 Oh, hello again. What an odyssey it has been for Clendening in his young career so far. During his 2-season NHL career, he's been property of no less than five NHL franchises, playing for four of them.
He was drafted by the Chicago Blackhawks, transferred to the Vancouver Canucks before sweetening the Brandon Sutter for Nick Bonino deal last summer. During the recent campaign, Rutherford traded Clendening and forward David Perron to Anaheim for Carl Hagelin. Anaheim almost instantly put Clendening on waivers and the Edmonton Oilers picked him up.
Take a deeper look at Clendening's odyssey.
Clendening played in 20 games for the Oilers before, per generalfanager.com, surprisingly not receiving a qualifying offer from them. That will make him an unrestricted free-agent who is craving for a hockey home. There's nothing the Pens don't know about him and if a few things would have gone differently, he could be a Stanley Cup Champion by now. He'd be a very good fit here, again. He's young and plays a well-rounded game. His right shot is an area of need. His asking price is the question.
Bottom Line: Go get him back, Rutherford. There isn't a better fitting, smoother skating, puck-moving, defensively responsible and more reasonably priced option out there on the market.
Hi, I'm a 27-year-old hockey maniac from Switzerland who's studying Communication with a major in journalism at Zurich's college of applied sciences. When I'm not busy learning about the game or from books, I like cooking, watching films and going out or jamming with friends in my little home-studio.