Just imagine, not one but two Buffalo Sabres enshrined at the Hockey Hall of Fame next season.
Two of the most prolific goal-scorers throughout the 1990s and in the NHL all-time record book, the Canadian-born Dave Andreychuk and Russian defector Alexander Mogilny couldn't have come from more different hockey backgrounds. But each took the NHL by storm in their own way, perfecting the art of scoring from opposite angles and when it was all said and done each left an indelible mark on the game.
Andreychuk and Mogilny, each in their ninth year of eligibility in 2017, are hallmark players, long overdue for the call to the Hall of Fame. Together, they account for 579 goals and 669 assists for 1,248 points, including 239 power-play goals, in Sabres' blue and gold. They rank third and 11th, respectively, on the franchise's all-time goal-scoring list.
There are currently 10 former Sabres players honoured in the Hockey Hall of Fame — Dick Duff (2006), Grant Fuhr (2003), Clark Gillies (2002), Doug Gilmour (2011), Dominik Hasek (2014), Dale Hawerchuk (2001), Phil Housley (2015), Tim Horton (1977), Pat LaFontaine (2003) and Gilbert Perreault (1990) — and another four enshrined as builders — Scotty Bowman (2001), Punch Imlach (1984), Seymour H. Knox III (1993) and Roger Neilson (2002).
Dave Andreychuk and Alexander Mogilny both deserve a place alongside their brethren in the Hall. Here's a look at each player's profile, both as a member of the Buffalo Sabres as well as where they rank, all-time, in the annals of hockey lore.
"Andy"
Dave Andreychuk was drafted 16th overall in the first round of the 1982 NHL Entry Draft after a standout junior career with the Oshawa Generals of the Ontario Hockey League. One of three first-round draft picks awarded to the Sabres franchise that season, joining Hall of Famer Phil Housley (6th) and the late Paul Cyr (9th), the Hamilton, Ontario-native was considered a bit raw, more of a project player with promise even after registering 57 goals in 67 games for the Generals in 1981-82.
On a young, exciting and upcoming squad manned by Tom Barrasso in between the pipes, it didn't take "Andy" long to find his niche in the NHL. After recording 14 goals and 37 points in 43 games as a rookie in 1982-83, Andreychuk exploded for 38 goals and 42 assists for 80 points in just 78 games played his sophomore season in '83-84. Filling out his 6'4″, 220-lb frame, Andreychuk made a living in the goal crease. Looming even larger on skates, he was difficult to move. Using his extraordinary reach and balance, Andreychuk excelled screening goalies and fending off the opposition's best defenders, scoring time and again in the "dirty areas" on the ice, perfecting his craft as he went on to record 25 or more goals for 10 straight seasons. On the power play, No. 25 was lethal, amassing 153 of his 348 goals from 1982 to 1993 with the man advantage.
Going Home
In need of goaltending, the Sabres traded Andreychuk to his home province of Ontario along with Daren Puppa and its first round pick in the 1993 NHL draft (Kenny Johnsson) to the Toronto Maple Leafs in exchange for future Hall of Famer Grant Fuhr and the its fifth round pick in 1995 (Kevin Popp) on February 2, 1993.
Though Buffalo acquired Dominik Hasek earlier that season, clearly the Sabres had yet to realize what it had in "The Dominator." If they did, the Sabres almost certainly would not have dealt Andreychuk at the height of his career.
Buffalo's loss, however, was Toronto's gain.
A pure goal-scorer even if he didn't skate like one, Andreychuk used the tools he was graced with and became the player teams had to prepare for and plan against night in and night out. A two-time 50-goal scorer, eclipsing the plateau with 54 goals in the split season with the Sabres and Leafs in 1992-93, Andy hit the mark again in 1993-94, lighting the lamp 53 times while earning his second career All-Star Game nomination.
Andreychuk continued to find success in Toronto where he collected 120 goals (53 on the PP) and 219 points in 223 games.
Veteran Presence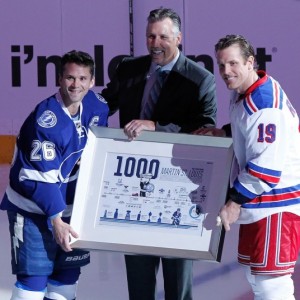 While the game around him evolved, Andreychuk never messed with his recipe for success: crash the net, dig in and bang away at rebounds.
On March 13, 1996, and in need of an offensive boost, the New Jersey Devils sent a couple of draft picks to the Leafs in exchange for the big left winger. Andreychuk continued to produce adding 64 goals and 150 points in 224 games for the Devils before signing with the Boston Bruins as a free agent in 1999, helping mentor a young Joe Thornton.
Now in his 20th NHL season and still seeking that elusive Stanley Cup on his resume, the Bruins shipped Andreychuk along with Hall of Famer Ray Bourque to the Colorado Avalanche at the trade deadline in March of 2000. Though the trade did not produce the championship the Avalanche were hoping for that season and Andreychuk wound up re-signing with the Buffalo Sabres the following year, in a cruel twist of fate Bourque remained with Colorado and was rewarded with his first Stanley Cup in 2001.
Dave Andreychuk – Stanley Cup Champion
After a near miss with Ray Bourque and the Avalanche, the Hockey Gods still had more in store for Andreychuk.
Following a one-year, 20-goal season in an otherwise successful and memorable return to Buffalo, Andreychuk still wasn't ready to hang up his skates. While many predicted which Stanley Cup contender he would ride off into the sunset with, Andy curiously elected to add the final chapter to his storied career with the upstart Tampa Bay Lightning. It wound up being one of the best moves of his 23-year NHL career.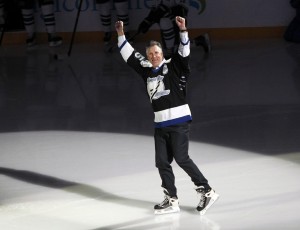 On a team loaded with talent but lacking in experience, Andreychuk brought stability to a team still shaping its identity under head coach John Tortorella. Led by Marty St. Louis, Brad Richards and Vincent Lecavalier with Nikolai Khabibulin in net, Andreychuk proved to be the missing link as the Lightning defeated the Calgary Flames in seven games to capture the Stanley Cup in 2003-04.
Making His Case
With the ever-elusive Stanley Cup ring on his finger, Dave Andreychuk is the NHL's all-time leader in power-play goals with 274. If those two accolades aren't enough to enshrine Andreychuk, also consider he ranks 14th all-time in goals scored (640) with all 13 players above him already in the Hall of Fame.
Inducted into the Buffalo Sabres Hall of Fame in 2008, Andreychuk is tied for 28th all-time in total points (1,338) and has appeared in the sixth-most games played (1,639) in NHL history — not a detriment but a testament to his durability and ability to adapt his game over a lengthy career. Other than Mark Recchi, who is also up for the Hall of Fame in 2017, Andreychuk has 100 more goals than any other eligible player.
Dave Andreychuk by the Numbers

640 goals (14th all-time)
698 assists (53rd all-time)
1,338 points (28th all-time)
274 power play goals (1st all-time***)
77 game-winning goals (31st all-time)
1,639 games played (6th all-time)
43 playoff goals (43rd all-time)
97 career playoff points (100th all-time)
162 playoff games played (60th all-time)
"Alexander the Great"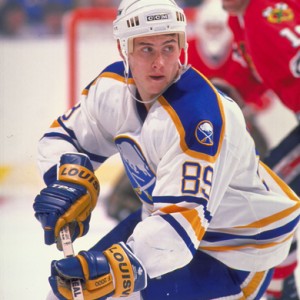 If you have never caught the documentary "Sabres at Forty" released in 2010 to commemorate the team's 40th anniversary, you cannot appreciate the life and times of Alexander Mogilny, his defection from the Soviet Union aided by Gerry Meehan and Don Luce, and the circumstances and lives that were put at risk in an unstable political world in the midst of the Cold War in 1989.
It never deterred the forward-thinking Buffalo Sabres management team that saw the talent inside the Eastern Bloc in Mogilny whom they made their fifth round selection, 89th overall, at the NHL Entry Draft in 1988 out of CSKA Moscow (USSR).
"1989 was a time of great political change," Meehan, the Sabres' General Manager from 1986 to 1993, said. "The Iron Curtain was showing signs of weakness. The Soviet Union was about to crumble, but on the ice, it was business as usual. The Big Red Machine captured nearly every World Championship and Olympic Gold from 1963 to 1989. At that time the Soviet presence in the NHL was minimal. The Soviets were confident they had a group of young phenoms waiting in the wings. Alexander Mogilny was their prized jewel. At that point, no hockey player had ever defected from the Soviet Union. I thought he was probably the best player in the world in that draft that year."
Sabres Legacy
Adapting to life outside the socialist republic was difficult, but learning a new language in a new country was altogether different.
Alex Mogilny struck for just 15 goals and 43 points as an NHL rookie during the 1989-90 season but "Alexander the Great" increased his totals each of the next three seasons before exploding for 76 goals and 127 points in a breakout 1992-93 campaign. Playing alongside pivot and Hall of Fame center Pat LaFontaine, Mogilny flourished. His 76 goals are still a single-season club record — 20 goals higher than the team's previous record of 56 posted by Danny Gare in 1979-80.
Inducted into the Buffalo Sabres Hall of Fame in 2011, Mogilny amassed 211 goals and 233 assists for 444 points in 381 games in Buffalo blue and gold. Adding to his legacy, Mogilny also became the first Russian-born team captain in the NHL when he took the reigns for the Sabres the '93-94 season.
Stanley Cup Champion
On July 8, 1995, the Sabres dealt Mogilny and a fifth round pick (Todd Norman) to the Vancouver Canucks, reuniting him with former Russian linemate Pavel Bure. Buffalo received a decent return getting forward Mike Peca, defenseman Mike Wilson and the Canucks' first round pick, 14th overall, which it turned into defenseman Jay McKee.
Though Mogilny struck for 55 goals and 107 points in his first year with Vancouver in 1995-96, injuries began to take a toll on him, limiting him to 139 goals and 308 points over five shortened seasons before he was dealt again. On March 14, 2000, Mogilny was traded for the second time in his career to the New Jersey Devils in exchange for Brendan Morrison and Denis Pederson.
Being exiled in New Jersey would end up a blessing in disguise for Mogilny, however, who played an important part in securing the Devils' second of three Stanley Cups in 2000. He would tally 46 goals over two seasons, including a return to form with a 43-goal, 83-point campaign for the Devils in 2000-01, before signing an epic four-year, $22 million contract with the Maple Leafs in 2001, considered a landmark deal at the time.
Tear Down the Wall
Mogilny's defection opened the door for many other Eastern Bloc players to follow in his footsteps. Petr Nedved and Sergei Fedorov followed suit over the next two seasons but it is important to note that Mogilny was the first. That willingness alone, to lay it all on the line, his life, as well as that of the family he left behind warrants Mogilny consideration for the Hockey Hall of Fame.
Sportsnet's feature, Defector: The Alex Mogilny Story, narrated by Meehan and Luce, was an exceptional follow up to the "Sabres at Forty" documentary and bears watching. There are vivid witness accounts that rival a great spy novel, secret hotel rooms in foreign countries, whispers and negotiations behind closed doors that offer insight into the uncertainty of the time. Though he was only 20 years old, Mogilny took the chance when others only dreamed of something better.
Making His Case
With the recent induction of fellow Russian Sergei Makarov in 2016, it is important to note this isn't the National Hockey League Hall of Fame — it is the Hockey Hall of Fame — honoring the greatest hockey players in the world, not just the NHL.
Mogilny amassed 473 goals and 559 assists for 1,032 points in just 990-career NHL games but it is his international prestige that puts him over the top. Mogilny is one of an elite few that captured a Stanley Cup (2000), an Olympic gold medal (1988) and a World Championship gold medal (1989) — one of just 27 members of the heralded "Triple Gold Club." Mogilny is one of six Russians, 10 Canadians, nine Swedes and two Czechs in the prestigious club.
Fellow countryman Sergei Fedorov, who was inducted into the Hall of Fame in 2015, three years after Pavel Bure got the call from the Hall in 2012, believes Mogilny deserves the recognition.
"He deserves that honor," Fedorov told The Hockey News' Ken Campbell last year. "Alex was faster than all of us and Alex was a machine. He was built like a machine. Plus on top of all the crazy skill he had, he's better than all of us. He's amazing. I hope my plaque will be next to Pavel," Fedorov said, "and the next one free for Mogilny."
Alexander Mogilny by the Numbers

473 goals (52nd all-time)
559 assists (102nd all-time)
1,032 points (72nd all-time)
141 power play goals (56th all-time)
20 short-handed goals (63rd all-time)
39 playoff goals (95th all-time)
66 game-winning goals (52nd all-time)
0.478 goals per game (34th all-time)
1.042 points per game (37th all-time)
Top of the Class
The Hockey Hall of Fame permits just four new members each class. Daniel Alfredsson, Jason Arnott, Tom Barrasso, Brian Bellows, Rod Brind'Amour, Peter Bondra, Vincent Damphousse, Pavol Demitra, Theo Fleury, Ron Hextall, Dale Hunter, Curtis Joseph, Paul Kariya, Saku Koivu, Steve Larmer, John LeClair, Kevin Lowe, Rick Middleton, Markus Naslund, Bernie Nicholls, Owen Nolan, Chris Osgood, Mark Recchi, Mike Richter, Jeremy Roenick, Teemu Selanne, Tim Thomas, Keith Tkachuk, Pierre Turgeon, Mike Vernon, Pat Verbeek, Doug Weight, Ryan Whitney, Doug Wilson, Alexei Yashin and Sergei Zubov, among others, are also eligible for the Hall of Fame.
Check out NBC's Sports live poll: Who Should be in the 2017 Hockey Hall of Fame Class?
Truth be told, each is worthy of consideration but none, with the exception of Selanne who should be a lock next year, and perhaps Lowe, Recchi and Wilson, carry the numbers nor the prestige of Dave Andreychuk and Alexander Mogilny who deserve to be inducted side-by-side in 2017.