This Thanksgiving, the New York Rangers, have several reasons to be thankful. The majority of the decisions they made in the offseason have worked out thus far and players that needed to bounce back, have. There were several reasons I could have picked for which the team should be thankful, but I tried to select the five most critical in my mind.
Goaltending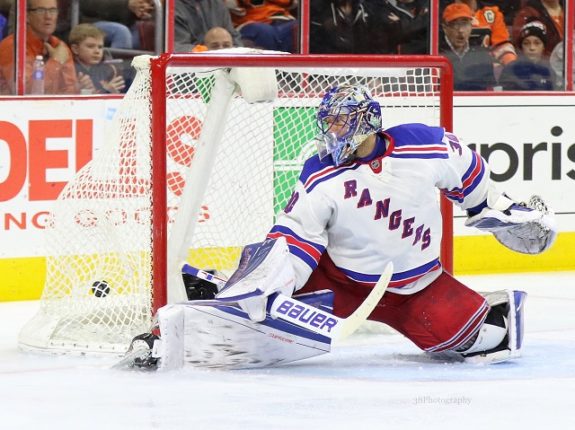 Last year in the first round of the playoffs Henrik Lundqvist simply wasn't good enough in a convincing loss to the Pittsburgh Penguins. For the first time in his career, there was serious speculation about whether or not Lundqvist had peaked, a hysteria driven by his unimpressive .867 save percentage, and 4.39 goal against average in the round. Of course, the idea was never to move Lundqvist but rather to give him the space to work out the issue on his own. As expected, the native of Are, Sweden has collected himself and regained his form. He's currently clinging to a .911 save percentage and
Of course, the idea was never to move Lundqvist but rather to give him the space to work out the issue on his own. As expected, the native of Are, Sweden has collected himself and regained his form. He's currently clinging to a .911 save percentage and a 2.46 goals against average, he's not standing on his head on a nightly basis, but he has still been good enough to make last season's playoff issues look like a fluke. The only one putting pressure on him these days is his backup.
Antti Raanta has been great thus far as the man behind Lundqvist, currently sitting on a 5-0-0 record with a 2.22 goals against average and a .934 save percentage. He was good last year but this season he has a new swagger about him in net. It looks like he's doing a better job on his angles and he's not over committing. In a recent game, he made a terrific stop on Connor Sheary where he stayed cool and calm in his net despite a bad turnover, and kept his team in the contest.

The Rangers' offense has been the story of their season, but without the goalies behind them, it would all be fruitless.
Staal and Girardi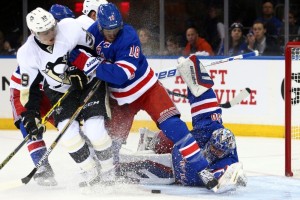 Staal and Girardi were two of the biggest question marks coming into the year, but they've been nothing but solid to this point. Staal has been excellent in his end and has been playing 19:26 per night. On offense, he's scored four points and is a plus six, which is terrific considering the speculation from fans coming into the year.
Last season, Staal simply wasn't himself, he looked slower and wasn't calm with the puck, but this season he's back to being a force on the boards and around the net with his poke check. I doubt we'll see his offensive game get much better, but that's ok. How can you not be thankful to see a player get back on track despite so many terrible injuries in his career?
As for Girardi, I'm not sure I've seen a player struggle so much and return to his old self in the course of an offseason. Last year, Girardi dealt with a cracked knee cap for a while and his game just never seemed to get on track. Through 17 games this year the right-handed defender has six points and is a plus-12 while playing 18:22 per night; he also continues to block more shots per game than anyone on the team at a rate of 2.6. It's worth noting that the only defender who plays less a night than Girardi is Brady Skjei and the reduced ice-time seems to be helping the veteran remain fresh.

Youngsters
The story around the Rangers in recent years has been how the team had moved too many assets and had left themselves vulnerable for the coming years by not having enough youth. This year, the Rangers decided to go with three very green players in Skjei, Pavel Buchnevich and Jimmy Vesey; thus far it's worked out well.
The most promising sign was how the players handled their own level of adversity and still found some success. For Skjei, concerns surrounded him in training camp. The younger defender made poor decisions with the puck and didn't look to have the same jump in his game, so much so that a spot that had seemed all but guaranteed came into question among the more avid fans. Of course, Skjei kept his job and it's paid off for the Rangers, as the 22-year-old has played in 21 games and posted 11 points while also doing a steady job in his end, playing 16:51 per night.
With Buchnevich, the concern was how his game would carry over from the KHL to the NHL, especially because he isn't fluent in English. The first few games seemed like a struggle, but in his more recent games, he's shown why there was so much hype surrounding him as a prospect. The winger has incredible hands, a terrific shot and good foot speed. He had one of my favorite goals of the year when he caught a pass in the neutral zone, carried it in, walked around a defender, showed some patience and buried the puck.

Buchnevich is currently injured, but he will only miss a couple of weeks. The more important detail is that he seems to fit with the team and he's showing the coaching staff what he can do when given a chance.
Vesey looked to have the biggest mountain to overcome. For a while during the offseason his contract was one of the only topics that fans had to kick around; this meant that every analyst was dissecting the player, and trying to measure his value, and the whole situation just seemed to mutate into this strange episode of "the decision." It's hard enough for players to find traction, now add the fact that he's a 23-year-old rookie and you can see why I was concerned that this could hurt him.
Despite my concerns Vesey has been all the Rangers could ask for by posting a respectable 12 points in 21 games. He's been consistent, shown flashes of tremendous skill and looks to be getting better every game. I was prepared to see a mess after his contract situation was blown out of proportion, but I've been very impressed with his level of professionalism and his game-to-game growth. He hasn't been as much of a force on offense lately, yet he seems to be handling the details better.
He had a goal earlier in the year against the Washington Capitals that was a very impressive showing of his size and skill:

Michael Grabner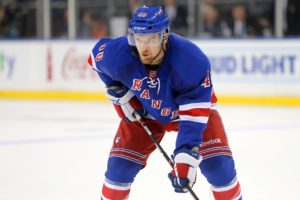 Who saw Grabner exploding for 12 goals and four assists in just 21 games? I don't think anyone; the fact is that Grabner has been all that the Rangers could ask for and more. The winger does a tremendous job of using his legs to find space, and he's been cashing in on his chances. Right now, his shooting percentage is sitting at a bloated 25.5 percent. In his career to this point, he's been a 12.4 percent shooter so we should probably expect that number to come back to earth. Still, he's put himself in a good spot for the season and he should be able to notch at least 25 by season's end which is a major bonus for a guy who was brought in to add speed to the bottom six.
Mika Zibanejad Not Done
When I saw Zibanejad go into the boards in overtime against the Florida Panthers, I immediately thought he was hurt for the year.

You can see that his skate catches on the boards and his body weight and momentum make it fold like an accordion. Thankfully, it looks like he'll only miss around two months.
AV said Zibanejad has a broken fibula. He's expected to be out 6-8 weeks.

— New York Rangers (@NYRangers) November 21, 2016
The injury is still a big blow to the club, as Zibanejad has 15 points in 19 games, but it's better than losing the second line center for the season. The report is that it's a broken fibula and for nervous fans, just remember that Derek Stepan had the same injury and he made a full recovery. The timetable is a little different and I'm not sure what that means because I'm not a doctor, however, signs seem to point towards him making a full recovery.
Is there something that you're thankful for about the Rangers? Feel free to leave it in the comments.