The quarter pole is upon us and that means everyone will have their quarterly grades for NHL players and teams. As a lemming jumping off the cliff, so will I. As the final arbiter of each evaluation, my judgment is all that counts. If you do not approve of a grade, feel free to comment.
I am not an easy grader. Here is my grading system. A = Performing well over expectations, B = Star player performing at expectation, non-star player performing above expectations, C = Non-star player performing at expectations, star player performing below expectations, D = not performing anywhere near expectations, F = Player wishes the season had not started yet.  Plusses and minuses will be used to differentiate performance levels where I feel appropriate.
The Head of the Class
Martin Jones: A – Team MVP
Started season as expected but has been red hot the last 10 games. His save percentage, up to .917, good for 17th in the league, does not tell the whole story.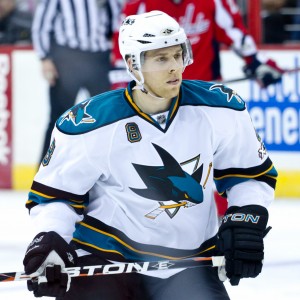 Joe Pavelski: A
Pavelski is playing above expectations, especially because so many players on the team are well below where they were expected to perform. He leads the team in scoring and +/-. He is a free agent after 2017-18, do Sharks need to get him signed now or do they wait?
Brett Burns: B+
Would have been an "A" but his play has been inconsistent after a hot start. He has not been as strong defensively as last season and at 6'5" 230 pounds he needs to be more physical. By the way, the money for Burns is correct, but eight years is a long time. At least the back end of the deal is only $5 million per season for the last two years.
So Many Sharks Playing Just OK
Marc-Edouard Vlasic: B
He is playing exactly how he should. Vlasic is a stay at home defenseman who is a strong skater and is rarely out of position. Every year there is noise that he will be stronger offensively, but it does not develop. He would really benefit from the acquisition of a more offensive minded defenseman that would allow him to shine as a true defensive stopper.
Joe Thornton: B-
Thorton is showing signs of life this week, but overall he is playing below expectations. The power play needs him to move the puck quickly, as he did against Chicago on Wednesday night. It will be interesting to see how the Sharks handle contract negotiations.
Logan Couture: B-
After returning from injury and having a strong playoff run a lot was expected of Couture. It was reasonable to expect him to play a more vital role offensively as other players aged. While playing better, and faster, the last few games, he has not done that consistently this season.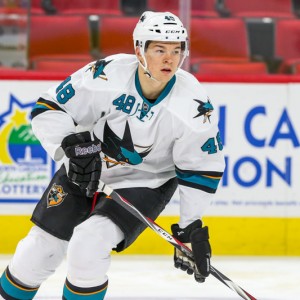 Tomas Hertl: B-
Hertl was playing responsibly defensively prior to his injury. Last season's 21 goals and 46 points should have been a springboard for more offense this year, but it was not. Perhaps he is energized, as Couture was when he returned from his significant injury last season and pushes the team toward playoff success. He will be missed.
Joonas Donskoi: C+
He is the toughest Shark to grade. He showed above-average skill last year but he does not have "star" written on his game. Is it a sophomore slump or is all this line juggling preventing him from shining?
Joel Ward: C
No player on the team has more heart than Ward. He has shown he still has jump left in his legs, even at 35, with his shorthanded goal against Blackhawks. He played to the back of his hockey card after a red-hot start last season. He has also shown Sharks management why they needed him in the playoffs, he knows how to perform and is a winner.
Chris Tierney: C
This is the typical C grade, he is what he is; a good, two-way player who is a very responsible two-way center. Seems like he has been around the team forever (been up and down since 2014-15 season) but he is only 22 so there is a chance he may develop more offensively. However, he had only one season above 20 goals in Junior (40 in 67 games for London Knights in 2013-14).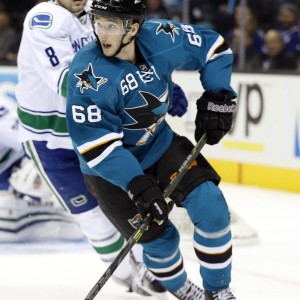 Melker Karlsson: C
Karlsson has been banged up much of the season but still provides a solid effort every game he plays. He has not shown the offensive skill that he did his rookie year, but then again, he was playing on the top line when he came to the NHL. At only 180 pounds he is not going to have a long career as a banging fourth line player, but to his credit, he does whatever is asked of him. Excellent penalty killer and if placed with more skilled linemates he would likely provide more offense.
Justin Braun: C
Another player who is what he is. Nothing about Braun stands out as weak or outstanding. He is the ideal third pair defenseman. Reminds me of long-time Shark Scott Hannan. I am sure the Sharks and Braun would love to see him have a 17-year career. If I have one criticism, he does not play physical enough.
These Guys Need to Pick it Up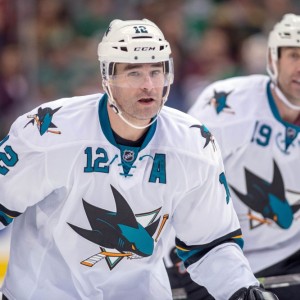 Patrick Marleau: C-
This grade was probably generous as he is one of my favorites. He is playing below expectations and well below the level the Sharks need. He has always been a streaky scorer, but six points in the first 19 games is not acceptable. Is this age? Is it the pressure of free agency on the horizon? He may benefit from a change of scenery, but Sharks cannot let him stay in the division. East coast teams with Stanley Cup dreams would appear to be an ideal destination.
Paul Martin: C-
Martin is no longer considered a star player. He does a decent job covering for Burns' offensive rush but at his age he would be better served playing on the third defense pairing and penalty kill rather than on the top two pairs. He should not see any power play time.
David Schlemko: C-
He had 13 goals last season for the offensively challenged Devils, but has not shown an ability to contribute offensively this season. After a -22 season last year, he is +1 through the first quarter this year. He is not a physical presence defensively.
Brendan Dillon: C-
Like Justin Braun, there is nothing special in Dillon's game. He scores lower than Braun because he has slightly higher expectations. He is way too timid physically for a player who weighs 230 pounds.
Matt Nieto: C-
Nieto is one of the best skaters on the team, if not the NHL. He provides above average penalty killing ability but he simply cannot finish around the net. He has had several excellent scoring chances this season and has yet to score a goal. He seems to always aim for the middle of the net even when there is time to pick an open spot to shoot.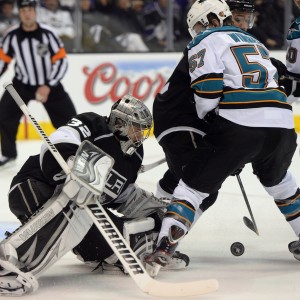 Tommy Wingels: C-
Every year the team hopes he becomes more than he is. It is time to accept him for what he is, a very responsible defensive forward. He has shown some improvement offensively this year with 4 goals through 18 games, after scoring 7 goals total last season. He earns his minus because he has not been as tenacious on the forecheck as he should be and has been less physical than in previous seasons.
Mikkel Boedker: D
Boedker was given a 4-year, $16 million deal in the offseason. The 26-year-old speedster, with only two goals thus far, was thought to be entering his prime after tying a career high with 51 points (17 goals) last year. By comparison, the Rangers signed a similar player in 29 year old Michael Grabner, a player with a stronger scoring history, for 2-years and only $3.3 million total. Grabner has 12 goals for the Rangers, all at even strength.
Micheal Haley: Incomplete
Haley could be the grinder the Sharks need on the fourth line but he is not placed in the lineup consistently. The Sharks would benefit from giving Haley consistent playing time with Wingels and another grinder to create a traditional fourth line that thrives on the forecheck with Tasmanian Devil-like activity.
Aaron Dell: Incomplete
Playing behind a workhorse is a challenge and Dell has performed well in his two starts but that sample size is not enough to provide a grade.
Kevin Labanc: Incomplete
Why did he play six games and then sit against the Devils only to return against the Blackhawks?
Daniel O'Regan: Incomplete
Sort of feels like James Stockdale at the VP debate in 1992. Why was he here? One game and done?
Roster Moves Needed
Pete DeBoer: B
DeBoer is a good NHL coach with a system that keeps the Sharks in almost every game. His value to the Sharks is that he has created a very disciplined defensive-oriented team that plays a style designed for playoff success. The one issue is that he mixes his lines too much and does not give young players enough time playing with the skilled veterans. Moving Hertl to the top line last year turned the offense around, what can be done this season?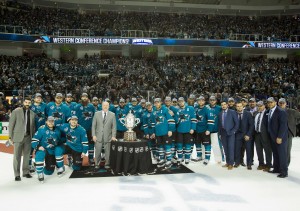 Doug Wilson: C
Wilson had the magic formula last year so the confidence he will succeed again saves him from a D. New acquisitions, Boedker and Schlemko have underperformed. Young players being used and brought up all seem to be the same type of player. The team is severely challenged offensively and the two most skilled players Timo Meier and Nicolay Goldobin have not been called in to help. Activity at the trade deadline will again dictate how the Sharks' season goes. Signing Burns was a smart first step, but the handling of Thornton (see if he takes a reasonable 3-year deal) and Marleau (who could be dealt to an Eastern contender like the Canadiens, Lightning, Capitals, Penguins or Rangers for young talent that can score) contracts will be interesting.
Overall: B-
The Sharks are performing similarly to last season's start. That should be considered slightly below expectations for a team that played so well down the stretch and into the playoffs. The Sharks will make the playoffs, but, right now it is difficult to see them going deep. The Sharks' playoff seed, and how far they go in the playoffs, will hinge on Hertl's return and improved scoring. However, they cannot afford to sacrifice on the defensive end.
Adding an upcoming unrestricted free agent is a Doug Wilson specialty and there will be several candidates available in the next three months. Aside from another scorer, the Sharks could use a physical defenseman, and a true power forward is desperately needed. Trade chips on the Sharks roster include Goldobin (if he is not in the NHL then deal him), Wingels (he will be an unrestricted free agent after this season) and perhaps one or more of the Sharks' overlapping pieces in Nieto, Tierney, Labanc, or O'Regan. Packaging Braun, Martin, Dillon or even Schlemko with one or more of the young overlapping players should be considered if the package back includes a true physical defenseman. If Marleau is dealt the return could be an additional young talent with scoring potential.