This was going to be a different season for Anthony Mantha.
In 2016-17, the now-23-year-old winger was on his way to becoming an elite cornerstone for the Detroit Red Wings. An opening night roster cut didn't seem to deter him when he finally received his opportunity in mid-November. By game 25, he was tied for the team lead in goals with 11 and had 19 points in a statement run that proved his value as an NHL player.
The last 35 games brought the young forward down to earth quickly, however. He scored just six times the rest of the way, posting 17 points. His season was cut short in late March due to a broken finger sustained in a fight with current teammate Luke Witkowski, a member of the Tampa Bay Lightning at the time.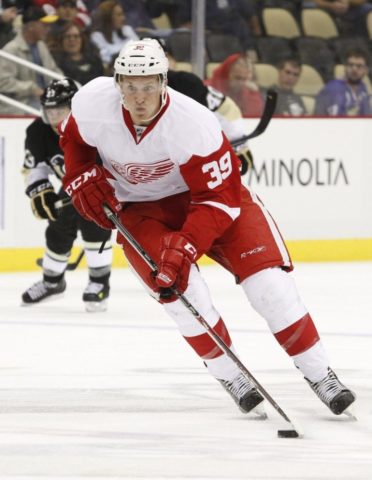 This season, Mantha put his end of season slide in the rearview mirror. The former Val d'Or Foreur tallied ten goals and 19 points in his first 19 contests, a pace that would shatter his numbers from the previous year. Posting just a single three-point game in his first full season, through the first 19 contests he had four.
During this impressive start, the qualities that made him so attractive back in 2013 when he was selected with the Wings' first-round pick were on full display. His lightning-quick shot, deceptively-quick stride, and dominant finishing ability at the front of the net contributed to a thunderous beginning where he led the charge of Red Wing youngsters.
However, nearly a month later, the Longueuil, Quebec native is in another rut. He's scored just twice in the last 13 games, totaling three points in a cold spell that is reminiscent of last season. Although the raw offensive totals look concerning on the surface, there are encouraging signs that Mantha will break out of his slump sooner this time around.
Pucks on, Away from Net
A common theme found in the inconsistent outings turned in by the two-time QMJHL 50-goal scorer was shot generation. In 2016-17, he posted 61 shots in the first 25 games averaging 2.4 per contest to go with an on-ice Corsi-for rating of 56.39 attempts per 60 minutes. Through the final 35 contests, that average dwindled to 2.1 shots-per-game, and his Corsi-for rating dropped to 54.39 attempts per-60.
This season, Mantha turned it up a notch and fired 2.6 shots per game in the first 19 contests with an improved Corsi-for rating of 61.52 attempts per-60. He posted those numbers while logging the second-most minutes at even strength among Detroit forwards (265:18).
In the midst of his slow stretch, his shot generation has not dwindled like it did in 2016-17. Through the last 13 games, he's increased his shots on net to 2.8 per contest. His Corsi-for rating has dropped to 53.39, but he's upped his defensive game to cover for this.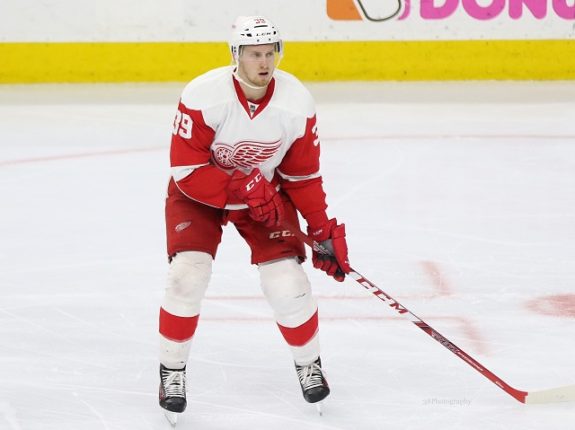 During his hot start, his Corsi-against-per-60 ballooned to 59.25 attempts, which was concerning given his strong defensive outing last season (48.45 per-60) but in his last 13 games, he's settled the game down on the other side of the puck and allowed a much more respectable rate of 48.63 per-60.
Dylan Larkin could have something to do with this, as Mantha posted a 45.15% Corsi-for percentage without him before becoming a regular on his line (56.98% Corsi-for percentage in 222:09 with him). Moving away from Henrik Zetterberg was key, as the without the captain he's posted a 54.65% possession rating compared to a 45.64% rating in 176:10 with him.
Either way, it's clear that the young forward wants to be a two-dimensional rock for the team going forward, and while he's been snakebitten lately, it feels like he'll be rewarded for his focus on defense soon.
Improved Power Play Performance
Detroit's man advantage, like their best goal scorer, has fallen since its hot start. However, Mantha has the ability to be the net-front presence absent since Tomas Holmstrom hung up the skates. After scoring just one five-on-four goal all of last season, he's already potted five (to go with eight points) all by way of a rebound or deflection in tight.
I'd imagine that a 6'5″, 225-pound frame is difficult to move.
When the cold spell started for him in mid-November, Detroit's power play also hit a wall. In 13 games, the units clicked at a 16.27% rate, falling from the sixth best arsenal in the league (24.6%) to ninth. Shot generation was always a struggle for a unit lacking a go-to shooter outside of Martin Frk. The team ranks 30th in shots-for-per-60 on the man advantage with 47.16.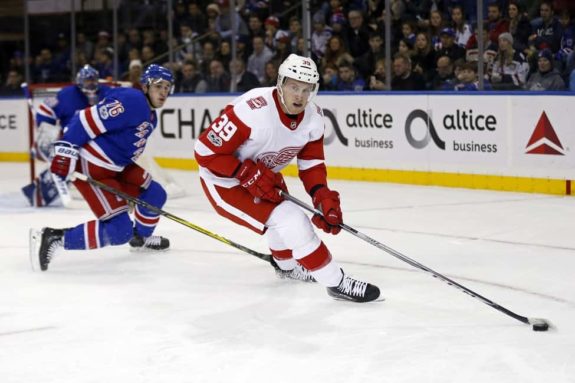 Fewer pucks to the net mean fewer chances at rebounds or deflections for "Mo."
The return of Frk from injury on December 2 has done little to galvanize a PP that's scored just twice on its past 20 opportunities. However, special teams can go through peaks and valleys, and the Wings' frontman hasn't relied solely on power play production as evidenced by his defensive play lately.
The bigger picture for Mantha in his development is that he has experienced early success in developing a new tool for his overall game. Once the man advantage gets going again, he'll be in his usual spot at the lip of the crease looking to extend that success.
Playing Healthy and Often
"Anthony Mantha has got to be way better. Way better. It's not OK to just be a passenger when you are given the opportunity to be an impact player."
Head coach Jeff Blashill's call-out of arguably his best young player wasn't the first of its kind. In 2016, after a preseason contest, the sentiment was more of the same. To Mantha's credit, he seems to take the criticism in stride. The beauty of the situation is that he has ample opportunity to improve his play each and every night.
His average ice time of 17:12 ranks fourth among Detroit forwards and he's logged more than 19 minutes eight times this year compared to eight instances all of last season. Even through his struggles, he's still coming in at a shade over 17 minutes per game. This isn't an Andreas Athanasiou situation where coach critique is given despite limited opportunity.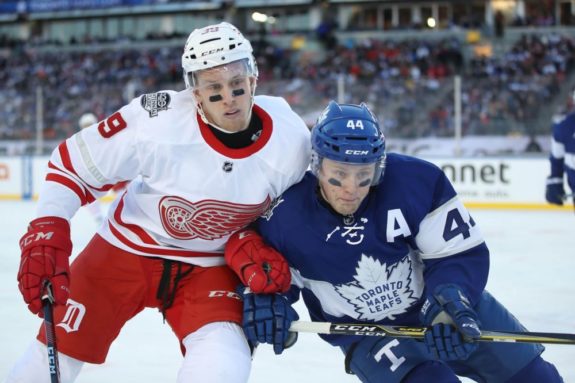 Having already experienced a broken fibula and broken finger on his road to becoming a Red Wing cornerstone, he's been relatively durable this season (*knocks wood*). It's been encouraging to see no apparent lingering pain from the latter injury to start this season as he continues to adapt to an 82-game schedule in his second full campaign.
Better Times Ahead for Mantha
While this heading may not reflect the state of the Red Wings as a franchise, it is true for Mantha. Through this current offensive rut, he's been able to focus on other parts of his game that will make him a better player going forward. His development defensively and as a net-front presence should not go unnoticed through his slump.
The opportunity to play in the top-six should increase his chances of breaking out soon. The durability he's shown since his last injury will be essential in his search for consistency. While the current funk draws parallels to how last year culminated, the end result this campaign will be far from similar.
This is going to be a different season for Mantha.
Advanced statistics courtesy of NaturalStatTrick.com