I have to admit while covering the final Flyers ugly playoff loss to the Boston Bruins last spring, I didn't expect to be writing about a completely different team this fall like a New York Mets writer might expect in baseball for an underachieving team. However, that's just what I'll be doing. It's been a hectic summer for Flyers general manager Paul Holmgren and crew, but they are really confident the moves they made over the summer are great hockey moves for the team going forward.
The number one question on the mind of many fans and followers of the Flyers following the big (and unpredictable) shakeup this summer is: Are the Flyers are a better team? That's an interesting question. I believe it's possible that they could be in a better position to make a deep playoff run come April than they were last year. Let's outline some things I would suspect need to happen in order to put the Flyers in that position and deem them possibly a better team.
Here are my Top 5 Keys:
5.) No More Locker Room Leadership Issues: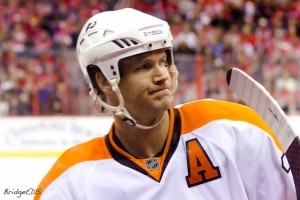 The naming of Chris Pronger as captain of the Philadelphia Flyers was just a formality. When the Flyers had maturity issues in their locker room Pronger was the guy who many times was acting like the captain even without a letter on his sweater. In order for the Flyers to avoid another negativity fueled disaster like they have in past years with young leadership, Pronger will need to use that 'C' to maintain control of the Flyers locker room. Garnering support from other vets who want to win now such as Kimmo Timonen, Danny Briere and even newcomers Ilya Bryzgalov and Jaromir Jagr should help that cause. I don't foresee this as being a problem, but it will be a huge key to changing the attitude in the locker room.
4.) Jaromir Jagr Cannot Be Free Agent Mistake 2.0 Like Zherdev
The one-year $2 million dollar contract the Flyers signed Nik Zherdev to last offseason proved to be an abysmal failure. Jagr's one-year $3.3 million deal is sort of similar but also different. The Flyers probably want Jagr to replace Ville Leino's production this year. Leino had 53 points last year. Anything around that 55-60 point range is what the Flyers are probably looking for with Jagr. Jaromir Jagr is a veteran who wants to win. He played well in the Olympics and showed he can still hang with the big boys, so all signs point to him fitting in well. It looks like he really scouted the Flyers out when before he signed here, contrary to what a lot of Penguins fans would have you believe. When he talked about how important it was for him to play his side on the power play, it showed me it wasn't just a money decision. If he can avoid being a free agent mistake, it'll bode really well for the Flyers.
3.) The Flyers Rookies/Young Players Need to Be Relevant Now and JVR Needs to Break Out
Brayden Schenn's cap hit is over $3 million dollars this year. The Flyers have high hopes for the youngster, but sooner rather than later he needs to play like a guy worth 3 million in the NHL. He was the cornerstone of the deals when the Flyers decided to move on from Richards and Carter this summer. Voracek and Simmonds are going to be counted on not only to step up but to show improvement in their game. As far as James Van Riemsdyk goes, the Flyers will need for him to be close to the guy he was in the playoffs last year and they now have seen what he can be. The Flyers are paying him to be that guy too with a cap hit of $4.25 million.
2.) The Flyers Defensive Corps Needs to Stay Healthy
This one was probably the biggest nail in the coffin for the Flyers last year against the Bruins. The defensive corps couldn't stay healthy. They couldn't develop any kind of chemistry in the postseason because guys were in and out of the lineup, most notably Chris Pronger. And if we know 1 thing, it's that the defense is playing with much less confidence without Pronger in the lineup. In order to prevent another collapse like we saw toward the end of last year and in the playoffs Pronger needs to have one of his patented solid seasons with hopefully much less injury. It just wears everyone else out when he's not in there for his minutes as we saw last year.
1.) Ilya Bryzgalov Needs to Be the Franchise Goaltender He Was Brought in to Be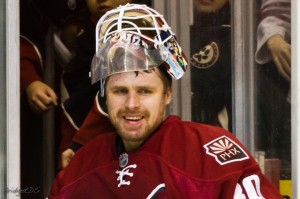 I honestly do not remember a time since the Ron Hextall days in the 90's that the Flyers went into a season with a guy they felt was the franchise goalie and would not let them down overall. Even Hextall had a lot of shaky years late in his career. The Flyers have that guy this year in Ilya Bryzgalov. Bryzgalov has said and done all the right things so far in order to fill the big shoes the Flyers have for him. They'll need Bryzgalov to play like the Vezina contender he usually is. The Flyers probably would have won 2-3 Stanley Cups at least if they had a franchise goaltender in the past 20 years. The Flyers were a team who never seemed to "get it" when it came to making the goalie a priority. They "got it" loud and clear this offseason and Bryz will need to be the guy they think he is.
There are many other keys which we'll get into in these next couple of weeks before the season starts but these are probably the five biggest for the Flyers to stay a top team in the East or possibly improve. There's also a chance the Flyers youth might show and they could drop off a little. That's the fun of the season. We will all find out soon. If the 5 points above remain true, they have a pretty good chance of having a much better playoff run in April. Stay tuned as there will be more to come throughout camp and the preseason leading up to the opener against Boston.
For Flyers and Hockey News/Discussion, Feel Free to Interact With and Follow me on Twitter: http://twitter.com/justinflyer