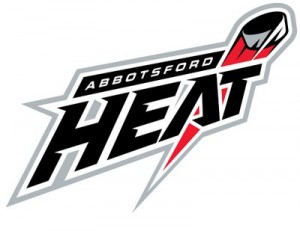 The summer of 2011 was a summer of change for the Calgary Flames, and the changes weren't located just within the big club. Down on the farm, long-time Flames assistant and minor-league coach Jim Playfair exited stage right for a position as an associate coach with the Phoenix Coyotes. On June 30, the Flames wasted little time in naming his replacement – Troy Ward.
Ward comes to the position with a fairly length resume that includes head coaching experience in the ECHL and USHL, as well as assistant coaching stints in the AHL, IHL, NCAA and NHL. Most recently, Ward joined the Heat last season as an assistant coach under Playfair. Ward explained that between his experience as a coach and familiarity with the team, the transition was fairly smooth.
"It's been a good process," said Ward. "I've been through it before. It's kind of like a dusty shelf, I had to get out the Pledge and kind of clean off things a bit and start over. But so far so good. It's easy to transition when you've been one place and you move on to the next higher position. That's made it easier. And for sure, good people around me and good players to coach."
While its likely that there will be only a few new faces in Calgary to start the regular season, the same cannot be said for Abbotsford. In the off-season, general manager Jay Feaster undertook a fairly extensive re-stocking of the minor pro system. Gone are former first round picks Kris Chucko and Matt Pelech, as well as several other veteran Baby Flames. Replacing them are players like Guillaume Desbiens, Clay Wilson, Ben Walter and Paul Byron – players that may spend time in Abbotsford, but will always be in the hunt for jobs in Calgary.
"I think it should make us a better team," said Ward of the new additions to the Heat. "I think the group of people that were brought in to complement the draft picks that we have here – you're talking about the 20 year olds, 21 year old kids now – it's going to make it very competitive. I probably can't say that enough. It's going to be extremely competitive for guys to play in Abbotsford and to maintain their spot in Abbotsford."
Just prior to the opening of the NHL pre-season schedule, the Flames had 48 NHL contracts allotted for the 2011-12 season – including agreements with 20-year-olds Ryan Howse and Roman Horak (who can both still return to junior but are expected to be in the pros), but not including recently-signed agreements with Max Reinhart and Sven Baertschi (which only begin to run down if they play 9 or more NHL games). In addition, the team has six players under AHL contract, which means there are potentially 54 players vying for spots in the pro ranks, which will likely include Calgary's ECHL affiliate in Utah.
"The organization has three teams – it has Calgary, Abbotsford and Utah," noted Ward. "This year will be probably the first year where we're in such a competitive position that we're going to probably filter players to all three areas on a consistent basis."
With the Flames expected to assign players to the Abbotsford Heat on Thursday or Friday, Ward has his eye on the start of the season and the opportunities ahead for the re-stocked Heat squad. He pointed out that along with the many new faces on the team, fans can expect the on-ice product to be a bit different as well.
"We'll probably play a little bit more aggressively on the fore check and through the neutral zone than we did last year," explained Ward. "That doesn't mean that last year's was wrong. I think it fit that particular team. But this year's experienced, and I think the guys that were here a year ago and are coming back have more experience, so I think we can play more of an up-tempo style. We want to be very competitive, and at the same time we're competitive we want to develop players."
NOTES: The Calgary Flames began their pre-season schedule with a 5-1 win at home over the Vancouver Canucks (Greg Nemisz, Rene Bourque, Alex Tanguay, Tom Kostopoulos and Lee Stempniak scored) AND a 4-3 loss in Vancouver (Niklas Hagman scored twice, Mikael Backlund once). Flames captain Jarome Iginla was not in the line-up for either game as a precaution as he continues to recover from back spasms. The next pre-season game for Calgary is on Saturday as the Flames visit the Edmonton Oilers.