After watching San Jose Sharks forward John Scott perform another random act of violence against Anaheim Duck defenseman Tim Jackman, I must ask the question:  Are the days of the enforcer numbered in the NHL?
This begs the question, what does the Sharks "enforcer" actually bring to the game of hockey? Is there really a need for a one-dimensional enforcer in the NHL anymore? Seriously?
I think it's a question worth examining. In 251 NHL games, Scott has scored a meager (3g-5a—8pts). Scott is also a plus/minus (-20). In six NHL seasons, Scott has also racked up 450 penalties in minutes.
Looking at the internet site hockey fights, Scott isn't getting into any fights, either. Through 15 games, Scott has been in a grand total of two fights. Ironically, Scott's two fights were against Tim Jackman on October 26, 2014.
Looking at Scott's iCorsi and iFenwick numbers, they aren't very good, he's second to last on his team. Those stats tell us that's he's not very good at the game of hockey, and he's a liability on the ice for the Sharks. That's probably the reason he's been a healthy scratch in 18-of-35 games this season. Scott was also suspended for two games for leaving the players bench to get into a fight with Tim Jackman.
The game of hockey is evolving
As I said in another post, the NHL game is evolving, and fighting is becoming less prevalent. That's a positive development. In today's game, there's not a lot of room on an NHL roster for a five shift, four-minute player that can only fight.
Okay, in Scott's defense, over the past five games that he's played in, the Sharks behemoth has averaged about six minutes a game. That being said, the Sharks have seen little if any production from him. He's taking up space in the lineup.
Teams no longer can afford to have a tough guy taking up space on the player's bench. One dimensional players like Scott are a dying breed. So why is a player like Scott still in the NHL?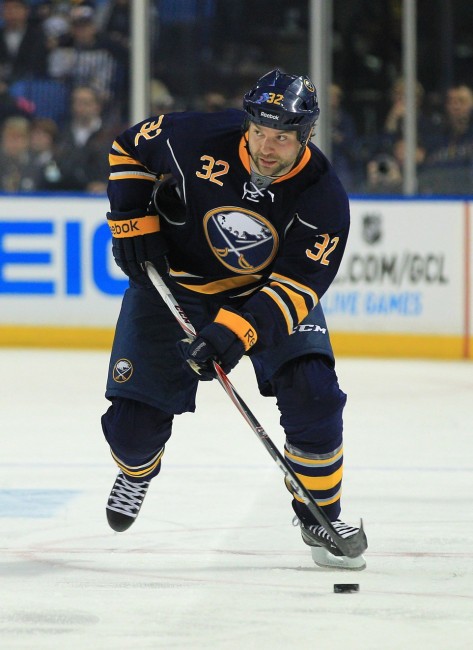 Last July, the Sharks signed Scott to a one-year deal worth $700,000.00. The Sharks explained the signing.
"John brings a physical, no-nonsense element to our lineup," said General Manager Doug Wilson. "As we integrate more younger players to our team, John's presence alone can act as a deterrent and help keep teams and opposing players honest."
Hockey no longer needs enforcers
The era of the pure enforcer is coming to an end. There's no longer need for an NHL team to have a player that plays 4-7 minutes a game and add nothing in the way of offense. Tough guys like Brandon Prust and Milan Lucici will become more valuable because they can actually do more than drop the gloves.
While some teams still employ a designated enforcer, there's no evidence that employing an enforcer does anything to curtail violence on the ice. Players are still taking runs at opposition players on the ice.  It's obvious by some players' past actions that some no longer adhere to the code. Having a designated enforcer is pointless.
For the fans that don't like fighting, as of November 26, 2014, fighting majors were down. Per statistics compiled by the league, this season has had the lowest percentage of fighting majors per game since 1969-70.
Teams no longer have available cap space to waste on a one-dimensional player. Right in front of our very eyes, the NHL is moving away from one-dimensional enforcers. I don't necessarily think that's a bad thing. Do you?
Eric is a 1996, 1999 graduate of the University of North Dakota. Eric covers the University of North Dakota Hockey and Division I college hockey. Eric is the Contributing Editor for Inside Hockey.