The Edmonton Oilers roster is evolving. They have a smattering of young, speedy, skilled forwards, and a few grizzled vets sprinkled throughout the lineup. There hasn't been any really blockbuster deals, but the Shawn Horcoff era in Edmonton has ended, and there's the possibility of a guy like Taylor Hall or Jordan Eberle taking over as captain. Last season, it seemed as though the Oilers were on the cusp of taking a step forward and competing for a playoff spot. But, save for a couple of days when they held down the eighth and final postseason position, they didn't really stand a chance. It was a lock-out shortened season, bizarre in many ways. No real training camp. New coach.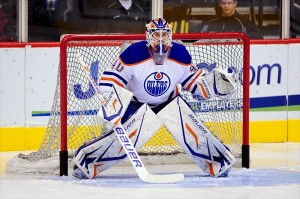 This season, the Oilers have a yet another new coach in Dallas Eakins, but he was hand picked by General Manager Craig MacTavish and the two are very much on the same page with how this team will look and play. There is a full, normal training camp approaching in a few weeks. Players won't be starting in the AHL, or overseas, or nowhere at all. Everyone is on a level playing field. No teams are more or less ready than others. Last season means little. With a blank slate, how will the Oilers perform? Is this finally their year to make a real playoff push?
The Competition 
With the new playoff format, the top three teams in each division will make the playoffs. The Oilers division includes the Ducks, Flames, Kings, Coyotes, Sharks and Canucks. After that, the two teams from each conference with the best record will fill up the remaining spots, regardless of division. The Kings are probably a lock for one spot. The Ducks are a prime candidate for a regression after winning the Pacific division last year. They lost Bobby Ryan through trade, and really overachieved all season. The Canucks have taken a step backwards every year since reaching the Stanley Cup final. They have a new coach in John Tortorella, so it's hard to predict where they will land.
The Flames and Coyotes both missed the playoffs last year, and have done little to improve their respective rosters. Then there's the Sharks. They are the perennial favorites to make noise in the playoffs, but their aging core has yet to reach the Finals. There is no reason to suggest the Oilers won't be able to compete in their division. Potentially.
The Roster
Devan Dubnyk is still their starting goaltender. Veteran defenseman Andrew Ference was their big off-season acquisition. Sam Gagner re-signed and will likely be the number one center until Ryan Nugent-Hopkins returns from injury. The young players on this team have to take a step forward. They have to start being more responsible on both sides of the puck, and take care of their own zone a lot better. They need to win the battles and hold on the puck. On paper, there are still so many question marks on this team.
Craig MacTavish may not be done making moves. And because the season is back to 82-games, there is less reason to panic if the team gets on a losing skid. Still, the issues that plagued the team last season haven't been solved, at least not through personal changes. You can't underestimate this team's talent. But at some point that talent has to learn how to play a detailed game, and not expect to dance into the offensive zone and make fancy dekes to the net on every play.
The Verdict
It's still too early to make predictions. There may be changes yet to come. However at this point, looking at their division and the Western Conference as a whole, the Oilers will be in an absolute dogfight to make the playoffs. It's not impossible, but a lot will have to go right for them. Sometimes you have to be lucky to be good. Counting on the Ducks, Sharks and Coyotes to have a tough years is a long-shot. The Oilers have to control what they can control. They need to focus on their game. Especially the part that keeps the puck out of their own net.
The NHL regular season schedule was released on Friday. Check out our partners at TiqIQ for the best deals on Edmonton Oilers tickets for all 2013-14 games.