Believe it or not, NHL training camp starts in a little over 30 days (where has this summer gone?) and teams across the NHL start anew with their hopes over hoisting the Stanley Cup. The Boston Bruins look to take that next step and capture the Stanley Cup after their heartbreaking defeat to the Chicago Blackhawks.
The Bruins made a few moves to further help their chances at winning the Cup. Some were head scratching moves (not bringing back Andrew Ference, Chad Johnson as the backup goalie) and some moves were just sheer brilliance and cap friendly. There are some questions about the current Bruins roster, as there is with many other teams, but I'll break down the five most intriguing Bruins on the roster.
So, without further ado, here are the five most intriguing Bruins to look out for in the 2013-14 NHL season.
Dougie Hamilton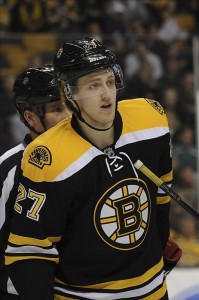 Dougie Hamilton came into Boston as a much heralded defenseman and the future of the Boston Bruins. After a shortened season, Hamilton got out of the starter's blocks slowly, but will have a larger role for this upcoming season.
Hamilton only recorded 16 points in 42 games with the Bruins and didn't play the Eastern Conference Finals or the Stanley Cup Finals for the Bruins. In the postseason, Hamilton recorded four points, all assists, in only seven games, but the Bruins are giving him a bigger role this season to finally break out.
After the Boston Bruins decided to part ways with popular defenseman Andrew Ference, it pretty much assured Hamilton's fate as the future blueliner. Hamilton needs to step up his game for the upcoming season if he, or the Bruins, want to be successful.
The time off that Hamilton had from the playoffs he believes was a good thing for him, saying,
"I think I learned probably more throughout the year playing, but I think in the playoffs as well just watching the games and it's definitely different from up there. It's a different game in the playoffs as well, so I think it's a good experience to be able to go through at such a young age, and I think it'll help me in the future."
Hamilton has shown flashes of brilliance in his rookie campaign, but he also made some moves that showed that he really was a rookie. Hamilton will be a better player this season and maybe assert himself as a future top two defenseman in Boston.
Loui Eriksson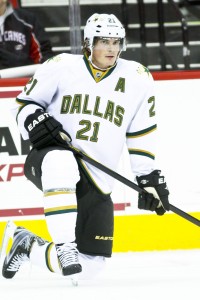 This is name that all Bruins fans should be excited for this season. Loui Eriksson, a former first liner with the Dallas Stars, came over in the Tyler Seguin deal and it looks like the Bruins received a better player in return.
Seguin had fallen out of favor in Boston with his rumored partying antics, underachieving play, and ghost like appearance in the Stanley Cup playoffs. It was simply time for him to go. The Dallas Stars came calling and gave the Bruins Loui Eriksson.
What a deal!
Of course, the target of the, at times, brutal Boston media will be squarely on Eriksson's back as the guy that replaced the former number two overall pick. However, Eriksson skill set fits in very well with head coach Claude Julien's defensive scheme.
Eriksson is a superb defensive player and is always a threat to win the Selke every year. If the Bruins decide to pair Eriksson with Patrice Bergeron, that line will be very, very hard to score against and could be arguably the best defensive line in the entire NHL.
He's an adequate scorer as well, with the exception of the shortened 2013 season, Eriksson pretty much stands pat at around 70 points a season. If he equals that output in Boston, the Bruins are going to be in fine shape in their defense of the Prince of Wales crown and possibly the Stanley Cup this season.
Jarome Iginla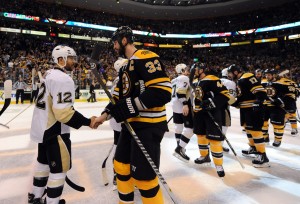 Ah, yes, Jarome Iginla, the man who once scorned the Bruins at the last minute for the Pittsburgh Penguins is actually a Bruin this time. For real.
After a pretty forgettable tenure in Pittsburgh, 11 points in 13 games, Iginla has decided to take his talents to the Hub, the team that swept him out of the playoffs and denied him a chance at the Stanley Cup. Iginla decided, if you can't beat them, join them.
Iginla's time is running out to get that elusive Cup and he realizes this when he signed a one year deal for a pretty cheap $6 million. Iginla wanted to go to a team that can compete for a Cup rather than go for the money. He is hungry for the Stanley Cup.
If you are expecting Iginla to be the player he was when he was in Calgary, it's time to lower your expectations a tad. Iginla isn't going to be a top line guy with the Bruins. Look for him to be a second, or even third, line guy for the Bruins, but it is still intriguing to see how Iginla will play in a full season away form Calgary and a chance at the Stanley Cup.
Tuukka Rask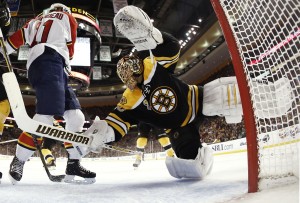 Tuukka Rask played absolutely brilliantly this past season and in the playoffs, except for that infamous final minute, as a result of Rask's work, he was handsomely rewarded. Rask signed an eight year, $56 million contract extension to keep him in Boston for years to come.
One thing about this contract is that, simply, goaltenders almost never live up to their hefty contracts, i.e. Rick DiPietro and Roberto Luongo. So, it will be very interesting to see how Rask plays in 2013-14.
Also, last season he had a lot to prove to the Bruins as it was his first season as the starter without Tim Thomas on the roster. Rask went above and beyond and should have been a Vezina candidate. This season, he is without question the top dog in Boston and is among the best goaltenders in the league. How exactly will Rask respond? Only time will tell.
The Boston Bruins farm system is full of young goaltenders who will jump at the chance to usurp Rask from the starter's role. The room for error is very little given the young goaltenders in the Boston system.
Patrice Bergeron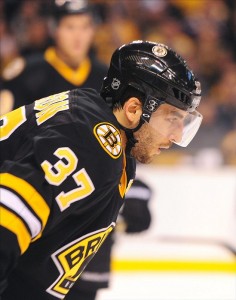 Tuukka Rask wasn't the only one to get paid this offseason for the Bruins. Patrice Bergeron was also handsomely rewarded with his own eight year deal and possibly make the 2012 Selke winner a Bruin for life.
Bergeron has been very consistent for the Boston Bruins throughout his career and is a very popular player in Boston. Bergeron also had a pretty great playoffs too and would have definitely been considered for the Conn Smythe had the Bruins won the Cup.
He is now in Boston sports lore with his heroic efforts in Game 7 of the Eastern Conference Quarterfinals against the Toronto Maple Leafs.
Again, the question can be asked, how will Bergeron play with his new deal? Bergeron is a pretty selfless player, so, I think there won't be much change in his game, but anything is possible.
One red flag going into every season with Bergeron is his concussion history. This year seems bigger than normal simply because of his new lucrative deal. One big hit on Bergeron and his career and the large investment the Bruins made in him could be gone, just look at Marc Savard.
They clearly want Bergeron to be a member of the Boston Bruins for life, but can he live up to his new contract? Hopefully for the Boston Bruins, he does.
Who do you think are the most intriguing Boston Bruins heading into the new season? Comment below or send me a Tweet, @MarkWGraham