Arizona Coyotes Who 
Should

 Be Gone

When you look back at an unsuccessful season as something which will go away with time and patience, you are not facing reality. The Coyotes had a really poor season, and need to do some re-evaluating of talent to get the team back to a competitive nature.

New majority owner Andrew Barroway had stated he wants a winner here, and so far I haven't seen much evidence that he will follow through with that pledge. Obviously, the talent on the ice needs an upgrade, and players who didn't perform to standards need to be considered expendable. We'll wait to see if he gives GM Don Maloney the green light to do wheeling and dealing, which is Maloney's expertise.
Which players
should

be traded?

Head Coach Dave Tippet was not meek in assessing Lauri Korpikoski's lack of performance last season to Fox Sports Arizona. "He had a poor, poor season," Tippett said. "He had one even-strength goal. He needs to have a big offseason and he needs to come back and re-establish himself as a good NHL player." Of his six goals, five were of the power play variety, which was his only positive statistic. Even in the Western Conference champion season of '11-'12, Korpikoski had no points in 11 games.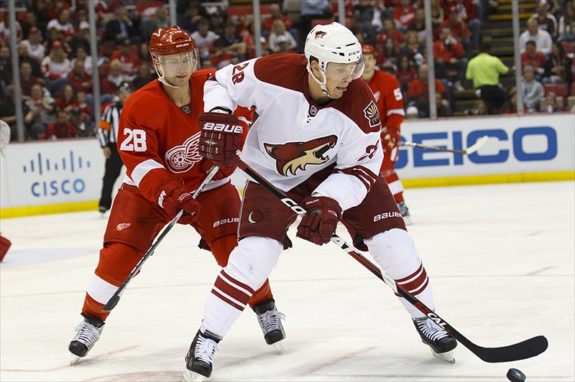 Now, that to me sounds like a coach who is not too pleased with a player who is still under contract for two more seasons at $2.5 million a year. The first round number 19 pick from the 2009 NHL Entry Draft might be changing addresses. He is a good defensive player, and has been used to kill penalties, but I believe is expendable. It would even be acceptable to trade him for draft picks, or a prospect at this point.
A player like Mark Arcobello performed so much better, and it would be a good move if  he was offered a new contract to stay with the team. Arcobello's $193,548 contract produced nine goals, seven assists in just 27 games. His shooting percentage compared to Korpikoski's was double 15.3 % to 7.3%. He also scored three more goals than Korpikoski in 42 less games.
Another possible trade candidate should be Martin Hanzal. He has lost some of his worth by missing most of last season with his back surgery. Whether another team will want to take a chance on him recovering from that type of surgery, will be interesting to see how that plays out. He has value, but the Coyotes are overstocked on centers with: Mark Arcobello (assuming he gets signed), Sam Gagner (who can also play the wing), Kyle Chipchura, Joe Vitale, Max Domi (assuming he will be promoted to the NHL level… he WILL), Henrik Samuelsson (who will have a shot at making the team) all vying for the same position.
It's difficult to be a Hanzal fan, as he has missed too many games due to injuries over his career. Don't get me wrong, he is big, and plays against the top forwards in the NHL, and can screen the opposing goalie for the Coyotes, when he plays. He has missed  130 games in his eight seasons with the team, or 21%. I doubt if any professional sport can afford to pay their athletes (employees) for missing 21 per cent of their assigned work days.
Hanzal should be commended for finally figuring out what was causing him to miss so many games. Who shouldn't be commended is the trainer/medical staff for not finding it sooner. Perhaps Hanzal was withholding his pain level, thinking it would improve on its own… not sure. All I know is he SHOULD be traded, but probably won't, due to his size and defensive abilities against big forwards like Joe Thornton, and the likes.
Who could the Coyotes get for Hanzal? Hopefully another good scoring forward who stays healthy and can contribute more than him. Not too many teams would turn him down, unless they are worried about his back surgery recovery. He had the same surgery done before, and was able to recover enough to continue play. Still, back surgeries are risky, and it could scare off any other team's pursuit of him.
Recent Coyotes Stories 
[catlist name="arizona-coyotes" numberposts=3 excludeposts=this]
Let's make a deal
The scoring needs of the Coyotes are obvious by their 29th place standing in goals scored last season. Why not try to pry Jordan Eberle out of Edmonton for Korpikoski and Hanzal? Eberle is making $6 million, and Korpikoski $2.5 million and Hanzal $3.5 million.
Here's why it makes sense:
The Oilers will have an abundance of forwards, and one special one by the name of Connor McDavid who even Wayne Gretzky admits could be the next Wayne Gretzky. If Eberle becomes expendable, the Oilers could use two defensive players to stop the other team from scoring. Korpikoski is a good penalty killer, and defender — while Hanzal has proven his worth in the same areas. It seems like the offense has never been the problem for the Oilers, they can score, they just need to defend better.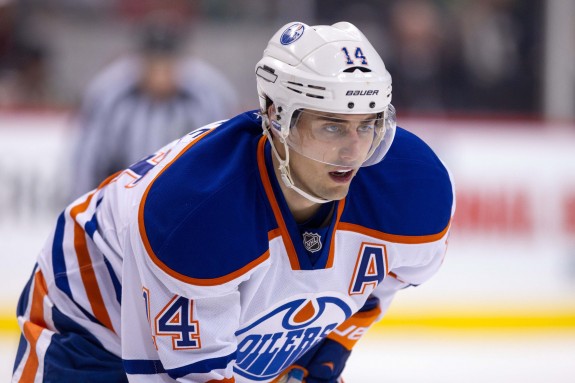 On the other hand, the Coyotes could use Eberle's great scoring touch. He has a .80 points per game statistic that no other Coyotes player can boost about. The only player close to that number was Oliver Elman-Larsson with .524 points per game. He's young at 25, and would really give the team the scoring punch it now lacks. The salaries match up, so we shall see if this really goes down, or if it is a figment of my imagination.
Follow Bill Grigsby on Twitter: @bgguy626
I grew up in Chicago, so I was a Blackhawk fan. I saw the likes of Bobby Hull, Stan Makita, and Glenn Hall play at the old Chicago Stadium. When I moved to Phoenix in 74, I became a Roadrunners fan. The WHA was wild and exciting. When the Coyotes began play in '95 I decided to follow them.
I love to write about hockey, and hope my readers enjoy my work. I'm excited about my new opportunity with The Hockey Writers and will always try to keep my readers informed and entertained. After all, it's about you.. the fans.