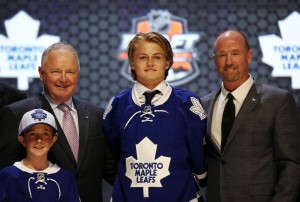 The Maple Leafs don't exactly have the greatest prospect system in the NHL. Hockey's Future – a website devoted to NHL prospects – has them ranked at 19th in the NHL for prospect depth.
The problem for the Leafs is obvious – they haven't drafted high very often and they haven't drafted well (recent first-round picks Tyler Biggs and Frederik Gauthier aren't very exciting prospects, for instance).
That being said, the Leafs still have a decent group of later round  picks who stand a decent chance of being NHL regulars down the line.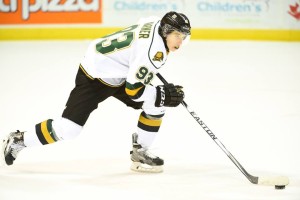 #1. Whoever They Draft Next Month
With the #4 pick in the draft, whoever the Leafs pick will be their highest selection in the NHL Entry Draft since they selected Scott Thornton 3rd overall in 1989.
With their highest pick in 25 years, the Leafs will likely take Mitch Marner, Dylan Strome or Noah Hanifin, depending on who the Coyotes pick at third.
No matter which of the three the Leafs end up with, that player will instantly become the Leafs best prospect.
#2 William Nylander 
Picked 8th overall last year, Nylander is a 5'11 180 lbs centre/winger with the potential to be a high scoring, dynamic player.  He played against men in the Swedish Elite League and had success before debuting last year in the AHL with the Marlies where he scored an impressive 32 points in 37 games as a rookie.
Is he too small to be an NHL centre? Hard to say. Certainly there are players like Tyler Johnson and Claude Giroux who are successful despite being a similar size, but the Leafs had him on the wing in the AHL and despite being listed on most pages as a C, I believe most people see his future in the NHL on the wing.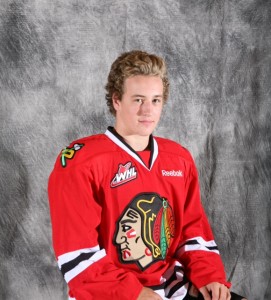 # 3 Brendan Leipsic
Acquired from the Predators in the Cody Franson trade, Brendan Leipsic is a former 3rd round pick. He is 21 and a 5'10 180 lbs winger from Manitoba.
This year in the AHL he played 74 games and had 54 points. He's a speedy winger who "hits everything that moves," and plays the role of agitator, perfected by guys like Matt Cooke and Darcy Tucker – though Leipsic may have more offensive upside than either of those players because of his speed and skill.
One hilarious story about him is that he once drank from the opposing goalies water-bottle.  Leipsic is said to be a lock to be an NHL regular – potentially as a top six scoring winger, but at worst, in a checking role with some offense throw in.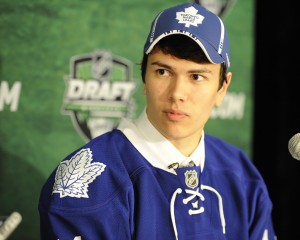 #4 Stuart Percy
Percy looked great in the nine games he played with the Leafs this year.  Though he only scored three assists in nine games, Percy looked poised and confident playing defense in the NHL.  While he only scored a CF% of 44%, the Leafs were not a good possession team and his most common partner was Roman Polak, not exactly a possession stalwart.
Encouragingly, when not paired with Polak, Percy's possession numbers improved greatly and he posted a CF% of 49% when not on the ice with Polak.
It would be no surprise to see Percy make the NHL out of camp this fall and I expect him to be an important part of the Leafs' blue-line for years to come as he's calm, he moves the puck well and doesn't seem prone to making very many errors.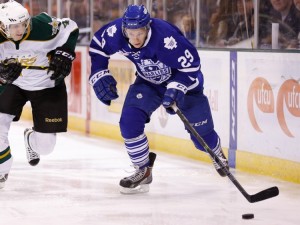 #5 Connor Brown
If Connor Brown were a first round pick, he might create more excitement for the Leafs beleaguered prospect system. Taken in the 6th round of  the 2012 draft, Brown is a potentially late-blooming superstar.
Or he's just a guy who put up some good numbers in the minor leagues.
It's really impossible to say at this point, but one thing we know for sure: Prospects – because most people never see them until they get to the big leagues – are defined almost solely through their pedigree and draft position.
You know who else was "too small" and, like Brown, just 5'11 and drafted in the sixth round? Pavel Datsyuk. Now, I don't want to go crazy here and compare Brown to the future Hall of Famer, but I am just mentioning it because far too often we write players off because they weren't drafted highly.
Brown has scored everywhere he's played: in his draft year, he only scored 53 points in 63 games, but in his last OHL season he scored 128 points in 65 games.  As a rookie in the AHL he scored 61 points in 76 games and seems poised to follow the same pattern he displayed in the OHL.
It's clear to see that the Leafs are going to need to improve their prospect system in order to become a better team, but this top-five is pretty good and potentially excellent.  Yes, it lacks blue-chippers, but I think all of these players, plus Josh Leivo and Frederik Gauthier all stand a good chance of becoming NHL regulars.
Yeah, it's not great, but it is a good start for a team that also has Reilly, Kadri, JVR, Kessel and Bernier. Going forward, this will only improve and if one of Percy or Brown can turn into an above-average player, the future of the Leafs is going to be very bright.